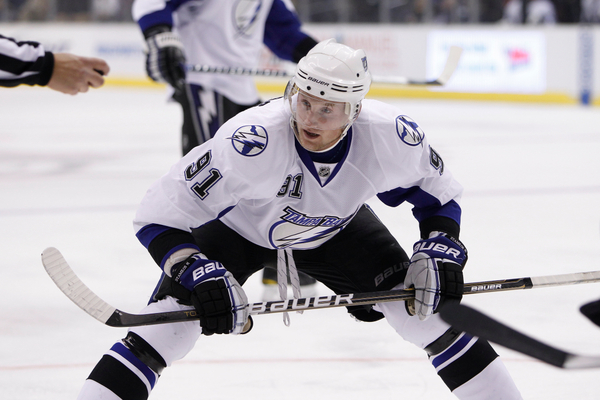 It's not often that a Rocket Richard Trophy winner hits the open market.  Last summer, Ilya Kovalchuk earned $100m after testing the waters of free agency (as well as the limitations of the Collective Bargaining Agreement).
But no player since the lockout has ever entered restricted free agency with a resume like that of Tampa Bay's Steven Stamkos.  With 96 goals over the past two seasons, Stamkos could go where stars like Sidney Crosby, Evgeni Malkin, and Alex Ovechkin chose not to.
If Lightning GM Steve Yzerman fails to sign Stamkos before the start of free agency on Friday, other NHL teams will be permitted to sign the franchise star to contracts in all shapes and sizes.  As of Tuesday, those interested parties are free to contact agents Don Meehan and Mark Guy to gauge interest.
According to the CBA:
Restricted Free Agents may make contact with Clubs (including their own) regarding potential interest, but may not sign new SPCs or Offer Sheets until the opening of Free Agency Signing Period.
The ability to freely negotiate with other teams will give Stamkos and his representatives a feel for the league-wide interest in an offer sheet before making a decision on Yzerman's current offer.  If Stamkos fails to come to an agreement with Tampa and decides to accept an offer sheet after becoming eligible, Yzerman would be given seven days to match the offer.
If the Lightning decline their right to match, they would receive draft picks based on the annual cap hit of Stamkos' contract with his new team.  The parameters for 2011-12 draft pick compensation are as follows:
$1,034,249 annual cap hit or less: No compensation
$1,034,249 — $1,567,043: Third-round pick
$1,567,043 — $3,134,088: Second-round pick
$3,134,088 — $4,701,131: First and third-round pick
$4,701,131 — $6,268,175: First, second and third-round pick
$6,268,175 — $7,835,219: Two first-round picks, a second and third
$7,835,219 and higher: Four first-round picks
In order to be eligible to submit an offer sheet to Stamkos, teams must have the necessary draft picks in their possession.  This does not include picks acquired from other teams via trade. [Note: If the contract length is longer than five years, additional rules come into play for compensation]
For Yzerman, the Stamkos dilemma marks his first big challenge as a General Manager.  In the thrifty days of the NHL, Crosby ($8.7m cap hit), Malkin ($8.7), and Ovechkin ($9.5) received big money on lengthy deals following their entry-level contracts, but never chose to test free agency.  The 2011-12 NHL salary cap is nearly 28-percent higher than it was for the 2007-08 season.  If elite NHL players were worth that kind of money four years ago, what is a player like Stamkos worth today?
Many are quick to conclude that Yzerman would match any offer sheet submitted to Stamkos, but we've never seen a General Manager faced with that kind of decision in the post-lockout era.
CBC's Elliotte Friedman recently mentioned an interview he had with current Nashville GM David Poile about being faced with a similar situation:
Several years ago, I did a radio interview with David Poile. He talked about being GM in Washington and losing Scott Stevens to St. Louis on an offer sheet. The return was five first-round draft picks. He said, if he could do it all over again, he'd choose to keep Stevens because a franchise player is worth it.
Tampa's compensation for a Stamkos super-deal would be just four first-round picks, but in a salary cap world the decision might be more difficult.  The max salary for next season is $12.86m and being forced to match any substantial offer would put Yzerman in a bind.
The Lightning have $21.8m in cap space for next season, according to CapGeek.com, but Yzerman still needs to sign nearly a half-dozen forwards and two goaltenders in addition to Stamkos.  Franchise defenseman Victor Hedman is also due for a new contract next summer when his entry-level contract expires.
The roster issues are compounded by the fact that the Lightning are likely still struggling financially.  Reports indicate that new owner Jeffrey Vinik will be faced with a pre-tax loss of nearly $30m despite the team's playoff success last season.
If winning a Stanley Cup is important to Stamkos, squeezing Yzerman and the Lightning for every dollar he can probably isn't too wise.  Every dollar Tampa Bay is forced to pay Stamkos due to an extravagant offer sheet is one less Yzerman has left to spend on building a championship team.
When Yzerman was a part of the Detroit Red Wings front office under GM Ken Holland, the team unofficially cited the 'Lidstrom Rule' when it came to negotiating contracts with star players: no player is permitted to earn more than captain Nicklas Lidstrom.
Lidstrom took a small paycut to $6.2m next year and will drop below the $6.7m cap hit of Pavel Datsyuk, but the strategy was an effective way of convincing talented players to accept less money than they could have otherwise received on the open market.
It wouldn't be as efficient for Yzerman to enact the 'Lecavalier Rule' in Tampa Bay.  The 31-year-old captain earned $10m last season and will do so for the next five years before his front-loaded contract falls to reasonable amounts in its final years.
Last summer's Kovalchuk saga was one of the most interesting stories in recent memory because it tested the limits of a salary cap system still in its infancy.  If Steven Stamkos reaches restricted free agency at noon on Friday, Steve Yzerman and the Lightning might be the next ones faced with navigating uncharted waters.
__________________________________________
Follow @MikeColligan on Twitter or contact via email at MJColligan@gmail.com