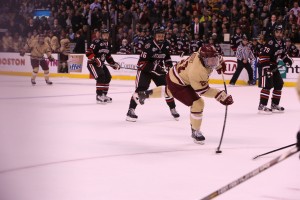 Hockey in Massachusetts is a culture that cannot be disputed from backyard rinks all the way to the T. D. Garden, the current home of the historic Boston Bruins. Massachusetts has produced some of the best American players to date from Jeremy Roenick, a 500 plus goal scorer in the NHL, to  Chris Kreider.
With all the potential hockey talent in Massachusetts, there will always be players that fly under the radar. So was the case with Anaheim Ducks prospect Steven Whitney.
Whitney was born in Boston so it's safe to say hockey was instilled in his blood since he was a toddler along with his older brother Joe Whitney who is 25 and property of the New Jersey Devils. According to Steven, he always followed in his brother's footsteps, "We always played on the same teams all the way up until pro. We both played for the Boston Junior Eagles growing up. We went to high school together and college together."
Despite the age difference both of the Whitney's signed on to play with Boston College, one of the elite college hockey programs in the United States. Steven and Joe were both tagged as National Champions in 2010. In 2012 a year after Joe's departure, Steven and the Eagles recaptured the NCAA crown.
On top of the two NCAA Men's Hockey Championships, the communications major won all four Beanpot Tournaments during his tenure in college which is no easy task when Boston College, Boston University, Harvard University, and Northeastern University compete for bragging rights spanning over two nights in February. Steven talked about the Beanpot saying, "It was one of my favorite tournaments. All four Boston schools, big crowds, and a lot of bragging rights when it comes to the Beanpot."
In addition to his National Championships and Beanpot victories, Whitney was dubbed the best New England born college player during his senior year, taking home the Walter Brown Award. The 5'7" forward  commented on the award saying, "When I received that it was a shock. I didn't know much about it. I think I knew that I was nominated, but just the list of players that are on there is amazing. There are some pretty good players that played in New England. It was a real honor to win that." Whitney's 45 points in 38 games backed the award.
When Steven closed the chapter on his college career, a new chapter was waiting to unfold. A chance to sign an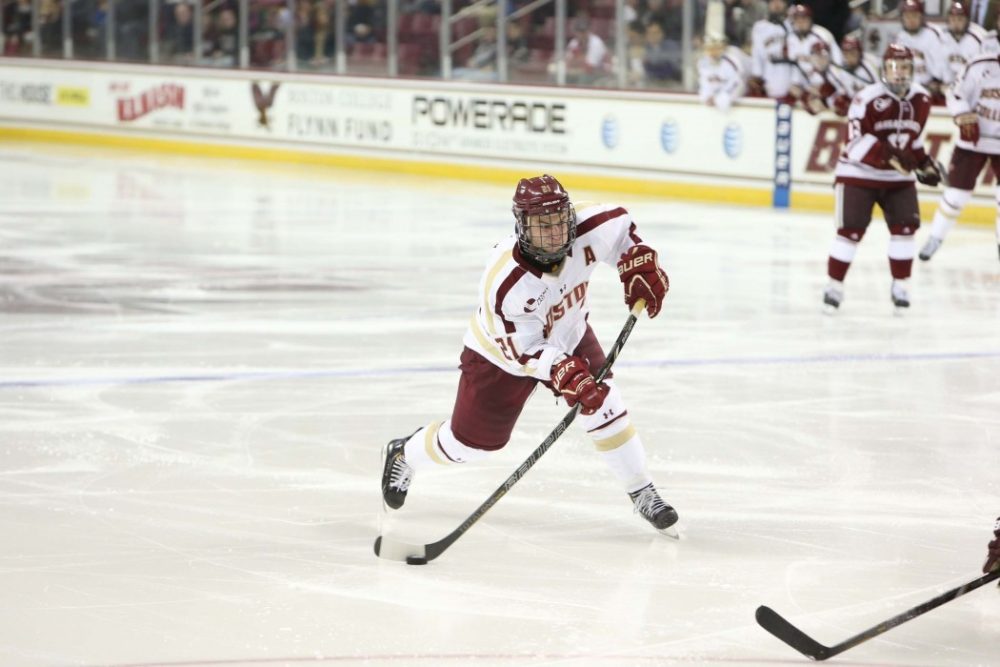 NHL contract. Last spring Whitney was considered one of the nation's top undrafted free agents. The right handed shot commented on how he scored his first NHL contract with Anaheim, "I just tried to focus on my senior year. I really didn't know what would come of it. I didn't have any offers early, so I kept working hard and I found a place with the Ducks."
While Whitney's 160-pound frame may have been the downfall that scared NHL teams away, the Ducks saw his speed as his pick-me-up. "I try to use it to my advantage and avoid getting hit by the bigger guys, but I think if you have it you should use it and it's one part of my game I like to use," chirped Whitney.
After the ink was dry on his first NHL contract last April, the Ducks assigned Whitney to their top development club in Norfolk, the Admirals. Whitney quickly showed why he was one of the nation's top ranked amateurs netting his first goal in his first pro game.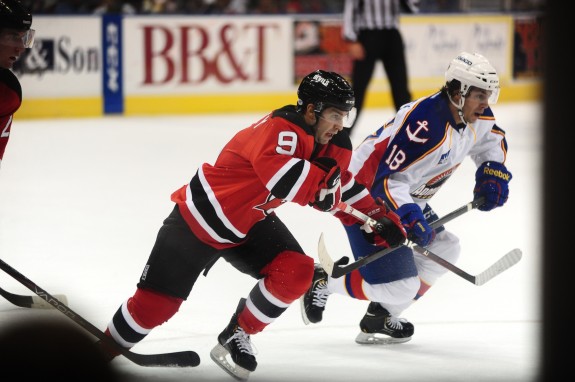 In his first full pro AHL season, Whitney talks about the off ice adjustment from college to pro saying, "It's very different, college is very organized. You don't have to decide on your own. They kind of plan it for you. You go to class, go to practice, do some work, and call it a night." The Ducks farm hand went on to say, "In pro, it's practice in the morning, then you have to find ways to make your days productive."
As far as Whitney's on ice play Norfolk's Assistant Coach Jarrod Skalde couldn't be any happier with his development saying, "Every night you know you're going to get an honest effort out of him. With that skill level and the way he can shoot a puck, it makes him a dangerous player on most nights. His compete level and his drive will make him successful in this sport."
Skalde also talked about his playing style, "The grit that he shows and the fact that he will go to the tough areas accompanied with that speed, makes him effective for a guy that's not the biggest out there. He's a brave kid and he's a kid that will get his nose dirty too."
Getting approval from a coach is huge, but earning the respect of your teammates is everything in the world of hockey. Teammate Alex Grant gave his two cents on Whitney saying, "He works extremely hard. He takes a lot of hits to make simple little plays that are effective and he can score."
Although Whitney may not be NHL ready at the moment, he has the offensive makeup and the defensive blueprint that will propel him into the National League sooner than later.
Follow Ted on Twitter- @Bauerhockeydude