Recent disappointing results have forced Todd McLellan to shuffle his lines more than he'd like.  The San Jose Sharks lines are deep, but with a few injuries (Torres and Burish) these are hardly the final product of what Team Teal wants this season.  Keep in mind, with how active head coach McLellan has been on shuffling these lines, this list is my opinion on the optimal line pairings in San Jose.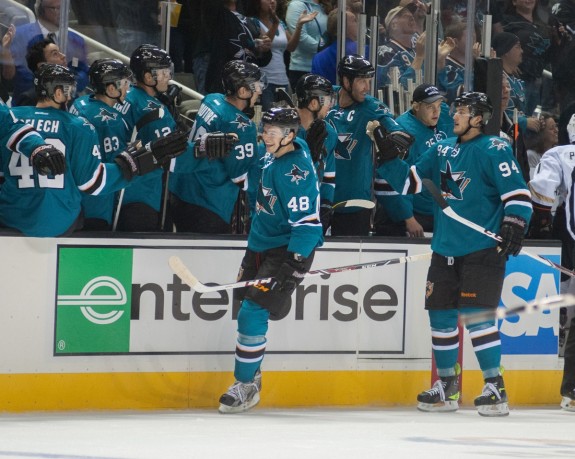 San Jose Sharks Lines: Forwards
Hertl-Thornton-Burns
Affectionately dubbed the Tom, Dick, and Hairy line (for various reasons I cannot go into but will shamelessly link here), Jumbo Joe leads his young rookie and recently shaved defender-turned-forward into battle.  The very different playing styles of these three have made for one of the most effective lines in the league.  They hold the top three spots on the team for points per 60 minutes and are all in the top 25 league-wide.  Oh yeah, and Tomas Hertl is doing really well for a rookie.
Marleau-Couture-Wingels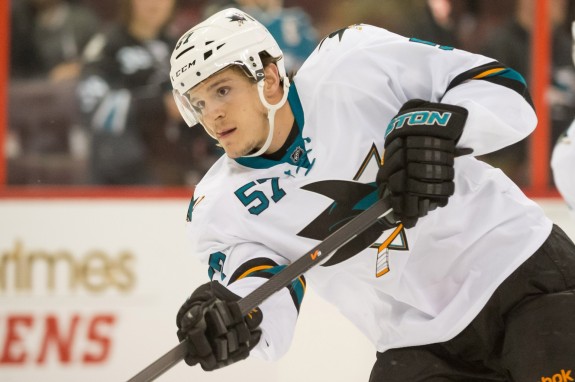 The two sharpest shooters on the Sharks legally allowed to drink alcohol in the United States make their living on the second line.  Couture and Marleau consistently face the toughest competition, in fact, they are both in the top 3 for time on ice against the best in the league.  30.6% of their ice time (5-on-5) is against quality competition.  Despite the tough competition, however they both have at least 30 points.  Tommy Wingels is no slouch either as he earned his way to the top with some hard work.  The 25 year-old consistently puts in maximum effort every night to make up for his lack of elite ability.
Nieto-Pavelski-Kennedy
It starts getting messy around the third line.  Joe Pavelski is easily one of the best third line centers in the NHL.  But Tyler Kennedy is his only real stalwart linemate.  Shuffling the players around him has forced Pavelski into a tough situation.  He has no consistency and must build chemistry with multiple forwards it seems every night.  Despite this, Pavelski is still turning in a solid season with 30 points through 33 games.
Sheppard-Desjardins-Havlat
Desjardins centers the fourth line and has a veteran presence off to his right in Marty Havlat.  The Sharks fourth line is better than most in the NHL, but with injuries healing, look for this line to become even better soon.
San Jose Sharks Lines: Defensemen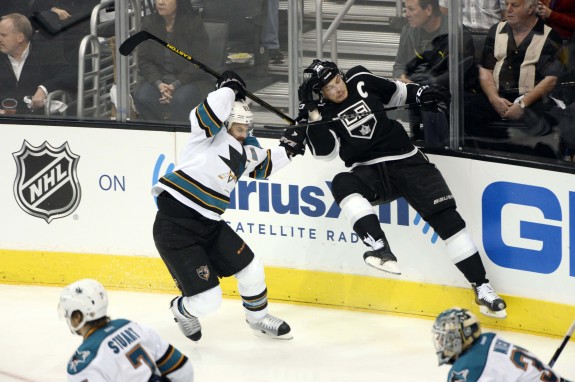 Vlasic-Braun
The shutdown pairing of Pickles and Braun has most opponents shaking in their boots.  These two both turn in Corsi For percentages worthy of the top 20 in the NHL.  Odd-man rushes are few and far between when Marc-Eduoard Vlasic and Justin Braun take to the blue line.
Irwin-Boyle
The old man of Team Teal still holds the "A" on his chest.  Dan Boyle is a fan favorite and the most dangerous blue liner on the offensive side of the puck.  Matt Irwin has claimed his spot up here, but it is up for debate.  After Dan Boyle, the Sharks defense has some major holes.
Stuart-Demers
Case in point, the revolving door that is the third defensive line.  Jason Demers and Brad Stuart are decent defenders, but that is not enough for a team trying to become elite.  They lack the positional awareness of the upper lines and can make a mess of breakout passes.
Kenneth is a graduate of the University of San Francisco in Politics and Chemistry. But his passion in life has always been hockey. He has played since he was four and even coached a few teams. Kenneth writes for the San Jose Sharks at thehockeywriters.com