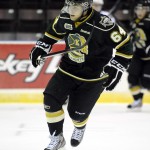 On Friday night, London's John Labatt Center was the home to another ugly hockey accident for the second time this season invovling property of the Philadelphia Flyers (recall the "banana throwing incident "in NHL preseason action).  The Sault Ste. Marie Greyhounds travelled to the London to face the Knights in a spirited Conference match.
Around the Ontario Hockey League teams are quite familiar with the Greyhounds agitating skilled forward named Nick Cousins as he can usually be found mucking it up and getting under the opposition's skin.  On a night where the game was close, tensions and emotions ran high as the clock expired on a Greyhounds' 4-3 win.  The London Knights, currently ranked first among all Canadian Hockey League clubs, would earn just their third regulation loss on the season.  As time dwindled down, Nick Cousins, a Philadelphia Flyers third round pick (2011, 68th overall), picked up the puck and shoot it at the empty net as time elapsed.  Cousins raised both of his arms and appeared to say something to London Knights' forward Ryan Rupert as he glided toward him.  Rupert retaliated with a baseball-like stick swing to Cousins midsection.  Cousins immediately went down and Rupert continued to jump on him while on the ice.  The Greyhounds were already on the ice congratulating their netminder, Jack Campbell, and not surprisingly both teams came to their teammates' rescue.
London Knights' General Manager Mark Hunter fueled the fire in his post-game comments as he hinted that Nick Cousins deserved what was coming from him,
"I'm not naming names but if they go to their goalie to celebrate, then nothing happens"
Nick Cousins isn't foreign to these post-game controversial conflicts as the agitating forward was the center of attention a month ago when the Greyhounds were involved in a post-buzzer brawl with the Kitchener Rangers after Cousins allegedly said something to Rangers'  netminder Franky Palazzese.
Rupert's stick swinging incident is in no way justifiable and the Knights forward will certainly receive a lengthy suspension from OHL Commissioner David Branch.  The OHL has made it clear that they will not tolerate dangerous and reckless play as Branch has handed down several lengthy suspensions already this season.  The latest was a 20-game suspension to Niagara's Tom Kuhnhackl for his hit on star defenseman Ryan Murphy.  In all likelihood, Ryan Rupert could be looking at the longest suspension of the year with this latest debacle and 25-games or more would not surprise anyone.
Ryan Rupert is a native of Grand Bend and plays alongside his twin brother Matt as both enter their NHL draft year.  Rupert currently has 7 goals, 15 points and 38 penalty minutes to sit sixth in London Knights scoring.
Stay tuned for the verdict on Rupert's nasty stick swinging incident.
My passion for the game has led me to writing about hockey, specifically dealing with the future of hockey and it's prospects.
You can find more of my work at DobberProspects.com, TheHockeyGuys.net and OHLWriters.com
Outside of the rink, I enjoy spending time with my friends, golfing, kayaking and fishing as well as competing in several of my own hockey leagues.
If you so do choose, please feel free to follow my thoughts and work on twitter @RossyYoungblood