Did you work late last night? Did your significant other make you run errands while the game was on? Did your dog chew off your TV cable wires?
Have no fear – THW's Monica McAlister has your back, covering everything in the hockey world from From Abdelkader to Zuccarello every morning. Check in daily to quickly get up to speed on all things hockey – recaps, storylines, videos and great links.
While You Were Sleeping
Washington Capitals 3 New Jersey Devils 1
It took Devils Cam Janssen just over five minutes into the game before he was sent to the penalty box for boarding. It would take an additional eight minutes before Adam Larsson would give New Jersey the lead as he netted his first of the season with a wrist shot past Tomas Vokoun.
Washington would have three power play chances in the second period that they would fail to capitalize on before captain Alex Ovechkin would tie the game at one.
The third period started with the Capitals on the penalty kill as Jason Chimera had been called for roughing with less than a minute left in the second that they would kill off just to have Mike Knuble get called for tripping seconds later. It would be Chimera himself with a short handed goal on the Knuble penalty to put Washington up 2-1 over New Jersey.
Marcus Johansson would go backhand on Martin Brodeur to make it 3-1 for the Capitals.
Three Stars:
Jason Chimera (WSH) 1 goal, 4 shots on goal
Adam Larsson (NJD) 1 goal, 3 shots on goal
Tomas Vokoun (WSH) save percentage: 0.970
Carolina Hurricanes 1 New York Rangers 5
Thirty-five shots on goal would not be enough for the Hurricanes to power over the surging Rangers.
It would take just under ten minutes into the game for Sean Avery to net his first of the season and give the Rangers the early lead in the game.
The second period would see Alexei Ponikarovsky tie the game for Carolina as he put a wrist shot past Henrik Lundquivst.
Dan Girardi would score a power play goal in the third period to regain the Rangers lead; and Brandon Dubinsky would score his first of the season less than ten seconds later to make it 3-1 over the Hurricanes.
Rangers captain Ryan Callahan would go backhand on Cam Ward to give them a three goal lead and Brad Richards would complete the scoring with a wrap-around goal late in the period to give the Rangers the 5-1 win.
Three Stars:
Dan Girardi (NYR) 1 goal, 2 shots on goal
Sean Avery (NYR) 1 goal, 3 shots on goal
Brandon Dubinsky (NYR) 1 goal, 2 points, 2 shots on goal
Dallas Stars 1 Pittsburgh Penguins 3
Top of the West meets top of the East as the Stars visit Pittsburgh. The Penguins have now played 16 games and have 23 points while the Stars have 22 points in 15 games.
Eric Nystrom would open up the scoring as he put a wrist shot past Marc-Andre Fleury just over sixteen minutes into the game.
It would take until nearly eighteen minutes into the second period before James Neal was able to capitalize on a power play and tie the game for the Penguins.
The third period would belong to the Penguins as James Neal would score his second power play goal of the night as he put a wrist shot past Kari Lehtonen to make its 2-1 Penguins.
Matt Cooke would finish off the scoring as he was awarded a penalty shot after being tripped on a breakaway by Stars Trevor Daley.
Three Stars:
James Neal (PIT) 2 goals, 2 points, 4 shots on goal
Matt Cooke (PIT) 1 goal, 2 shots on goal
Chris Kunitz (PIT) 1 assist, 1 shot on goal
Ottawa Senators 1 Buffalo Sabres 5
Senators may have put 37 shots on goal while the Sabres only threw the puck on net 21 times; but the hockey gods were in favor of Buffalo last night.
Derek Roy wasted no time as he opened the scoring just 2:09 into the game as he put a wrist shot past Senators goalie Craig Anderson; it would take less than twenty seconds for Mat Ellis to score his first of the season as he also put the puck past Anderson.
It would take a penalty to Sabres Thomas Vanek before the Senators were able to get on the scoreboard with a power play goal from Sergei Gonchar; his first goal of the season.
Jordan Leopold would make it 3-1 for Buffalo as they head into the first intermission.
A scoreless second period would see Buffalo fail to score on three power play chances.
Four minutes into the third period would see Luke Adam score to make it 4-1 for the Sabres; 57 seconds later Ville Leino would score his second of the season to make it 5-1 for the Sabres over the Senators.
Three Stars:
Derek Roy (BUF) 1 goal, 3 points, 2 shots on goal
Jhonas Enroth (BUF) save percentage 0.973
Drew Stafford (BUF) 3 assist, plus/minus 3
Edmonton Oilers 0 Detroit Red Wings 3
It may not have been Miller Time for Buffalo last night as Jhonas Enroth was in net; but it was in Detroit as his brother Drew scored the game winner in Hockeytown.
Drew Miller scored his first goal of the season as line mate Patrick Eaves notched his first assist of the season after missing most of the early season with back issues.
Hard hitting alternate captain Niklas Kronwall would put a slap shot past Nikolai Khabibulin to make it 2-0 for the Red Wings over the young Oilers just two minutes and five seconds into the second period.
At 2:51 of the second period Edmonton's Lennart Petrell would let his frustration get the best of him as he dropped the gloves with Detroit's Justin Abdelakder.
Both players received five for fighting while Petrell also received 2 penalty minutes for instigating, an additional 2 PIM for instigating with a shield and a ten minute misconduct.
It would be a tip-in goal from Valtteri Filppula off of a shot from Henrik Zetterberg to make it 3-0 for the Red Wings over the Oilers.
Three Stars:
Jimmy Howard (DET) save percentage 1.000
Drew Miller (DET) 1 goal, 1 shot on goal, plus/minus 1
Justin Abdelkader (DET) 1 assist, 1 shot on goal, plus/minus 1
Calgary Flames 1 Chicago Blackhawks 4
Duncan Keith would net his first goal of the season as he put a slap shot past Miikka Kiprusoff to give the Blackhawks the early lead.
A penalty to Flames Roman Horak for hi-sticking would lead to a power play goal for Brent Seabrook; marking his first goal of the season as Chicago took a 2-0 lead.
Olli Jokinen would have enough in the third as he would put a snap shot past Chicago's Ray Emery to get the Flames on the board and cut the Blackhawks lead in half; however it would by Viktor Stalberg tipping-in a shot from Marian Hossa minutes later to give the momentum back to Chicago.
In a last ditch effort to at least tie the game to force over time Calgary pulled Kiprusoff for the extra skater which lead to the empty net goal from Chicago's Patrick Kane for the 4-1 win over the Flames.
Three Stars
Duncan Keith (CHI) 1 goal, 4 shots on goal
Patrick Sharp (CHI) 3 assist, 6 shots on goal
Olli Jokinen (CGY) 1 goal, 5 shots on goal
Vancouver Canucks 3 Anaheim Ducks 4
It took 21 shots on goal for the Ducks to defeat the division rival Canucks last night.
After a scoreless first period it would take a mere 25 seconds for Saku Koivu to put the puck past Roberto Luongo to give the Ducks the lead and they never looked back.
A penalty to Canucks Alexander Edler took a holding penalty that lead to a power play goal for Andrew Cogliano to make it 2-0; another power play goal, this time by Corey Perry would give the Ducks a 3-0 and lead to a fight between Perry and Vancouver's Keith Ballard.
Exactly one minute after the fight it would be Peter Holland with his first goal to make it 4-0 over the Canucks before heading off to the first intermission.
Just as penalties were trouble for the Canucks in the second it was the same for the Ducks in the third as Lubomir Visnovsky took a tripping penalty that lead to a power play goal for Kevin Bieksa to get Vancouver on the scoreboard.
Jannik Hansen would go on to tip-in a Daniel Sedin shot minutes later to cut Anaheim's lead in half.
Nearing the end of the game Hansen would put a wrist shot past Jonas Hiller off of a feed from Daniel Sedin to bring the game within a goal; however, the Canucks were unable to tie the game and force overtime.
Three Stars:
Corey Perry (ANA) 1 goal, 5 shots on goal
Andrew Cogliano (ANA) 1 goal, 2 points
Jannik Hansen (VAN) 2 goals, 5 shots on goal
Up into the Netting
Always on top of everything in the NHL the guys over at Puck Daddy have a look at the 2012 NHL All-Star Game fan ballot .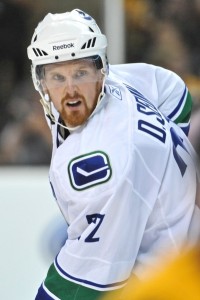 Top Spots:
Points: Phil Kessel – Toronto (23)
Goals: Phil Kessel – Toronto (12)
Assist: Daniel Sedin – Vancouver (16)
Plus-Minus: Tyler Seguin – Boston (11)
GAA: Josh Harding – Minnesota (1.18)
Save Percentage: Josh Harding – Minnesota (0.965)
Wins: Kari Lehtonen – Dallas (11)
Shutouts: Pekka Rinne – Nashville (3)
Northwest: Edmonton Oilers
Pacific: Dallas Stars
Central: Chicago Blackhawks
Atlantic: Pittsburgh Penguins
Northeast: Toronto Maple Leafs
Southeast: Washington Capitals
Face-Off
7:00 p.m. EST
Buffalo Sabres at Boston Bruins
Ottawa Senators at Toronto Maple Leafs
New Jersey Devils at Washington Capitals
Pittsburgh Penguins at Carolina Hurricanes
Dallas Stars at Detroit Red Wings
Winnipeg Jets at Columbus Blue Jackets
Montreal Canadiens at Nashville Predators
8:00 p.m. EST
Tampa Bay Lightning at St. Louis Blues
10:00 p.m. EST
Calgary Flames at Colorado Avalanche
10:30 p.m. EST
Minnesota Wild at Los Angeles Kings
Phoenix Coyotes at San Jose Sharks
An avid hockey lover that grew up in Michigan and lived in the Washington D.C. area while going school for Sports Management. Volunteer with the American Special Hockey Association (ASHA); and follows as much SM-liiga and Elitserien as possible along with the vast array of North American leagues.