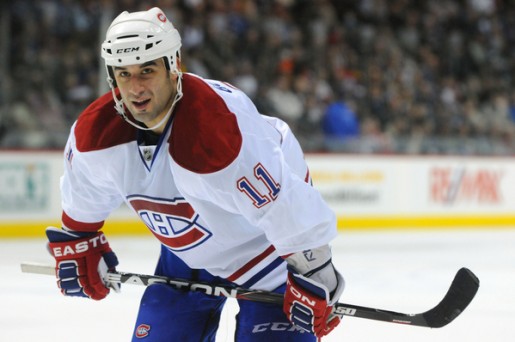 After missing nine games due to injury, Scott Gomez is being reinserted into the lineup for tomorrow night's match up against the Nashville Predators. Based on this morning's practice lines, Gomez should start the game on the wing playing alongside Petteri Nokelainen and Mike Blunden.
Although Gomez has played center his entire career, it's hard to argue with Jacques Martin's decision to demote the team's highest paid player.
Scott Gomez hasn't scored a goal since February 5th of last year. After a much publicized re-dedication to his physical conditioning this past summer, he started the year stone cold netting only one assist in six games before going down to injury.
It isn't just the fact that he isn't scoring. Gomez isn't adding much of anything. In 80 games last year, he totaled only 32 hits and 24 blocked shots. Lars Eller by comparison, who had roughly half the ice time that Gomez enjoyed, was able to lay out 85 hits and 22 blocked shots. In six games this year, Gomez has only one hit and 3 blocked shots.
In simpler terms, he's been invisible.
Despite practicing on the fourth line, a roster spot which he's clearly earned over the past calendar year, it's unlikely that Jacques Martin will keep him there for very long. He's been reluctant to bench Gomez for his poor play in the past and will likely give him another chance coming back from injury. Martin is likely just easing him back into game speed.
The question then becomes two-fold. Who's place does he take and how long will his leash be?
Thomas Plekanec is the unquestioned number one center at this point. Lars Eller has shown a tremendous amount of confidence and is making the Halak trade look better in every game he plays. David Desharnais, although he isn't lighting it up, has a respectable eight points in 15 games, putting him well ahead of Gomez's production  over the last year.
In all likelihood, Eller or Desharnais will be moved to the wing at the first sign of a cold streak. It may not be right, or make much common sense, but anyone who's followed Jacques Martin throughout his tenure with the Habs knows that it's his style.
What's less certain is exactly how long Gomez will have to prove that he's still capable of being a top two line center in this league.
The pressure on Martin has been greater this season than it's been at any point over his first two years with the team. The team struggled out of the gate, his long time right hand man was let go, and his usage of grinders like Darche and Moen over proven goal scorers and talented youngsters has been openly questioned in the media since game one.
Martin may not have the time or the leeway to keep throwing Gomez out there for over 15 minutes a night and hoping that he suddenly starts turning things around.
Eventually, even he will have to come to the realization that the New Jersey Devils Scott Gomez doesn't exist anymore. He'll have to realize that Gomez is no longer, despite what his contract says, a seven million dollar player.