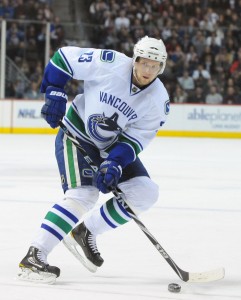 The loss of a blue-liner with the ability of Christian Ehrhoff would be tough for any team, luckily the play of Alex Edler has been a saving grace so far for the Canucks defense. Edler, a 91st overall draft pick in 2004, is now playing his fifth season as a regular in the Canucks lineup and is steadily improving.
Moving from Modo in Sweden after being drafted by the Canucks in 2004, Edler played a season for the Kelowna Rockets in the WHL, scoring 53 points in 62 games. After his success in Kelowna, Edler was assigned to the Canucks' AHL affiliate, the Manitoba Moose, making his Canucks debut only two games into the AHL season and eventually playing 47 games for the Moose and 22 games for the Canucks in 2006/07.
Since the 2007/08 season, Edler has been a mainstay on the Canucks defense, having played over 300 NHL games to date. Edler is known as an offensive defenseman, possessing a powerful slapshot and more recently, as a powerplay regular. The defender's point total has increased from season to season, only halted by a back injury in January 2011, limiting him to 51 games.
His play early in 2011/12 looks to be pushing Edler into the category of a great defenseman. He is currently tied for 1st place in defensive scoring with 16 points (alongside Marc-Andre Bergeron) and above the likes of Dion Phaneuf, Nicklas Lidstrom and Zdeno Chara, a great accomplishment for a 25-year-old that isn't regularly featured in many headlines around Vancouver.
Out of his points so far, Edler has 3 goals with 13 assists proving he can not only score goals but set up his team-mates as well. Along with Sami Salo, Edler has so far been the most consistent Canucks defenseman, proving more reliable than the "top 2" Vancouver tandem of Kevin Bieksa and Dan Hamhuis.
On paper, Edler is on target for 82 points this season with 16 points in 16 games and while that might be a stretch, he looks an almost certainty to break the 50 point mark for the first time in his NHL career. With his $3.25 million contract expiring at the end of 2012/13, the young Swede will be expected to become on of the highest paid players on the Canucks roster in the coming years and if he remains healthy, a future franchise defenseman for the Vancouver team.
Alex Edler on the Powerplay
– a goal during the Canucks vs Capitals game on Oct 29th 2011.