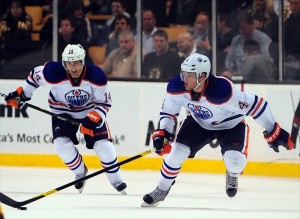 American Thanksgiving is considered a quarter pole in the NHL schedule, a good time to evaluate what's happened over the first part of the season. In the case of the Edmonton Oilers, not much has gone right. They've only won seven games, and are in last place in the Pacific division. They are currently four points behind the Calgary Flames, who have played two fewer games. Dire straights? Absolutely. Hopeless? For this year, probably.
The Negatives
This isn't an attempt to be overly negative, but rather just a realistic evaluation of the team thus far. The season got off to a shaky start because of injuries. Those injuries have continued and the team hasn't been able to ice a full line-up. Injuries happen to every team, some worse than others. Organizational depth, and management of that depth is crucial to overcome particularly difficult stretches of injury. The Oilers have done the best they can with what they have, but there wasn't enough talent down the middle or in the bottom six to make up for some of those losses. Injuries on defense have also been tough to deal with, but no one is going to feel sorry for the Oilers. Other players need to step up and fill in those gaps, but many have failed to do so.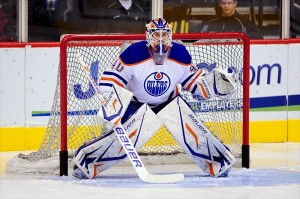 The overall lack of team defense on most night's is troubling. Either Dallas Eakins can't create a system that locks down defensively, or the offensive players simply won't adapt. A lot of offensively gifted players would rather go on the fore-check and try to create scoring chances. That's not a new development. Getting those players to buy in to a defensively responsible system is a challenge. Often times, forwards are forced to backcheck more than they'd like to, taking away from their time in the offensive zone, and often those forwards choose to cheat and wait for the breakout. Is that due to a lack of maturity, or lack of understanding of what it takes to win? Possibly. Can it be fixed? It better be.
The Oilers have been shut-out numerous times this season, and have struggled to score on the powerplay. If the forwards were scoring at a high rate, maybe the defensive miscues would be overlooked a little. But that's not the case in Edmonton. The Oilers can't play the Blue Jackets every game, a team which they've dominated lately. Their division, and the Western Conference in general is better than it's ever been, and the Oilers just look outmatched on most nights.
The Goaltending
Before allowing four goals against the Blackhawks, Devan Dubnyk's game was starting to look up. He was positioned much better, had stronger rebound control and looked more confident overall. But as has been his issue throughout his career, the consistency hasn't been there. Blaming the bad defence can only go so far. Dubnyk has shown he has talent, but it's not translating over a full season. This may very well be his last chance to prove he's a number one, at least in Edmonton.
Ilya Bryzgalov was okay in his relief appearance against Chicago, allowing one goal on 13 shots. He's going to get a start either Thursday against the Predators or Friday against the Blue Jackets. Is he the long term solution in Edmonton? He's on a one year contract but perhaps they'll keep him around. The organization have some decent goalie prospects. But if this team is going to start competing, the goaltending simply has to be better, whether thats Dubnyk, Bryzgalov or someone else.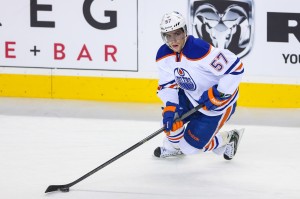 The Positives
All is not lost in this Edmonton Oilers season. David Perron has had a great campaign so far, scoring 18 points in 21 games. Jordan Eberle has come on strong as of late, leading the team with eight goals and 20 points. Ryan Nugent-Hopkins and Taylor Hall are second and fourth respectively in team scoring, right where they should be. Captain Andrew Ference seems to be having a positive effect on the team. His gritty play and leadership is what they desperately needed.
The question is now, can this team actually make a playoff push? That can be only be answered with another question. Is this a good team that is underachieving and just needs a spark to go on a run, or are they simply not good enough. So far, they've proved the latter. It's not necessarily a knock on the players or even the coach, it's just a knock on the expectations. For some reason, after many dismal rebuilding years, out of nowhere, the Oilers were declared a contender. That declaration wasn't based on stats, or anything tangible. And it has saddled them thus far.
Progress for the Oilers can be summed up as such: 1. Continuity by not firing the coach. 2. Development of young players, mainly teaching them the importance of two-way play. 3. Continued growth of organizational depth. 4. Building a team identity.
Can the Oilers will themselves into a postseason contention? Anything is possible. The talent level has never been questioned. But in the name of realism, it might be best to forget the playoffs and focus on fixing what's really wrong with this team. Some might consider that throwing in the towel too soon. Look at the standings. Look at the rest of the teams in the Conference. Look at the new playoff format. That towel was a thrown in a while ago.
Marcy, a former hockey player, is a hockey correspondent on CTV News and TSN radio. She began her career as a Sports Journalist in 2009 and has been part of The Hockey Writers since 2010, where she is currently a senior writer and editor.