The Calgary Flames made two recent minor trades that will help shape the club's future.
The team traded Tim Jackman to the Anaheim Ducks for a sixth-round pick in next year's draft, and then gave up its own sixth-round pick to the Dallas Stars for Lane MacDermid.
Jackman saw little action on the team's fourth line and management felt a younger player could take his spot – and besides, the Flames already have Brian McGrattan as their main enforcer. MacDermid will fill that role on the farm team for the time being.
A Proper Rebuild
With these minor moves, the Flames can offer younger players more ice time and a chance to prove themselves at the NHL level. Recalling Blair Jones following the trades is a step in the right direction. During a rebuild, it's crucial to discover who may or may not be part of the team's future.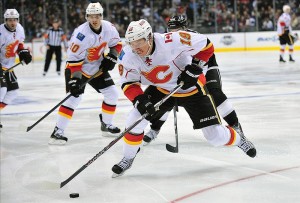 Jones and other players have been playing well in Abbotsford in the AHL but many of those minor league successes don't translate to the big league. For players like Jones, the time is now to prove he can make the leap with the big club. Or if he is more of a career minor leaguer.
The moves the Flames make now will have an impact in the years ahead while the team rebuilds its lineup. Determining which player can best play each position, and how well they can compete at the NHL level, will help the Flames decide who to keep.
A Plan in Place
Ultimately Jackman was not part of the team's plans so it's better that he be replaced by a young player who may be an important part of the team's future. Should the Flames stay near the bottom of the standings, it makes sense to get solid returns for some veterans like Lee Stempniak and Mike Cammalleri and continue the rebuild.
However, the team should keep some veteran presence to have a good balance on the ice. Captain Mark Giordano, defenseman Dennis Wideman and forward Jiri Hudler provide plenty of experience to help Sean Monahan, Sven Baertschi and T.J. Brodie continue their development in Calgary.
As new younger players arrive in Calgary, there will be a place for them to display their individual skills. The next wave of Flames like Max Reinhart, Corbin Knight, and Markus Granlund are close to become full-time players in Calgary. Only time will tell if this plan will work out for the Flames but it makes sense to reserve a spot for players who may be part of a playoff team in the future.
Check out our partners at TiqIQ for the best deals on Calgary Flames tickets for all 2013-14 games.
Mario now covers the Los Angeles Kings and writes other hockey features. He is an experienced journalist who has covered sports and entertainment in daily and weekly newspapers, magazines and online, including thedigitalbits.com/columns/inside-cinema. He is also the co-creator of The Gaffoos, www.gaffoos.com