With every victory comes sacrifice.  That sentiment rung loud and clear to Team Canada after last night's impressive 8-1 victory over Team Finland.  Devante Smith-Pelly, a wrecking ball of sorts with his rambunctious style of play and a fan favourite, blocked a shot and left the game midway through the 2nd period.  After the game it was reported that x-rays taken revealed a fracture.  Monday night the bad news was confirmed, with Hockey Canada releasing a statement that dampened the mood in Edmonton.  Smith-Pelly will miss the remainder of the tournament and part of the NHL regular season, out 6-8 weeks.  For Team Canada it's a case of deja vu.  At last year's tournament in Buffalo forward Jaden Schwartz went down with a fractured left ankle after a lopsided win over a European opponent (7-2 victory over the Czech Republic).
What Smith-Pelly brings to the table cannot be deciphered by looking at game summaries and box scores.  The ability to intimidate an opponent is something desired by every head coach and general manager, and Smith-Pelly brought that every shift he played.  That presence is greatly appreciated by his teammates, as well as fans attending games.  Blair Kindrachuk, 19, feels that when he's on the ice Smith-Pelly "injects emotion into the building" with his style of play.  Forward Brendan Gallagher, who had 2 points in the win on Monday afternoon, on Smith-Pelly:
"Obviously you feel for Devante, but we feel we have other guys that can step it up and take over his role."
Replacing a player who brings the energy and physicality of Smith-Pelly isn't an easy task given the pressure of playing at home and the microscope the team is under.  During practice this morning at Millenium Place in Sherwood Park, Alberta forward Brett Connolly took Smith-Pelly's place on a line with Quinton Howden and Freddie Hamilton, who was excellent in shutting down the Granlund brothers on Monday night.  While it appears that Connolly will be replacing Smith-Pelly on his line, the player who will be most counted on to take his place as team tone-setter will likely be Columbus Blue Jackets prospect Boone Jenner.
Jenner's all-round play was what convinced Head Coach Don Hay to make him a surprise selection to the Team Canada roster, but it's his physical dominance that was on display in Canada's first game of the tournament.  A clean Jenner hit on Finnish defenceman Olli Maatta in the first period knocked Maatta out for the game and possibly the tournament with concussion-like symptoms.  The IIHF does not track hits, but according to TSN Jenner had 3 in the first period alone on Monday.  He was also quite proficient in the faceoff circle, winning 13 of 18 draws he took.  Jenner, who stands at 6'1″ and 205 lbs (compared to Smith-Pelly's 5'11" and 212 lbs), on the added responsibilities placed upon him:
"I'm just going to have to keep playing my game.  I think I knew from Day 1 of camp that I had to that kind of role and just try to be as physical as I could and bring as much energy as I could."
Jenner, who played on a line with OHL scoring leader Tanner Pearson and Michael Bournival, isn't the only player who will need to step up and fill the void.  As Bournival said, it's a team effort and every player needs to step up.  This team has more grit than in years past with players like Bournival, Quinton Howden, Jenner and Hamilton chosen over more prolific skilled players such as Tyler Toffoli, Christian Thomas and Ty Rattie.  With a game against the Czech Republic on Wednesday night in Edmonton, there needs to be an answer quick.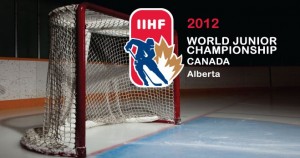 The 2012 WJHC are coming to THW.  Myself and Chris Ralph have been granted full media access for the duration of the tournament, including all round robin and medal games.  Together we will bring breaking news, game analysis, player interviews and stories to THW.
Follow Salim Valji on Twitter for the latest WJC updates
Like Salim Valji on Facebook to join in on the WJC discussion
Salim Valji is based in Edmonton AB, writing about all topics hockey for THW. His work has appeared in the Edmonton Journal, Fox Sports and NHL.com. He is credentialled by the WHL and Hockey Canada and attended the 2011 NHL Entry Draft. He will be covering the 2012 IHHF World Junior Hockey Championship for THW.