Brandon Sutter has the ability to score 25 goals a season. But he doesn't break the top six forwards for his team unless one of them is hurt. He's top six talent without a top six roster spot, and that seems to be okay with him. But if his Pittsburgh Penguins have any chance at making a Stanley Cup Run, he's going to have to carry them there.
Like Staal Shall Be Sutter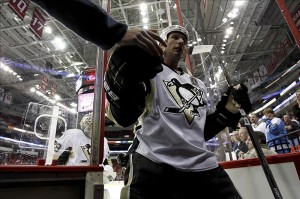 In 2009, Jordan Staal finished the regular season 3rd in scoring for the Pens. His scoring continued in the playoffs when he notched four goals for the Pens during their Cup run. But it was the timing of his goals that made the difference. He scored arguably the goal that turned the tables for the Penguins in the series between the Detroit Red Wings. Down 2 games to 1 and down a goal, Staal took a puck and put it in the back of the net for a short hander. From that moment on, the Pens would win three of the last four games and win the Cup.
Staal also won Defensive Player of the Year for his team that year. And just like Sutter, was the key ingredient to a Cup win for the Pens.
Sutter is still young and fairly inexperienced when it comes to playing in the playoffs. But the talent and potential to break out is there. He didn't scoremany goals this season in total, but the ones he has scored have been game changers, including a team best three shorthanded goals.
https://twitter.com/PiratesFreak94/status/452984560566161408
This is only Sutter's third full season in the NHL due to injury and other setbacks while in Carolina. And last season was the first that Sutter had ever played in the playoffs. Of all the Penguins who've played in April, no one has looked better than Sutter and if that continues, he will be the key ingredient, just as Staal was in 2009, for the Pens to make a run.
Why is Sutter so Valuable?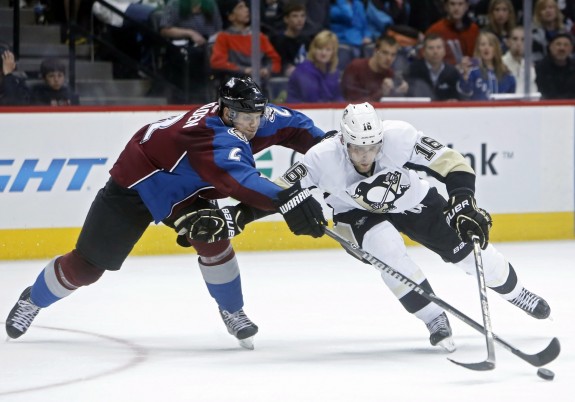 The Penguins have the best two players in the world on their top two lines… There is no arguing that Sidney Crosby and Evgeni Malkin will have to play well during the playoffs for the Penguins to have any chance to win. But, being the best players in the world comes with the task of knowing your opponent will be game planning to stop you. Teams won't be worried about shutting Brandon Sutter down; they'll be focused at taking Crosby and Malkin out.
The Penguins are blessed with top notch talent and the reality is, teams cannot shut every player down. Crosby and Malkin combined for 67 points in the 2009 playoffs. That was also the final season they were relatively healthy for a full season. They will be healthy in two weeks. (Let me remind you, Malkin played an entire game on his injured foot. His time out has been super precautionary and he will be ready when it matters.)
Malkin and Crosby cannot carry the team to 16 wins; Marc-Andre Fleury cannot stop every shot he'll see in the 24 games they may play.
The defense is one unit that must play well. The Pens will need consistent secondary scoring from the likes of Jussi Jokinen and Beau Bennett. But all of that will mean absolutely nothing if Brandon Sutter does not play well. He's their best scorer in open ice; he's their best defensive center; he's their best offensive penalty killer; and he's their secret ingredient to bringing the Stanley Cup back to Pittsburgh.
Sutter off to a Good Start
Sutter had a chance to carry the weight in the Penguins last away game of the season as Crosby, Malkin and Chris Kunitz all sat out. He responded with an open ice wrister and a beautiful redirection between his legs as the Pens won 3-2.
Sutter is more than capable of performing at a high level and it looks like he has found his confidence and hit his stride at the right time, just as Jordan Staal did at the end of the 2009 regular season. With Sutter performing, Crosby and Malkin healthy, and a complete D behind them, the Penguins are poised for a playoff run. More importantly, Dan Bylsma is poised to keep his job. Even with his success, his job is in jeopardy if he can't find his way back to the Stanley Cup Finals.
And let's not forget Sutter is playing for a new contract…
Fast forward to Sutter's contract negotiation this summer: "That game when we were missing our top 9 guys, I was the best!"

— Meesh (@HockeyMeesh) April 7, 2014
Be sure to leave your feedback on Sutter and here and join the conversation on Twitter using the hashtag #THW. 
Smith works full time with Rise Against Hunger, a non-profit set on ending world hunger by 2030. He's a hockey enthusiast living in Pittsburgh, PA and formerly covered the Pittsburgh Penguins for THW.
Follow him on twitter @BSmithWV