Amid the reliable sounds of playoff drama and Stanley Cup passion, it's easy to forget that for 26 NHL franchises whose seasons have ended, next year's plans have already begun. Salary caps have been examined, front office moves have been debated, and the general wellbeing of the organization has been the primary concern for each team no longer playing. In Los Angeles, where crisp Stanley Cup banners hang from the rafters, this is especially true. The Kings returned to the playoffs but were swiftly kicked off the train like an antagonist in Walker Texas Ranger. There are financial issues and personnel dilemmas, but one item was at the top of L.A.'s list. Convincing their coach to come back.
Darryl Sutter has accomplished a lot in the NHL. Several cities can attest to his impact on their hockey culture as the Canadian from a large ex-player/pig-farming family has taken Chicago, San Jose, and Calgary on successful playoff campaigns over the course of his coaching career. But only one franchise witnessed him reach the game's summit. Sutter arrived in L.A. after five years out of coaching and improbably turned the Kings into their very own mini-dynasty.
Of course, professional sports, much like Janet Jackson, asks one important question on an endless loop. What have you done for me lately (Happy belated 50th Janet)? The last two years have been far from successful for the Kings, with Sutter deserving as much criticism as anyone for his underachieving bunch. His contract unceremoniously ran out, which many assumed was more of a clerical error than anything else. A new deal would be a formality.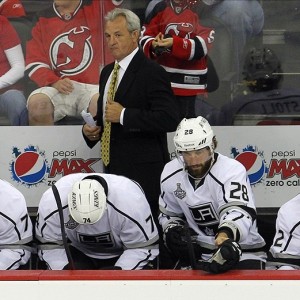 Well, about that. Sutter re-upped for several years (terms are undisclosed), but for reasons unannounced, the talks took longer than expected. Was he playing the contract negotiation game? Sutter likes L.A., has grown comfortable with the Kings, and has never given off the impression that money is driving his decision-making. The likely reason for Sutter's inactivity is that he was considering leaving the franchise, perhaps coaching hockey, for good.
The Kings are in a good position with Sutter returning, because arguably he is as good as anyone in his profession. But he will leave that bench eventually, perhaps sooner than expected. In fact, all signs might be pointing in that very direction.
Past Experiences
I think it was either George Santayana or Mike Milbury who first said that those who do not study history are doomed to repeat it (yeah I'm going with Santayana on this one). Since the end of his professional playing career in 1987, Sutter has had coaching stints in Chicago, San Jose, Calgary, and now Los Angeles.  His first stop in the Windy City involved the aftermath of the hockey tornado that is Mike Keenan, but Sutter replaced him admirably. Just three seasons later, he was gone. The coach simply professed a desire to spend more time with his family, something that everyone deserves to be commended for. But at just 36 years of age, did Sutter lay the groundwork for his future coaching tenures?
Sutter resurfaced with San Jose in 1997, and his Sharks got progressively better each season. The 2001-02 squad won the Pacific division but failed to make it past round two of the playoffs. The following year his team went 9-12-1 to start the new campaign, and for the only time in his pro coaching career, Sutter was fired. Was it premature? It's sure easy to say now. But again, you have to wonder if he had started to check out, and if those within the organization thought he would ultimately make a move to leave town on his own accord.
Calgary wasted no time hiring Sutter at the tail end of that same 2002-03 season, even sprucing up their offer with the GM position included. The Flames played well under their new leader right from the get-go, coming within one game, and one possibly missed goal call in overtime, (I'm really sorry for your loss Calgary fans), of winning the Stanley Cup. Sutter had his dream job, coaching and running an NHL team located hours from his childhood home in Alberta, and was getting results. And he slowly backed away again. In 2006, he stepped down as coach, before leaving the Flames organization for good in 2010. This remains his longest stint, but also his most drawn out exit.
Now in L.A., the same questions persist despite championship-level success. Are the Kings on borrowed time with Sutter? And if so, why is that the case? Let's dive into some potential root causes.
Coaching Style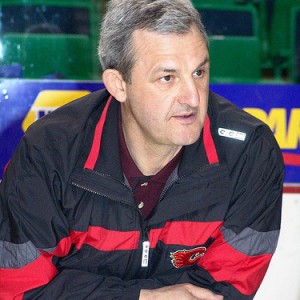 There are few things easier to explain about Sutter then his coaching style. Tempo. Attention to detail. And my God, you better play two-way hockey when you're on his sheet of ice. It's no secret that he expects a lot from his players, but it's a system that's proven to work time and time again. In San Jose, Sutter turned a young player with little regard for defense into one of the best players in the world. His name was Patrick Marleau. Sutter pushes his players to their maximum level, and ingrains every little detail into each and every practice, as his players will gladly attest to. The team is greater than the individual in Sutter's system, and that framework has netted the Kings countless achievements under his watch.
Unfortunately, there is a flip side to pushing maximum effort and rigid responsibility on an entire roster. Players can become burned out, unwilling to put forth the same dedication needed to satisfy their coach. Is that what happens with Sutter after several seasons? I'm not accusing him of being anything less than a standout coach and a stand-up guy, but you have to wonder why his teams haven't responded as well later into his tenure. The Blackhawks sputtered down the stretch during his final run, the Sharks couldn't get their feet out of the water shortly before he was terminated, and the Flames never reached the Stanley Cup after his first improbable run. It's fair to question whether Sutter leaves at the first sign of duress and if his message gets lost as time goes by.
We've already heard rumblings of Sutter losing the Kings the locker room when the going gets tough. The fact is, Sutter as in-game manager has a terrific feel for his team. He can push the right buttons, make necessary adjustments, and find the right line combinations to snap his squad out of a rut. But the grind of 82 games, practices, and road trips takes its toll on both players and coaches. It's this grind that causes veteran players to retire (not necessarily the games) and is the reason why prominent coaches like Jim Harbaugh and Larry Brown have short shelf lives. It's only human nature to get burned out when you're overworked, and Sutter has coaching style may generate has that negative side effect.
A Unique Personality
I've never talked to the guy personally, drank a beer with him, or helped him clean pig feces off the side of a barn, but I really believe Sutter doesn't view coaching as his primary focus in life. That's not a bad thing, and it's not to say that people who share the opposite viewpoint are incorrect either. Sutter truly loves the game of hockey, has an underrated knowledge of the sport, and loves creating a culture that is rooted in his general life philosophies. It's why even after he has stepped away from organizations, they have not completely crumbled. Sutter doesn't develop an NHL team; he builds a professional identity.
Looking at it from the Kings perspective, Sutter's demeanor is great for setting the tone in their building. Everything he says to the media seems calculated (albeit goofy) because it probably is. He knows his team will hear what he says, so he uses his time to push just the right buttons. If a forward has too big of a head on his shoulders, Sutter promptly puts him in his place by talking them down. Contrarily, if morale is low for a certain individual, Sutter will gladly build them back up through a classic "hoorah" speech straight out of an episode of Coach (The Craig T. Nelson comparison is really uncanny).
This is a great strategy, but unfortunately, one that  can also grow old and weary. Hockey players are not puppies, and eventually, they will see through and look past the mind games. Some will continue to be loyal soldiers, astute enough to cipher through Sutter's rhetoric. But others will not, and slowly they will drift away from his message. Has this already begun in L.A.?
A Succession Plan
The Kings are in a great position to win with Sutter in charge, but there will be a day when that is no longer the case. Whether that moment arrives in a decade, three years, or 9 months, L.A. needs to take the necessary precautions to ensure that they're not floating up the river in a boat with no paddle. This is a veteran-laden team ready to win now, and a sudden Sutter departure should not throw a wrench in those plans.
On their current coaching staff, the Kings have two assistants who have proven their value at this level. Davis Payne did a solid job running a disjointed St. Louis squad and was handpicked by Sutter to be his assistant. John Stevens serves as the associate head coach, where his defensive principles have shined brightly. Stevens seems like a natural fit, given both his effectiveness as an assistant and how smooth the transition would be given the current makeup and playing style of L.A.'s roster.
Should those names not suffice, L.A. always has the luxury of moving up one of the best minor league coaches in professional hockey, Mike Stothers. Having worked wonders in the AHL, Stothers could be a terrific option as players he's coached in the minors make their way to the top level. Maybe there's another name, outside the franchise, who the Kings have been monitoring in case of a shocking Sutter exodus. Over-preparation is never a bad thing.
All in all, I'm happy Darryl Sutter is returning to the Kings' bench for the 2016-17 season. The game, this town, and the people who get paid to put closed captioning on his interviews need that man in the NHL. But it's in his nature to walk away, on his own terms, when everyone least expects it. The Los Angeles Kings plan on winning games after Sutter says goodbye, so they should start preparing for that day immediately.
Just a hockey loving American. I grew up in Cleveland, Ohio, and attended Saint Louis University where I skated for the Billikens. From 2013-14 I covered the St. Louis Blues for ESPN Radio St. Louis. I currently work in sports video production in Los Angeles, and will always show solidarity for stay-at-home defenseman.