Will the Legion of Doom reunion at the Winter Classic Alumni Game be squashed by a work conflict? After all of the speculation and drama, it looks like that might be the case. One thing is for sure. Mikael Renberg seems like a better employee than most of us reading this article right now, as he didn't ask for the day off.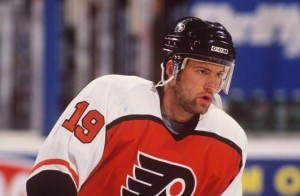 When everyone was speculating on who would be the least likely member of the Legion of Doom to make it to Philadelphia for the Winter Classic Alumni game on New Year's Eve, almost everyone said Eric Lindros. A report yesterday in a Swedish newspaper confirmed that former Flyers winger Mikael Renberg, not Lindros, now seems least likely for the event. Renberg currently works as an analyst for Swedish television station SVT. Hockeybuzz's Bill Meltzer posted the link to the article in the Swedish paper yesterday. The paper spoke with Mikael Renberg who mentioned his contract with SVT covering the Junior Tournament in Calgary this year at the same time.
After Eric Lindros commented in my earlier interview about hoping to reunite with Renberg, Mikael Renberg's SVT producer Max Bursell made some remarks on his Twitter account speaking Swedish on Thursday roughly stating "Note to Eric Lindros" that Renberg would be covering the junior tournament for the network. It's a tough break for Renberg as well as many Flyers fans who were hoping to see him at the Winter Classic Alumni game for a "Legion of Doom" line reunion.
In looking at Sweden's junior schedule, it does indeed conflict with the Alumni Game, but one would think SVT could replace Renberg for a game or two. Sweden vs. Russia is scheduled for 8 PM on December 31st. Sweden plays Slovakia on the 30th at 3:30 PM.
It does seem a little bit odd that Renberg couldn't get time off for these duties to come to the Alumni Game. Winter Classic's don't come around every year and there probably won't be a better time or place for this reunion to happen.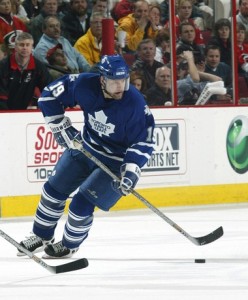 Many are under the impression that Renberg's employer is not allowing him the opportunity to return. After checking into a few things , that may not be the case. I reached out to Max Bursell, Renberg's SVT producer and he responded speaking in English. Apparently, Renberg never asked for the day off. "When we realized the match would collide with his work with us, he simply said he'd of course prioritize his work with us," Bursell stated. "After that there has been no discussion about the issue."
"He's very committed to his work as a commentator for SVT," Bursell continued. "I believe he feels strongly about the junior world championships, even though I'm sure he'd love to reunite with his old teammates."
When posed with a hypothetical question regarding what SVT might say to Renberg if he decided to ask for the day off to attend the Alumni Game, it sounds as though SVT hasn't thought much about the possibility. "If such a discussion would take place, it would be between SVT and Micke [Renberg]," Bursell said.
Maybe Renberg is just a committed employee who honors his contract. Maybe doing the junior championships is a truly exciting thing for him. After all, it wouldn't be the first time an alumni declined this year with Wayne Gretzky declining the Rangers invite earlier to spend the holidays with his family.
While Flyers fans and NHL fans are excited they are going to see two-thirds of the Legion of the Doom line at the Alumni Game this year, it does sound unlikely for all three, although you never know. The door may not be closed completely. I'm sure teammates and friends will try to sway Renberg to change his mind on this.
Either way, it's shaping up to exciting as this Alumni Game has more storylines than the game itself. It should be an interesting New Year's week.