RALEIGH, N.C. — Early in the third period of an energetic contest between the Hurricanes and Blackhawks, the star-studded and always dangerous Chicago power-play was on the attack and poised to tie the game. Tim Gleason, fighting desperately to preserve his team's 1-0 lead, stuck to 'Hawks forwards like glue. He skated hard, remained in sound position and effectively used his body to muscle opponents off the puck.
Late in that man-advantage, Bryan Allen dove in front of Patrick Kane, stopping him from shooting on a seemingly empty net, as goaltender Cam Ward laid helpless outside of the crease. The Canes killed the penalty, cleared the puck and immediately scored.
That's just how things have been going for Gleason and Allen, Carolina's top defensive pairing. While the Hurricanes' blue-line has been collectively mediocre, Coach Maurice's two most reliable players have played a major role in their team's early-season success.
The Hurricanes went on to defeat the Blackhawks on Friday night, and in addition to Ward, Gleason and Allen were the biggest difference makers.
"They rely on each other. Neither one of them plays an easy game. Everything they do is hard, and I think it's a lot easier to look across at your partner and seeing him doing the hard work and it drives them. They're playing a hard-man's game, and it's a little easier to take when you come back to the bench and know the guy beside you does the exact same thing." -Coach Paul Maurice on Gleason and Allen
The two started the game for the Hurricanes, and spent the entirety of the first shift scrambling in their own end. Chicago's first line of Andrew Brunette, Jonathan Toews and Patrick Sharp came out in full force — not exactly the start Carolina had in mind. Fortunately, the puck was eventually cleared and the score remained tied at zero. No harm done.
The Canes' top pairing returned to the ice several minutes later, hoping to amend for their first impression. Gleason gained control of the puck shortly after the face-off and fired it towards the net. Tim Brent's stick deflected the shot, sending it past Blackhawk netminder Corey Crawford giving Carolina a 1-0 lead; one they would not relinquish. It was an instant game-changer, eradicating Chicago's early momentum.
Late in the third period, Allen carried the puck deep into Chicago's zone and fed a beautiful pass to Jiri Tlusty, who scored to make it 3-0, putting the game out of reach.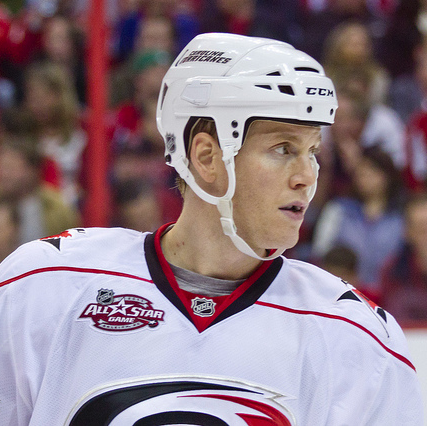 Gleason and Allen currently lead the Hurricanes in plus/minus, with +8 and +7 ratings, respectively. No other defenseman on the team has a plus rating. Their value to Carolina, while unnoticed by many, has been incredible.
"It's been good," said Allen about playing with Gleason. "We're similar style players. It's working well and I'm having fun with it."
Coach Maurice put Gleason and Allen on the ice against Brunette, Toews and Sharp for the majority of the game. With the exception of a Toews breakaway chance, that line was held in check all night.
Both stoic and seemingly unflappable characters, it's no wonder these two relish their role with the Hurricanes. Gleason and Allen give their team a chance to win on a consistent basis, stabilizing an otherwise erratic blue-line. Every franchise needs players like these two; guys that will always sacrifice personal glory for the betterment of the team. Without them, it's hard to imagine Carolina would have any chance of making the playoffs.
The Hurricanes return to action on Saturday when they travel to Philadelphia to face the Flyers.
Andrew Hirsh is a graduate of Elon University and is entering his fourth year as a credentialed NHL writer. He founded SunbeltHockey.com in 2012 and serves as the site's managing editor. Andrew can be reached via email at ahirsh3@gmail.com.