Once every decade or so a player comes along from juniors and leaps into the NHL with the expectation that he's going to be a truly special player. A player with the capability to dominate a game and write himself into the history books. Sidney Crosby and Alex Ovechkin were two of those guys in the past 10 years. In the 1991 NHL Draft, Eric Lindros was that guy.
When Eric Lindros was drafted 1st overall by the Quebec Nordiques in 1991, he was labeled by some as "The Next One." He had an unlikely combination of size, strength and speed. He also had great hands and great playmaking ability as well as being a great scorer. In one of the biggest trades in NHL history, Lindros' rights were traded by the Nordiques to the Philadelphia Flyers in 1992. That's when it all began.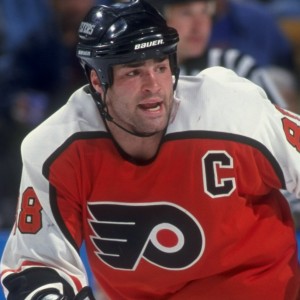 Lindros came to Philadelphia with high expectations, and he started out fulfilling pretty much all of them. Nobody can dispute that when Eric Lindros was healthy, he was one of the most dominant players in the league. There should never be a question or a negative statement about Eric Lindros' talent when he was healthy. The expectations absolutely were met when he was on the ice. As everyone knows, Eric had many difficult moments occur during his career, a string of bad luck and some problems with injury and concussions in a time where concussions still weren't looked at as seriously as they are now.
I recently had a chance to speak with Eric and conduct an interview with him. Eric has always been very popular with my readers and many of the Flyer fans we interact with. His orange 88 jerseys are still a common sight at hockey rinks. I would like to thank Eric for his time, professionalism and courtesy. It was truly a joy to catch up with him on everything from his career, concussions in hockey, and whether or not we'll be seeing a special reunion soon.
I started off chatting with Eric on how things were going with him and he remembered all about the area in which I currently live and work and recalled when he lived in South Jersey around so many of the other Flyers players at the time. Time really does fly, as all of this seems not that long ago.
[RELATED: The Flyers Famous Legion of Doom]
Here is the transcript of the conversation with Eric:
Q: After retirement from the NHL you spent some time working with the NHLPA and have since moved on from that position. What are you up to these days?
Eric Lindros: I work for a company in Waterloo, Ontario. It's in our tech environment, sort of like how in California they have that area around San Jose. It's the same kind of thing. We've got a platform for online and mobile learning. It's a great platform. It answers questions in realtime if they've been asked before and sends appropriate and interesting links that the user would appreciate based on what they've been looking up in the past. It's a bridge for education purposes.
Q: I know you've always been a very charitable guy and a few years back you made a wonderful donation to Dr. Fowler's hospital in Ontario. Was this inspired by how well the medical professionals cared for you during your playing career?
Eric Lindros: Yeah, absolutely. Dr. Fowler was fantastic. He was a wonderful person to bounce ideas off of or have questions for. He had a great team down there that really took great care of me when I played, and in many ways I felt that it was a thank you to Dr. Fowler and the work that he did.
Q: Growing up, a lot of guys have that dream to play for their hometown team. Even though you only played there for 1 year and battled some wrist issues, how cool was it to get the chance to play in Toronto in front of your family and friends?
Eric Lindros: Yeah, that was pretty special. I mean, you wake up and everyone knows what happened the night before. (Laughs)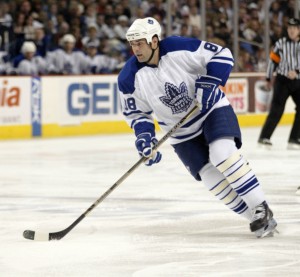 Q: I have to ask you, did you see yourself as more hesitant to do certain things on the ice post-2000? You had so many dominant years for the Flyers and it never seemed the same after those big injuries leading up to your departure from the Flyers.
Eric Lindros: I had a real tough time mentally cutting across the ice. Yeah, it just wasn't the same.
Q: How do you think a player like you in your prime would do in today's game? Back then you had the total package. You could score, had great hands, size, speed, and you could fight if need be. You don't really see too many complete players like that today.
Eric Lindros: I think there would be more focus on speed [if I played] in today's game. I can't really compare myself to the new guys playing in 2011-12. I can only really comment on some of the older guys still playing that I played against.
Q: Yeah, Jagr's a Flyer now. Can you believe that?
Eric Lindros: Oh yeah. He'll be good for them. You watch.
Q: What do you think could be done to limit the amount of concussions in today's game? There is a lot of focus on this area as I'm sure you're well aware.
Eric Lindros: My thought would be putting the red line back in would alleviate a lot of this. Possibly widening the ice 5 feet on either side would be a pretty good idea, too. You're only looking at a row or two of seats. I'm sure you can talk about money loss here and there and the balance of salaries to the gross intake of teams, but you can displace that.
Q: Did you pretty much know right after a hit if you were concussed? I remember once watching when you were playing with the Rangers you took a big hit from Jason Doig of the Capitals at the time. You came out and played another shift and had a fight and then were pulled shortly after. I remember reading the next day you had suffered a concussion.
Eric Lindros: Well that one ended up being my shoulder. But that's the crazy part. I know it sounds ridiculous but sometimes the worst person to ask is the person who is concussed. I mean, you know when you're flat out out. I remember being in Pittsburgh thinking that I was traded in the showers because I thought that we were playing at home, and these were not the showers we had at the First Union Center. It varies from situation to situation.
I know it sounds ridiculous but sometimes the worst person to ask is the person who is concussed. I mean, you know when you're flat out out. I remember being in Pittsburgh thinking that I was traded in the showers because I thought that we were playing at home, and these were not the showers we had at the First Union Center. -Eric Lindros on concussions
Jason Doig hit on Eric Lindros in 2004
Q: A lot of guys have had trouble with post-concussion syndrome. Scott Stevens, Ian Laperriere, Keith Primeau are all examples of guys who retired from it. Some have the slightest symptoms like light sensitivity and whatnot. Do you have any side effects left over or are you feeling pretty good?
Eric Lindros: Oh, I feel really good. I can't complain at all. I feel strong, I feel healthy. I've got a good bounce in my step. I don't know what lies in the future and I don't care to think about it but I don't foresee anything. But I also took a lot more time generally speaking than others.
Q: There have been some rumors going around in Philly that you've been invited to play in the Winter Classic Alumni game. Is there any truth to that?
Eric Lindros: I talked with [Flyers GM] Paul Holmgren about a month or five weeks back and we chatted about it. That'd be great if I could see Mikael Renberg again, and Johnny LeClair. I haven't seen Johnny in a couple of years. That would be a lot of fun. Also possibly we could set up something along the lines where we could do something for CHOP (Children's Hospital of Philadelphia), maybe have a lunch or do something along those lines. We could bring in hockey fans and chat a little bit about what we're up to and sign a bunch of stuff.
Q: So have you made a decision to definitely come down for that or is it still up in the air at this point?
Eric Lindros: I haven't talked to Paul since we initially spoke a couple of times but it sounds like a great time.
Q: Do you wish the Winter Classic was around when you played? Would it be cool to play an NHL game outdoors like that?
Eric Lindros: Well, I grew up in Canada (Laughs). There's tons of outdoor ice and I still skate outside all the time.
Q: The instigator rule. Are you for or against it?
Eric Lindros: Oh, I don't know. Guys used to take care of things themselves. I think there was a little more respect. I think the respect level has diminished greatly. I used to think strongly back when I played that there was a place for [the instigator rule], but I've softened on that.
Q: You had a really good relationship with the fans during your time in Philly. It seemed like you really understood each other through thick and thin. So many of them stuck by you, even during the difficult period at the end of your run with the Flyers. What was that relationship like?
Eric Lindros: They made it so difficult for teams to come into our arena. We had a great atmosphere in our arena. We had a great atmosphere around the city and a great atmosphere where we lived and where we practiced. There were lots and lots of passionate and caring people who just wanted the best for our hockey club.
Q: We've seen a lot of rule changes the last few years. The league has cracked down considerably and it started a bit with Colin Campbell the last few years and now Brendan Shanahan is in charge of discipline this year. Do you think that the hits Scott Stevens used to throw for example the one on yourself in 2000 or the one on Kariya would be considered illegal in today's game?
Eric Lindros: (Laughter) I think that's a question for Brendan Shanahan. I have my own thoughts on it but that's in the past and that's not apparently the way that they thought back then. There have been some good strides in that area. I'll just leave it at that. The game's amazing now, though. I still get out on the ice with a bunch of guys a couple of times a week and we have a tremendous amount of fun with the purity of the game. We really do. It's fantastic. Everything about meeting up, the chit chat around the rink and in the dressing room, going out there and playing, and going out after.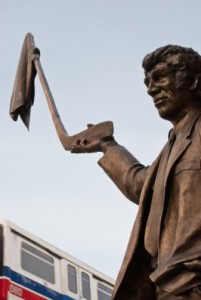 Q: One of the coaches during your time in Philly who really seemed to connect with you guys and with the Flyers fans was Roger Neilson. You had a great relationship with Roger. What was it like playing for Roger compared to other coaches?
Eric Lindros: I love Roger! Roger was really good. Roger was a teacher at heart. He had his ways. Some players disagreed with the way that he did his X's and O's, and the way that he ran a bench, but you know when you have 22 guys on a roster there's always going to be a different mindset from player to player. But for the most part the guys really liked Roger. He had a really good ability to work through his video and show mistakes, but not brutalizing the person that made the mistake, and then keeping it in mind for the next session of video. In the next session, he'd show video of the player who made a mistake in the previous video and show something positive that the player did. You know what I mean? He had a balance with that. I think he knew players on a personal level more so than anybody that I have ever played for. He wanted to know about your life, and what was going on. He was a fantastic person and a great coach.
Q: Looking back at some of the more frustrating times in your career trying to come back from injury I always think to the 2000 playoffs. It seems like you had all of the bad luck in the world and crazy things were happening like getting hit in practice by Francis Lessard when you were about to come back, which delayed your return. Was that the most frustrating comeback attempt of your career?
Eric Lindros: Everything that could go wrong seemed to go wrong.
Q: You had some solid chances to win the Stanley Cup during your Flyers career. The two years I always think of are 1997 in the Cup Finals against Detroit and 2000 in the conference finals against New Jersey as far as you being closest to winning it.
Eric Lindros: Yeah, we just weren't there [in 1997]. Game 1 was pretty close. Game 2 I thought we could have won. We got smoked in Game 3. And Game 4 was a pretty good game, but I think after McCarty scored that was kind of late. We were down a goal and that kind of did it in the third with about 4 minutes left. I thought if we had won Game 2 we really had a shot at it.
Q: Which one would you say stung more for you between 1997 and 2000? You were probably equally close with a 3-1 lead on NJ in 2000 and a lot of momentum and you had worked so hard at getting back from injury.
Eric Lindros: Yeah, we had a lot of good players on that [2000] team. We had a lot of depth with that club and a number of real good players. I think losing in general sucks, I don't care what game it was.
———————-
On a side note, I asked Eric how everyone was doing including his brother Brett, a former New York Islander who had his career cut short due to concussions. Everyone is doing well and Brett got married a couple of weeks ago. So we'd like to send out congratulations to Brett and the Lindros family.
Once again thanks to Eric Lindros for taking the time to chat and catch up. The conversation flowed very smoothly as Eric's career had so many interesting highlights and plots to talk about.
By the sound of things, it looks like there's a chance we could see Eric soon. If Lindros were to accept the possible invitation to play in the Winter Classic Alumni game, he will have come full circle. It was a tough end to his Flyers career in 2000 which was filled with some controversy. Nobody knew if and when we'd ever see Eric at an event with the Flyers organization in the future. Lindros was a terrific leader for the Flyers for a good part of the 90's and deserves to be a big part of the team's history.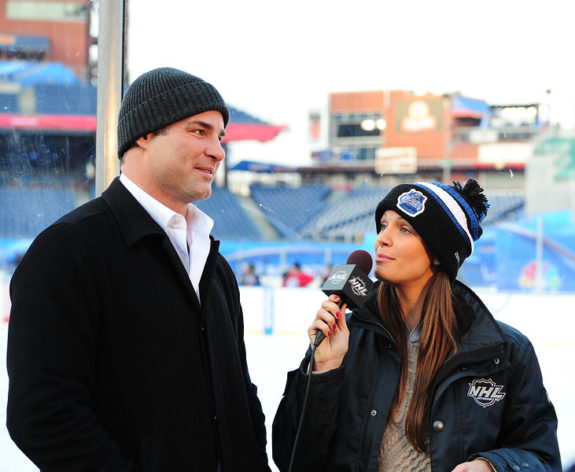 Eric should no doubt be a Flyers Hall of Fame member one day with 659 points in 486 games with the Flyers. For the Flyers and their fans, they're hoping for this to be possibly one of many reunions in the future.
Could you imagine if Mikael Renberg and John LeClair were to join Lindros? They were affectionately known as the "Legion of Doom" line in the 90's. According to team sources, it's definitely a possibility for the Winter Classic Alumni game.
If Eric skates back on the ice in the orange and black for the alumni game this winter, he'll have ended a long period away from the Flyers organization. It would be his first time donning the orange and black since 2000, and also his first in person appearance since then with the organization. The last Flyers fans have seen of Eric was in 2009 when he recorded a video for the final Spectrum game as he was unable to make the ceremony. If he skates out there, he'll have skated right back into Flyers history, and back into the hearts of Flyer fans, which is where he belongs.
For Flyers and Hockey News/Discussion, Feel Free to Interact With and Follow me on Twitter: http://twitter.com/JustinTHW