Did you work late last night? Did your significant other make you run errands while the game was on? Did your dog chew off your TV cable wires?
Have no fear – THW's Monica McAlister has your back, covering everything in the hockey world from From Abdelkader to Zuccarello every morning. Check in daily to quickly get up to speed on all things hockey – recaps, storylines, videos and great links.
While You Were Sleeping
Colorado Avalanche 3 Toronto Maple Leafs 2 (OT)
It has become like an avalanche for Colorado – only unlike last year where it was their season heading down fast it is Colorado destroying the teams in their way.
First period was left scoreless with neither team taking advantage of the power play time they had in the first. It would take Phil Kessel nineteen seconds into the second period to net his sixth goal of the season and give the Maple Leafs the lead.
Minutes later Daniel Winnik would start the Avalanche with a wrist shot past James Reimer to tie the game. Toronto's Tyler Bozak would be called for interference and set up Colorado's Milan Hejduk to take the lead with a power play goal.
It would be Nikolai Kulemin with his first of the season as he put the puck past former Maple Leaf Jean-Sebastien Giguere to tie the game late in the third.
Overtime belonged to Colorado. David Jones netted a wrist shot 1:11 in to extra time to give the Avalanche the win as they maintain a spot at the top of the Northwest Division.
Florida Panthers 7 Tampa Bay Lightning 4
The battle of the Sunshine State came up in favor of the Panthers last night as they scored five power play goals.
It would take just over six minutes into the game before Tomas Kopecky would score his first of the season; and of course it was on the power play after Tampa Bay's Adam Hall was called for cross checking.
Less than a minute after Kopecky's goal teammate Erik Gudbranson would be called for fighting when he dropped gloves with Lightning's Ryan Malone.
It would then be Florida's Tomas Fleischmann with a hooking call that would lead to Tampa's Teddy Purcell netting a power play goal of his own to tie the game.
Fourteen minutes on the dot into the game and the Lightning would take the lead when Swedish defenseman Victor Hedman would score his first of the season. Minutes later Eric Brewer would get called for hooking and send the Panthers back on another power play that would lead to Stephen Weiss tying the game up at two before heading to the first intermission.
Second period started off with Lightning's Martin St. Louis heading to the penalty box a mere 46 seconds into the period. The penalty would of course lead to a power play goal from the Panthers this time by Kris Versteeg.
The next one to the penalty box would be Florida's Dmitry Kulikov for holding which would lead to Sean Bergenheim of the Panthers scoring a short handed goal off his backhand.
It would be Tampa's Vincent Lecavalier with a snap shot late in the second to cut Florida's lead down to one goal.
Third period started much like the second as the Panthers were on the power play and it lead to a Kris Versteeg power play goal.
Steven Stamkos would net his second goal of the season but it would not be enough to rally the Lightning as Stephen Weiss and Jason Garrison from the Panthers would be the only players that go on to score.
Pittsburgh Penguins 1 Winnipeg Jets 2
You always remember those major events in your life and for many the new Winnipeg Jets getting their first win will be one of those.
It would take eight seconds, yes eight seconds after the puck drop before the Jets would take the lead as Kyle Wellwood would score his second goal of the season as he went backhand on Marc-Andre Fleury.
Just over fourteen minutes into the first a fight broke out between Jets Chris Thorburn and Penguins Deryk Engelland.
Late in the first it would be Tanner Glass with his first goal of the season that would give Winnipeg the 2-0 lead over Pittsburgh heading into the first intermission.
The second period would see Penguins Zbynek Michalek score his first goal of the season when he put a slapshot past Ondrej Pavelec.
Things got heated in the third as seven penalties were called all for either boarding, hooking, roughing, fighting, or slashing.
The Penguins did not go gently into the loss column as Ben Lovejoy was called for a fighting major along with Jets Jim Slater late in the third.
Nashville Predators 1 Edmonton Oilers 3
With a scoreless first period it would be Sergei Kostitsyn with his first of the season just under two minutes into the second to open up the scoring – only his would be the only one for the Predators.
Taylor Hall would score his first of the season on the power play in the third period to tie the game for Edmonton. Minutes later Ryan Smyth would go backhand on Pekka Rinne and give the Oilers the lead.
With an empty net in the Predators last ditch efforts to at least force over time it would be Ryan Jones with his first of the season to make it a 3-1 win for the Oilers.
Anaheim Ducks 3 San Jose Sharks 2
The battles in California are often good – but late at night.
Last night would be a Teemu Selanne showcase as the 41 year old Finnish Flash scored twice on fellow countryman Antti Niemi in the first period.
The Sharks would cut the Ducks lead in half when Marc-Edouard Vlasic scored his first of the season in the second period.
Corey Perry would score his second of the season in the third to give Anaheim a two goal lead before Luca Sbisa would take a delay of game penalty for the puck over the glass only to have teammate Maxime Macenauer get called for the same thing giving the Sharks the break they needed. It would be the newly acquired from Minnesota Wild All Star defenseman Brent Burns to score the power play goal to cut the Ducks lead down to one.
Up into the Netting
Rafalski who? Pro Hockey Talk on NBC's Joe Yerdon takes a look at how Ian White is making Brian Rafalski's retirement easy to handle in Detroit .
"Who's Brian Rafalski?"
That's the question fans in Detroit might be asking thanks to the play of offseason free agent pickup Ian White. In Detroit's undefeated start through four games, White has picked up two goals and an assist and helped make sure that Red Wings faithful aren't missing their former stud defenseman in Rafalski.
Speaking of Red Wings defensemen the Official Red Wings Twitter account posted a picture of captain Nicklas Lidstrom making pizza at a Detroit area Little Caesers yesterday as part of the teams "Hockeytown Thanks" tour where players were spotted around the area serving food and even bagging groceries.
Going from one Original Six team in Detroit that has started their season off 4-0 to those of the undisciplined Rangers whom remain winless. THW's own Patrick Kearns takes a look at what is going on in New York:
The lack of discipline was evident again in Saturday night's Ranger game. The New York Rangers, in their first game back in North America, took on a promising young Islanders team, a bitter rival who always plays them tough. The end result was a sloppy 4-2 loss, leaving many questions surrounding the team.
Spoiler Alert: Are these the Rangers and Flyers Winter Classic jerseys?
The Hockey News Adam Proteau takes a look at the NHL Power Rankings heading into the second week of the season.
We all have them. We all hate them. Pictures of us as a child. Goofy shots where we thought we were cooler than cool. Well now there is a website where you can look at many of the current (and former) NHL players as kids.
Pro Hockey Talk on NBC's Joe Yerdon has a look at tonight's Versus match up between the busted up Penguins and the new-look of the Wild.
Pittsburgh will be without Tyler Kennedy (concussion), Evgeni Malkin (lower body), Dustin Jeffrey (knee) and Brooks Orpik (abdominal) and while the Malkin and Orpik injuries are brutal ones, losing Kennedy and Jeffrey hurts the Pens' depth offense in a big way. Seeing Kennedy go out with a concussion is frustrating as they've already got an important guy in Sidney Crosby dealing with that already.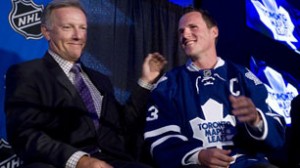 Top Spots:
Points: Phil Kessel – Toronto (9)
Goals: Phil Kessel – Toronto (6)
Assist: Brian Campbell – Florida (7)
Plus-Minus: Dion Phaneuf – Toronto (8)
GAA: Nikolai Khabibulin – Edmonton (0.96)
Save Percentage: Nikolai Khabibulin – Edmonton (0.957)
Wins: Kari Lehtonen – Dallas (4)
Shutouts: James Reimer – Toronto (1)
Northwest: Colorado Avalanche
Pacific: Anaheim Ducks
Central: Detroit Red Wings
Atlantic: Pittsburgh Penguins
Northeast: Toronto Maple Leafs
Southeast: Washington Capitals
Face-Off
Carolina Hurricanes at Boston Bruins 7:00 pm.
Florida Panthers at Washington Capitals 7:00 p.m.
Dallas Stars at Columbus Blue Jackets 7:00 p.m.
Buffalo Sabres at Montreal Canadiens 7:30 p.m.
Philadelphia Flyers at Ottawa Senators 7:30 p.m.
Pittsburgh Penguins at Minnesota Wild 7:30 p.m. Versus
Edmonton Oilers at Calgary Flames 9:30 p.m.
New York Rangers at Vancouver Canucks 10:00 p.m.
Chicago Blackhawks at Phoenix Coyotes 10:00 p.m.
St. Louis Blues at Los Angeles Kings 10:30 p.m.