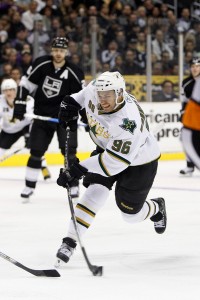 There's one player on the roster of the Detroit Red Wings that has yet to see any ice time. That player, as it should be quite clear to you now, is Fabian Brunnstrom. Through the first four games this season the Red Wings are undefeated, and that being the case, it's hard to fault coach Mike Babcock for not inserting Brunnstrom into a winning lineup. The 'Wings wont keep Brunnstrom benched forever though, and you can bet that soon enough he'll get his chance at cracking the lineup on a regular basis. With Cory Emmerton playing well and the experience and consistency of Patrick Eaves and Drew Miller, it's hard to say when that chance will come, but the case for Fabian Brunnstrom is a good one, and one that can't be ignored for too long.
The 26-year-old Swede managed to go undrafted in the NHL, but his success in the leagues of his home country caught the eyes of several NHL scouts, and landed him a two-year contract with Dallas Stars. Brunnstrom's rookie season (2008-09) got off to an exciting start when he produced a hat trick in the first game of his NHL career. He followed up his remarkable debut game with a respectable rookie season, notching 29 points in 55 games.
Heading into his second season, expectations for Brunnstrom were high, and he was expected to eclipse his rookie season points total significantly. Unfortunately for both Brunnstrom and the Stars, things did not go as planned. Fabian managed just 11 points in 44 games during his sophomore effort, prompting his demotion to the Stars' AHL affiliate of the same name.
Brunnstrom spent all of 2010-11 in the AHL, first with the Texas Stars, and then with the Toronto Marlies after a January 13 trade. While these two American league teams, Brunnstrom's point production returned to the level it was at during his rookie season in the NHL.
Now a free agent, Brunnstrom's availability sparked some interest in a team that had initially vied to be his first NHL home, the Detroit Red Wings. Being so, Detroit invited Brunnstrom to training camp on a tryout basis. Brunnstrom's play during training camp and the preseason impressed the right people with the Red Wings organization, and after showing his capability of once again being an NHL point producer, the Red Wings signed their newest forward to a 1 year contract.
Now 4 games into the NHL regular season, Brunnstrom has yet to receive any ice time, and such is the way with an elite squad like that of the Red Wings. With a little patience and dedication though, Brunnstrom could find his way into the Red Wings lineup very soon. "He's getting better, working hard; he'll get in a game. I think Brunner is a guy who'll eventually be able to challenge for a top-six spot. I really believe that," Mike Babcock told the Detroit Free Press, and there's no reason to think otherwise. The Red Wings have brought the likes of Danny Cleary, Patrick Eaves, and Drew Miller to new levels when their career outlook was bleak, and there's no reason they can't do it again. The only thing standing in the way of Fabian Brunnstrom's return to success is getting a chance, and that certainly wont be a barrier for much longer.