The Montreal Canadiens have had several prominent stars as the face of the franchise in their storied history. Hall of Fame legends such as Guy Lafleur, Maurice Richard, Jean Belliveau, and in recent history stars such as Patrick Roy, Pierre Turgeon and Saku Koivu have been the face of the franchise. But who are the present day stars and what does the future hold?
At a quick glance over the Habs roster the top line names that jump out are Mike Cammalleri, Andrei Markov, Carey Price and maybe Scott Gomez and captain Brian Gionta. Unfortunately all-star defensemen Andrei Markov has missed the last two seasons with major knee injuries and is still out of the line up with knee troubles. Also in the past two seasons forward Mike Cammalleri has not played more than 67 games and is also injured again. While both Gomez and Gionta have had tremendous careers, neither can be considered star players at this stage of their career. That leaves goalie Carey Price. Price began last season as the Habs undisputed starting goalie for the first time in his career in the wake of the team trading Jaroslav Halak to St. Louis in the off season. Halak was a fan favorite after his playoff heroics in the 09-10 season. Bitter Montreal fans quickly changed from jeers to cheers for Price last season as he posted a 2.35 GAA and a .923 save % and won 38 of his 72 starts.  With Markov's career in jeopardy and Cammalleri often injured and more a one dimensional player is Carey Price the only star player on Montreal?
Rookie sensation P.K. Subban instantly became a fan favorite in Montreal after he broke out in the 09-10 playoffs. Subban had an impressive rookie season last year leading the team in penalty minutes and with 38 points led the team in defense scoring. Subban posses an offensive flare that is rare with a bag of tricks that include a booming slap shot and a spin-o-rama move reminiscent of Denis Savard. It is not uncommon to hear fans at the Bell Center chanting his name already. He is a legend in the making. Subban is an obvious player to identify as a future star but there are two more players that are beginning to turn heads in Montreal.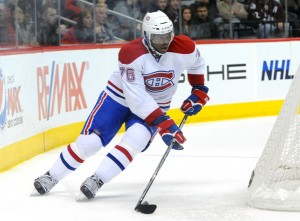 Max Pacioretty and David Desharnais are two players that are developing into stars together. Both players began last year in the AHL playing for Hamilton and were awesome. Desharnais produced 45 points in 35 games while Pacioretty produced 32 points in 27 games. Both players began this season with Montreal and are playing on a line with Andrei Kostitsyn.
Desharnais was called up twice by the Habs last season and at the time of his last recall in December he was leading the AHL in scoring. Desharnais made an impact with Montreal and scored 22 points in 43 games but was injured in game five of the conference quarter finals. Desharnais enthusiastic style hard work and determination have endeared him to Montreal fans. The native of Laurier-Station Quebec is very skilled, offensively creative and skates well. Desharnais challenge to overcome will be his size. At only 5-7/180 he does not address Montreal's problem of lack of size down the middle rather he adds to it.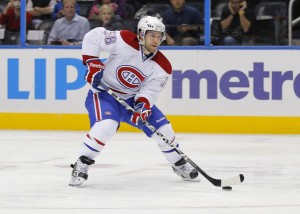 Size is as asset Pacioretty can bring to a team that sorely lacks it. At 6-2/205 Pacioretty is turning into a power forward in the NHL. Pacioretty was also leading the AHL at the time of his promotion to the NHL and was in the middle of a breakout season before it was suddenly ended when he suddenly collided with the stanchion courtesy of Zdeno Chara. At the time of the hit he had an impressive eleven goals and six assists in 19 games. What makes Pacioretty an effective power forward is his ability to use his size strength and long reach to protect the puck while using his powerful skating stride to get outside on defenders and drive to the goal. Pacioretty is also an effective fore checker who is able to win most foot races, dish out hits and create turnovers.
Pacioretty and Desharnais are off to tremendous starts this season. Pacioretty has two goals and two assists in the first four games. He is tied for the team lead in points with Plekanec. Desharnais is only one point behind with one goal and two assists. The only two other forwards to have a higher average time on ice so far are Gionta and Plekanec. While it is still very early in the season and the teams most prolific scorer in Mike Cammalleri has only played two games it appears as though both Desharnais and Pacioretty are carving out a role on the team and heading straight for the top.
There is little doubt that Montreal's most valuable player right now is goaltender Carey Price. The most valuable defenseman is sophomore sensation P.K. Subban and the most depended on offensive player is Cammalleri. What is not so clear is who the franchise players are beyond Price, Cammalleri and Subban. It is too early to bestow franchise player labels, or all-star or hall of fame titles on either Desharnais or Pacioretty. They may never achieve such stature and have a very long way to go to even warrant such consideration. However based on their play so far in the 2011-2012 season and their dominant play versus Colorado on October 15 it is not out of the realm of possibility. Last year they played their way into the NHL and this year they have played their way into starring roles. Given their current rate of ascension the skies the limit!