The St. Louis Blues returned home to begin their seven-game homestand on Tuesday, kicking off with their game against the Calgary Flames. After defeating the Flames 5-2 earlier in the season, the two teams will play one another two times in three days. Despite being outshot 28-25 and recording a 42.05% Corsi For percentage, the home team managed to pull away with an overtime victory.
Thomas and Kyrou are the Comeback Kids
Now that two of the franchise's top future stars have signed long-term contracts, the expectations have risen for the duo of Robert Thomas and Jordan Kyrou to show they are worthy of their paychecks. Like the rest of the team, both players had opportunities to capitalize on scoring chances through the first 40 minutes of play. Outside of their assists on the powerplay goal by Pavel Buchnevich in the first period, they were rendered ineffective offensively by the Flames' defensive unit.
The two did not let their team down though once the game turned to the third period. Needing only 2:48, Nikita Alexandrov and Kyrou scored two quick goals to tie the game at three goals a piece. Their overtime two-on-one advantage saw Kyrou with a golden opportunity to take the shot himself, but defer to his teammate instead. After the game, Thomas was asked about their scoring chance and if he knew that Kyrou would pass to him. He said, "We kind of looked at each other going up the ice and I had a pretty good idea what he was planning on doing so great play by him." Thomas' 11th goal of the season moves him to fourth on the team in goals scored.
Binnington Solid Despite Defensive Lapses
Last night's game against the Flames was a tale of two stories, the traditional stat line versus the advanced statistics when it came to the play of goaltender Jordan Binnington. After two periods of play, he allowed two goals that were ultimately little to no fault of his own. The first, a back-door pass by Flames forward Nazem Kadri to Milan Lucic, tied the game 1-1. Lucic's goal saw little to no defensive effort and blown coverage by the team around him.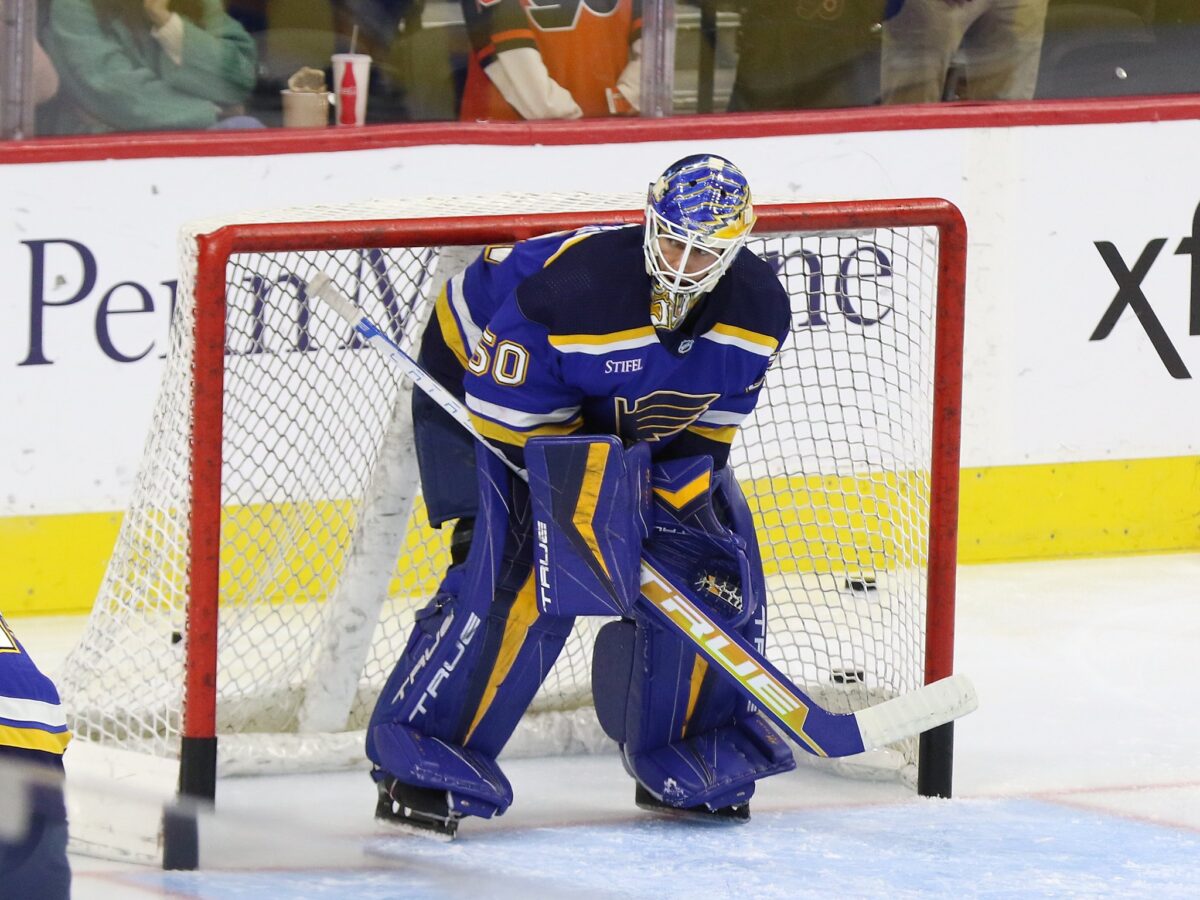 The second goal against Binnington is one that he likely never saw. With four bodies in front of him blocking his view, defenseman Nikita Zadorov was able to fire a quick shot from the blue line, allowing for a deflection in front of the goal by Mikael Backlund. Despite ending the game with a 3.22 goals against average (GAA), and .893 save percentage (SV%), his expected goals against average rating (xGA) of 2.49 offers a better insight into his performance throughout the game. The goaltender has started seven of the team's last eight games with a 3.67 GAA and .877 SV% rating in that timespan.
Blues Making Most with Injuries to Key Players
With the Blues showing eight players out due to injury, they have been forced to call upon a number of their American Hockey League (AHL) players to band-aid their squad together each night. However, these AHL call-ups have been more than extras for the team, providing valuable contributions on both sides of the puck. During last night's game, it was Alexandrov that provided the goal to help spark the offense in the third period. He, along with players like Alexei Toropchenko, and Jake Neighbours, averaged just over nine minutes of time on ice, and a combined goal and assist.
Related: Blues Weekly: Faulk, Injuries, Schenn, Saad, & More
---
Latest News & Highlights
---
The forwards are not the only ones chipping into the team's victories. The recent surge of play this season from Calle Rosen, as well as players like Tyler Tucker and Steven Santini, have provided the coaching staff with options each game to rotate players up and down the lineup as needed, not requiring veterans like Colton Parayko and Justin Faulk to become overextended and worn out each night. Though the players the club has recalled may never turn out to be franchise-leading individuals that compile 60 or more points each season, their combined efforts have proven useful to prevent scoring chances and chip in offensively when provided the opportunity.
Notable Quotables
Berube said of his team after going down 3-1 after two periods: "I didn't feel we had our legs. We didn't push hard enough. Going into the game after the long road trip back home – a little bit worried."
Buchnevich commenting on the team's change in performance between the second and third period: "We just made too many long passes to nobody, chip and one guy forecheck and two guys hard to get the puck. Third period I think we play more smart, make small passes and get the zone easier and get rewarded."
Thomas on his go-ahead goal being called back: "It obviously sucks. That would have been a big goal at the time, but we had the momentum after Niki's goal. We just knew if we kept sticking with it, then more chances will come and we will get another look."
The Blues will see the Flames again on Thursday at 7 pm CST, looking to gain ground in the Western Conference standings in search of a playoff spot.
Mike is a writer for The Hockey Writers and covers the St. Louis Blues since November of 2021. He has a keen love for statistical analysis, prospects, signings, and trades. Follow Mike on Twitter for further Blues or Central division hockey discussions, interview requests, or to provide content info.