Since the Anaheim Ducks saw their eight-game point streak snapped a couple of weeks ago, they've found themselves mired in another tough stretch that includes both close and blowout losses. With four defeats in their last five games, including last night's to the Winnipeg Jets, the Ducks now head into a challenging final 10 games of the season that includes two matchups against the reigning Stanley Cup champion Colorado Avalanche, two against the Edmonton Oilers, one against the Seattle Kraken, and one against the Los Angeles Kings. But before we get ahead of ourselves, let's look at some takeaways from their loss to the Jets.
---
---
Positive: Cam Fowler Remains the Bright Spot on the Blue Line
The blue line for Anaheim has changed significantly over the last couple of years. Mainstays Josh Manson and Hampus Lindholm were traded last season, and John Klingberg and Dmitry Kulikov were dealt at this year's trade deadline. But Cam Fowler remains and he is having a bit of a renaissance season. His 10th goal yesterday was his 43rd point of the season, a new career high. And he used his offensive skill and elite skating to do it, which is exactly what fans have grown accustomed to seeing from Cam. Some may even be longing for him to do it more. I know I have.
Now, fortuitous bounces and good screens were a big help, but Fowler put himself in a good position by utilizing his elite skating to walk the blue line until he had the space to get the shot off. Brilliant display by Cam. His overall play, John Gibson's goaltending, and their young forwards' offensive production comprise the few bright spots for the organization in an otherwise dismal season for the Ducks.
Negative: Tough Bounces Doom Dostál for Two Goals
I've written about Lukáš Dostál's rebound control before, and his inability to squeeze the puck to his body. Last night, it led to two goals for the Jets. Mason Appleton was able to capitalize on a rebound that dribbled through Dostál's arm and body. Appleton was driving the net from the far side in case a rebound came available, and it did. Zegras didn't secure the stick, and less than a minute after the Ducks scored, the game was tied. Tough break.
Related: Ducks' Lukáš Dostál is emerging as an NHL-Ready Goaltender
---
Latest News & Highlights
---
The second goal for the Jets followed a similar script. On a fast break, a high and wobbly shot on Dostál fell through his body and right into the lap of Kyle Connor, who reached the goal mouth just a tad ahead of the back checking Mason McTavish. Two similar plays, two similar bounces, same lack of defensive positioning.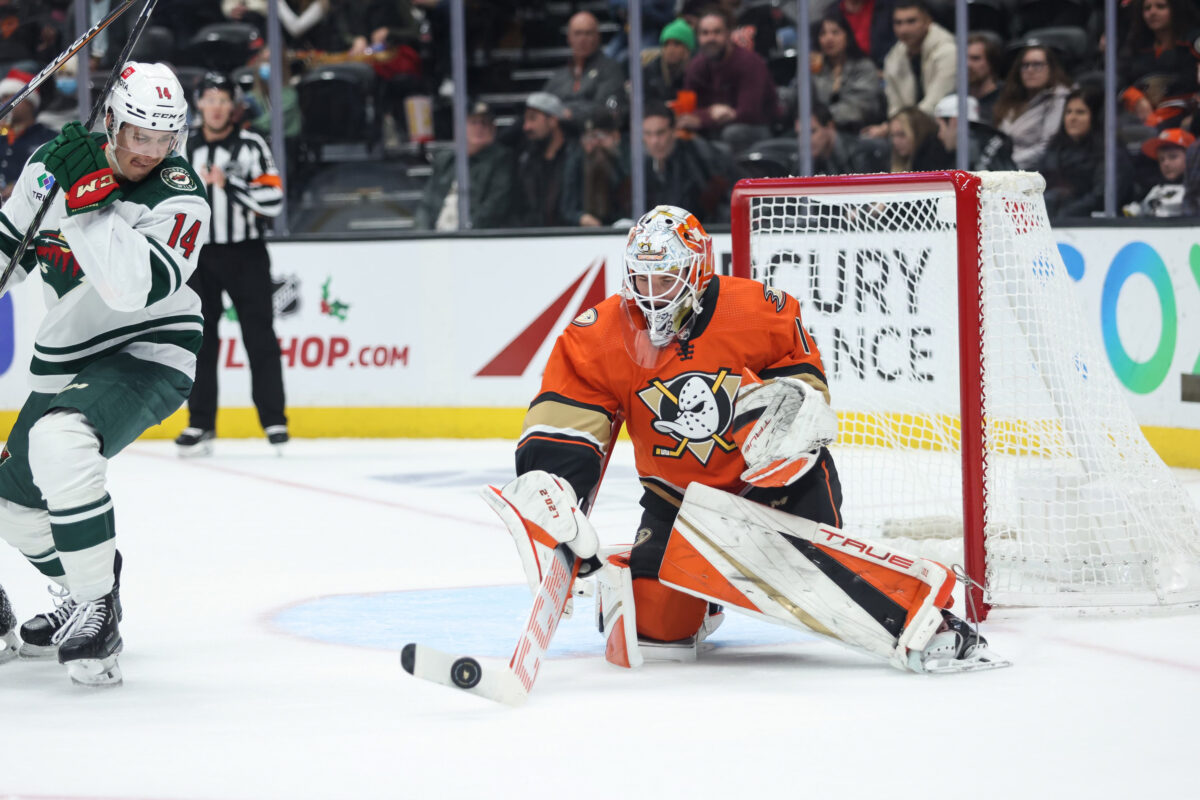 It's hard to place full responsibility on the young netminder in these circumstances. Last night's appearance was only his 12th of the season, so inactivity can explain the rebound issues. So can bad bounces. Perhaps he'll get more of a look as the season winds down. Questions are circling surrounding Gibson's future with the team, especially with a highly-touted goaltending prospect waiting in the wings. Gibson, ever in his prime, deserves better, but he's also a steadying force for a franchise trying to find its way back to playoff contention. Makes for an interesting offseason for Pat Verbeek and Ducks management.
Positive: Power Play Produces a Goal
Frank Vatrano inched closer to a 20-goal season in his first year in Anaheim with a rocket from the blue line to tie the game at two. He has shown time and time again this season that he can absolutely hammer the puck. He is part of a nice-looking second power play unit that has some real juice to it, something that we couldn't always say about the second five that would handle the man advantage. After all, he does what the Ducks often fail to do: shoot the puck. Just put the puck on net, and good things can happen. Especially when you can fire it like he can. A 20-goal season would be the second of his career. He scored 24 for the Florida Panthers during the 2018-19 campaign.
Ducks Must Gear Up for a Tough Final 10 Games
It's been a season of peaks and valleys for the Ducks. With a record of 1-4-1 through another long, eight-game homestand, they find themselves in another valley. Their next chance to climb out of it is Saturday night against the St. Louis Blues, who are in the midst of a tough season themselves. The Ducks have a real chance at victory with a healthy lineup and Gibson set to start. Let's see if they can pick up the two points.