The Lindback experiment failed. This we know. In the wake of its failure, the Tampa Bay Lightning have been forced to find a solution, a body to fill the positive void of Anders Lindback behind the crease. I have discussed two of those potential options. The first one: keep Kristers Gudlevskis, a skilled goalie with plenty of promise but not much experience. The second option: put Andrei Vasilevski, an extraordinarily talented 19 year-old Russian, in front of the net behind Ben Bishop.
Now, we have come to the third and final potential solution for the Bolts. This solution, this finale to my three part series, will get a little more abstract, filled more with possibilities rather than speculation based on concrete facts and statistics. Bear with me, folks, for we are going into Free Agent territory.
There Can Be Only One
By signing a Free Agent, the Tampa Bay Lightning would simply be stitching up a wound while waiting on a more permanent solution. The Free Agent, preferably one with a good bit of experience on a skilled team, would be signed on for a year or two with the knowledge of moving on to another team once the contract is done.
As seen with Gudlevskis and Vasilevski, the Lightning possess a great amount of young talent when it comes to goaltending. However, with Bishop as the main starter for at least another year – his contract expires at the end of the 2015 season but I'm hoping he'll re-sign with the Bolts – only one open position remains behind Bishop as his backup.
Vasilevski will most likely spend one season in the AHL tending net for the Syracuse Crunch, the Lightning's minor league equivalent. Gudlevskis, by now, as seen at the Olympics as well as in this year's playoff run, has proven himself to be NHL worthy, even if only as a backup goalie. The Latvian goaltender possesses a great amount of skill but lacks significant experience to prove himself as a reliable wall in front of the net.
The Lightning simply need someone who has already proven a great amount of talent through several years of NHL experience. They need a goalie who has shined bright as a backup but has not yet reached that spectacular threshold necessary to become a starter – requiring maybe one more year in the backup position.
In the case with an experienced, dependable goalie acquire through Free Agency or Trade, this newcomer would participate in a significantly larger number of games than Lindback did. One of the main criticisms of Jon Cooper this year was his tendency to rely on Ben Bishop a little too much, to allow Bishop to play when he should be given rest.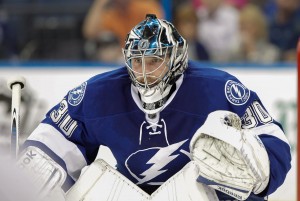 Bringing in a Free Agent for at least one year would allow Bishop to receive such well-deserved rest and would basically be a temp minding backup duties while Vasilevski comes into his own full greatness. And, again, that's where the Gudlevskis question comes in. Do we keep him as backup and ignore the possibility of bringing in someone a little bit older and more experienced, or do we use his phenomenal goaltending skills and durability to our own selfish advantage?
Trade Bait (& What it Can Catch)
Plenty of other teams are currently in dire need of a young backup goaltender with a ton of upside – a.k.a. Kristers Gudlevskis. Seeing him go would be heartbreaking, but, sometimes sacrifices must be made for the good of the club. And, the potential return on Gudlevskis, especially if draft picks were sent along the way as bonuses, would be monumental.
It all boils down to, then, is which goaltenders could share the load with Bishop while also providing solid, consistent play? The options are plentiful, too long to put into an article that's reasonable (and already long-winded) in length. So, I think we'll go by the top (and by top, I mean the most ideal acquisitions that are still somewhat realistic) potential players available with Kristers' price tag.
The Tradesmen
Cam Talbot – New York Rangers
During the season, Cam Talbot played like a starting goaltender. Unfortunately, his play was scarce due to the fact that he served as backup to arguably the best goaltender in the NHL: Henrik Lundqvist. Talbot attained a GAA of 1.64 and a SV% of .941 in 21 games. When behind the crease, Talbot stopped quickly and frequently. The goals he did allow were fluky and random.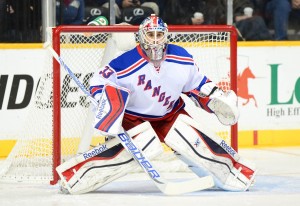 With such an excellent number one in front of Talbot, he may be eyeing the market right now in anticipation of receiving offer sheets to either be bumped up to a starting position or to be acquired by a team in dire need of a backup goalie who could perform well while playing more than just two or three games a month – i.e., teams like the Tampa Bay Lightning.
Martin Jones – LA Kings
Like Talbot, Jones stands in the shadow of a very talented and elite goaltender: Jonathan Quick. With Jones record though, he provides a great amount of potential just begging to be released. In 19 games, Jones held a SV% of .934 with a GAA average of 1.81. Jones' debut consisted of an eight game winning streak, tying the NHL record for best goalie debut. Three of those eight games were shutouts. However, Jones is not some miracle boy. He shows a need for improvement.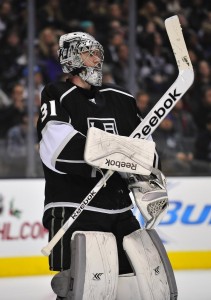 After that eight-game win-streak, Jones lost consecutive games, allowing four or more goals each time. Granted, he is 24, so some slack must be cut for the Kings' backup. Therefore, before he's goes on to become a starter like fellow teammate Ben Scrivens (now starting for the Edmonton Oilers), Jones must go through a season as a powerful backup. If acquired by the Lightning, Jones would take around fifteen games off of Bishop's shoulders, providing just the right amount of support the Bolts need. Then, after Jones hypothetical one-year contract expires, another team can pick him, leaving the Russian Giant to take his place.
Free Agents for the Taking
With Anders Lindback released, a 2.2 Million gap will be opened in the Lightning's salary cap. Such a large opening would allow for the possession of backup goaltenders with plenty of experience. However, ideally, and considering the incredible future awaiting the Lightning in the AHL on the Syracuse Crunch, this contract would probably be only for one year, and thus not too expensive. However, such a contract should still be high enough to outbid any competing teams.
The free agents list, when considering goaltenders, is long and filled with several impressive names. Though most on that last, such as Jonas Gustavsson and Alex Stalock, would provide great backup goaltending for the Lightning, I have included those goalies who could fill in the other contextual needs demanded by the Lightning while also agreeing to a one or two year contract and nothing more.
The Agents
Thomas Greiss – Phoenix Coyotes
Greiss has made a career out of being a backup. With a 2.29 GAA and a .931 SV% in 25 games, Thomas Greiss has stepped up again and again for the Coyotes. Though he's never truly played as a starter, Griess tends the net best sporadically rather than consistently. This characteristic would benefit the Lightning during long road trips in which they endure a four or five six away-game streak. Such trips provide the most trouble for the Bolts, forcing Bishop to play either several back-to-back games or in too many unfriendly cities. With Greiss stepping up when Bishop gets tired, the Lightning would be able to have confidence in their own play rather than forcing it all onto Bishop's back.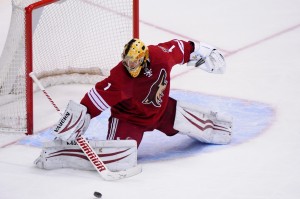 Jonas Hiller – Anaheim Ducks
Hiller's a starter, there's no doubt about that. But, like Anti Niemi, Hiller is a goaltender with a streaky past. On the Lightning, Hiller would provide a sense of dependability – a mutual knowledge that Hiller can do what he's paid to do as long as the squad in front of him play their part as well.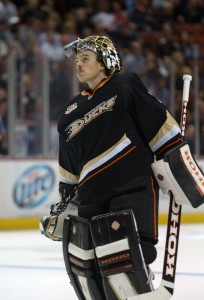 Hockey's not a one man sport, everyone knows this. Having a veteran goaltender splitting the play with Bishop somewhere along a 65-45 line would allow both the defensemen and the forwards to play with perpetual confidence. Hiller shows the potential to be a co-starter. Thus, his role with Bishop would more closely resemble the incredible Schneider-Brodeur duo on the New Jersey Devils. And, with Frederik Anderson and John Gibson playing so well in the playoffs, perhaps the Ducks will be okay with sending Hiller out to sea, available for any team to pick him up for the right amount.
Conclusion – The Goaltending Ordeal
Well, finally, now that this series has come to an end, and before I move on to bigger and better things like the looming Free Agent storm, I feel like there's one last thing to discuss: the importance of this goaltending situation in relation to the team's future. Despite a complete failure in this year's playoff run, the Lightning still have a bright future ahead of them. Though much of this bright future resides in the performance of current/upcoming goalies, there's still a larger picture we cannot lose sight of in the long run.
The Bolts simply are reaching the end of a long struggle. With Jonathan Drouin and Slater Koekkek just around the corner, as well as the possible return of Ryan Callahan and the definite presence of Tyler Johnson, the Lightning do indeed have nothing to worry about. This goaltending ordeal should be considered important but not vital to the Bolts' performance during next year's season.
Now, with all these options laid out before us, with all the possibilities bouncing around and around in our heads, we can only wait for the Free Agency gates to open. Until then, we wait for Lightning to strike.