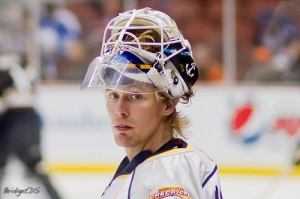 The hockey world was well aware the Tampa Bay Lightning would be adding a goalie or two this summer. Following the signing of Riku Helenius to a two-year contract, the Lightning were still searching for a goalie to play big minutes in Tampa this season.
On Friday the Lightning made their move, announcing a trade with the Nashville Predators. The Lightning acquired goaltender Anders Lindback, forward Kyle Wilson and Nashville's seventh-round selection in the 2012 NHL Entry Draft in exchange for a pair of 2012 second-round selections (37th overall from Minnesota and 50th overall from Philadelphia), a 2013 third-round selection and goaltender Sebastian Caron.
There had been plenty of speculation as to who would be between the pipes in Tampa next season. According to Damian Cristodero of the Tampa Bay Times, Lightning general manager Steve Yzerman expects Lindback and Mathieu Garon to be the goaltending tandem to start the season.
"Acquiring a goaltender was obviously a priority going into this summer, and with all of our draft picks, we never really waivered from our plan," Yzerman said. "We looked at the options available to us prior to the draft and we liked what we saw in Lindback."
Lindback, 24, has served as the primary back-up for Pekka Rinne in Nashville for each of the past two seasons. While being Rinne's back-up is not an enviable job, Nashville has a tremendous track record with developing goaltenders. Lindback recorded a 5-8-0 record in 16 games for the Predators a season ago while posting a 2.42 goals-against average and .912 save percentage.
Nashville goaltending coach Mitch Korn told HockeysFuture.com "Lindback's size is his best asset. He stays on his feet, but maybe not that long. He spends a lot of time on his knees, but I wouldn't call him a pure butterfly guy. He's got mammoth size, so on pucks that someone else would have to shrug their shoulder, for example, to stop, it will just hit him."
Despite his immense potential, Lindback does not come without certain issues. While young, he has appeared in just 38 games in the NHL. He also has to deal with Adult Still's Disease, a rare inflammatory condition that may lead to chronic arthritis. Lindback says it does not affect his play on the ice, though he takes an injection every morning to battle the symptoms. This, coupled with his inexperience at the NHL level, will lead many to speculate about Lindback's ability to carry a large workload.
Even with these issues, Yzerman would not be deterred from landing his target.
"He's relatively inexperienced, but we think he has tremendous potential," Yzerman added. "We gave up a significant amount to get him, but there weren't a lot of options, so we paid a hefty price, but we thought the return was worth it. We feel he's ready, and in talking to him, he is excited about the opportunity to take on more."
Wilson, 28, provides another depth forward for the Lightning. Wilson has proved to be a prolific scorer at the AHL level, where he very well may begin next season. He registered 22 goals and 54 points with a plus-6 rating in 68 games for the Milwaukee Admirals last season.
"Kyle had a very good year in Milwuakee this past season," Yzerman added. "He's a skilled guy, and he's someone who will compete for a spot in training camp."
Among the reasons for Lightning fans to be excited about this deal is the club not having to trade away a first-round pick in the upcoming draft.
"We really wanted to hang on to both of those," Yzerman said. "Fortunately we were able to, and we also got a deal done in the process that we can feel good about."
There is a lot fans can feel good about with this trade. The Lightning now have a young, cheap goaltender capable of becoming a starting goaltender for years to come. They kept both the 10th and 19th overall selections in next week's draft. Lindback, while a restricted free agent, will not require a huge salary which allows the team to turn its attention to addressing the defense. Most importantly, the goaltending search for the upcoming season is over.