Game 5 of the Eastern Conference Final was arguably the best game Ryan Callahan played in the 2017-18 season for the Tampa Bay Lightning. That night, he acted as the primary offensive driver in the team's 3-2 victory over the Washington Capitals, scoring the game-winning goal and posting an assist in a dominating performance.
However, this scoring outburst was a surprise to everyone, as Callahan has largely been an afterthought in a deeply talented Lightning offense. In recent seasons, he has seen his playing time reduced overall, from top-line winger next to Steven Stamkos in the 2015-16 season to his 2017-18 playoff role as a fourth-line grinder. This has significantly dropped his production with the team, from 24 goals and 54 points in 2014-15 to five goals and 18 points in 2017-18.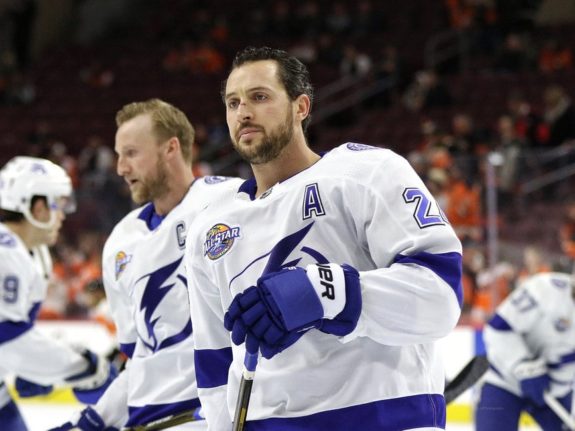 This wouldn't be a major problem except for the fact that Callahan has been one of the Lightning's highest paid players since he re-signed with them back in the 2014 offseason. With a $5.8 million cap hit through the 2019-20 season, he has become a financial drain on the franchise with a cap-crunch looming in the 2019 offseason.
Injuries Have Stifled Callahan's Lightning Career
As a heart and soul grinder, Callahan was signed to his massive contract to add a gritty power-forward to the Lightning's nightly line-up. As a team built largely around speed and skill instead of size, this was an important player archetype for Lightning general manager Steve Yzerman to lock down to help balance out the team's roster.
However, this playstyle has lead Callahan to suffer long-term injuries that caused him to miss significant time throughout his tenure with the Lightning. For example, in the 2016-17 season, he only played 18 games after suffering a hip injury that essentially ended his season.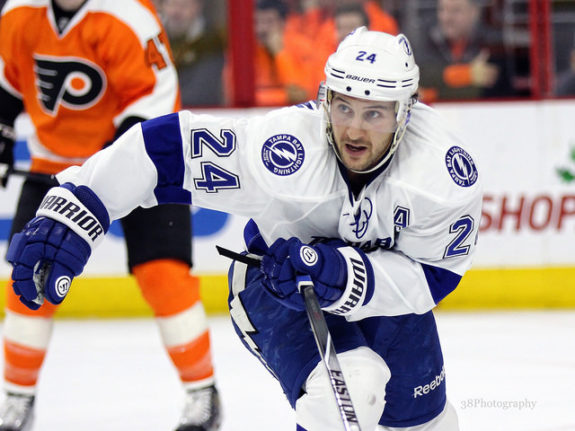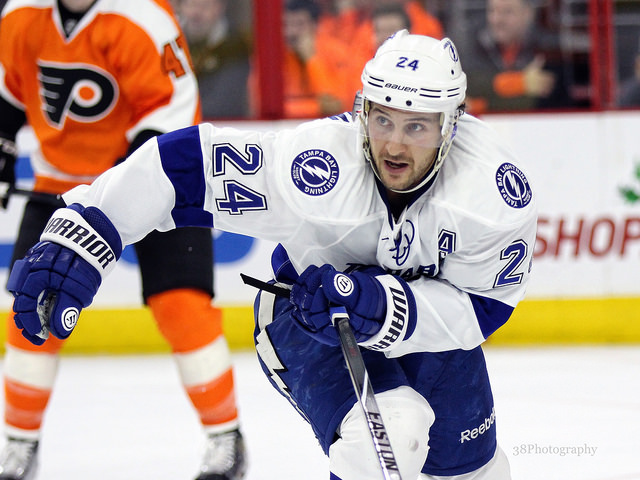 In fact, in his four years with the Lightning, Callahan has not played a complete season, only coming close with 77 games played in 2014-15. With these injuries costing him playing time, it has been impossible for the former New York Rangers' captain to justify his $5.8 million cap-hit.
Injury Woes Continue for Callahan
Speaking of injuries, Callahan underwent major shoulder surgery after the Lightning were eliminated from the 2018 playoffs. Due to the severity of the injury, he is expected to need at least five months to recover, placing his return to the ice, at best, in November.
After this announcement, Tom Jones of the Tampa Bay Times gave a little bit of context to Callahan's most recent injury:
This is the third shoulder surgery in four years for Callahan, 33, who just finished the fourth year of a six-year deal with the Lightning.
While this timeframe is still early enough in the season for Callahan to make a positive impact on the year, he could just as well be replaced in the Lightning's line-up by the time November rolls around. With some incredible young forwards fighting for Callahan's open roster spot out of training camp, it could become an uphill battle for the veteran winger to regain his nightly spot in the line-up.
This could also benefit Callahan, however, because the Lightning will not need to rush him back from injury due to the depth present within the franchise. Even when he is ready to return to the line-up, he could split time with a rookie winger instead of having to play every night and risk additional injuries.
Callahan Is an Overpaid Role Player for Lightning
Simply put, there really isn't anything the Lightning can do with Callahan's albatross contract other than put him back on the ice when he is healthy. Unless if they are willing to part with significant resources to convince another team to take on his cap hit, he will continue playing for the franchise through at least the 2018-19 season.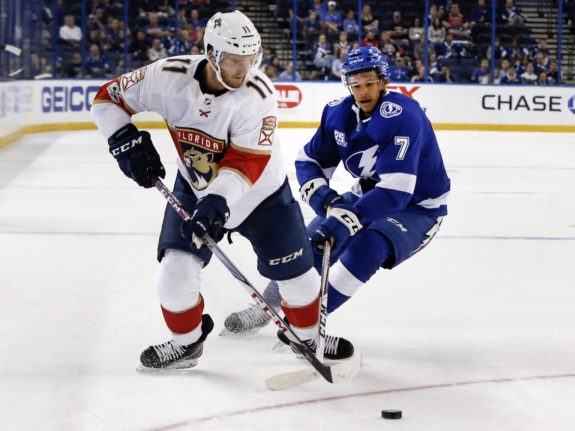 It seems unlikely that Callahan will ever be able to live up to the contract he signed in 2014, but if he can continue playing a strong-nosed role on the Lightning' fourth line, he will at least provide something meaningful to the team. No, this may not be a bright outlook for Callahan, it is still a way for him to contribute to the team in some way each night. He won't ever be that dominating presence on the ice again, but he can still make the Lightning a better team if he can get reasonably healthy once again.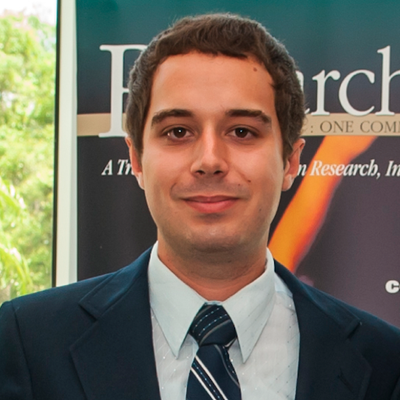 Eugene Helfrick is a Tampa Bay Lightning writer who is actually from Tampa Bay. He has written about the Lightning for six years, covering everything from their run to the 2015 Stanley Cup Final, to their crushing first-round exit in 2019, to their redemption in the bubble in 2020. While he is happy to talk about just about anything from cows to cars to video games, hockey will always remain one of his favorite pastimes.