In the quest to capture the Stanley Cup, every team will inevitably bleed talent as they attempt to retain franchise faces while staying under the leagues' hard cap ceiling. If handled improperly, a franchise can be forced to trade a keystone player for pennies on the dollar or get nothing out of one of their former stars when they leave for greener pastures in free agency.
For the Tampa Bay Lightning, the fight with the cap ceiling has been an ever constant struggle as new players each year demand more lucrative contracts as they establish themselves as stars in the NHL. This led former general manager Steve Yzerman to lock-down his core players to long-term deals that left enough wiggle room for current general manager Julien BriseBois to make a few more moves before he is firmly out of cap space.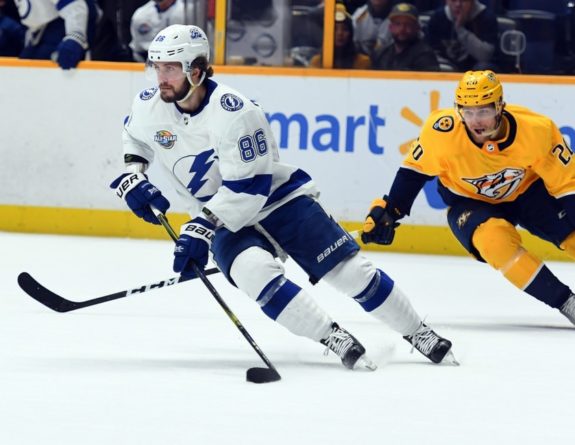 There's no doubt that BriseBois will find a way to make all-star forward Brayden Point fit into the future when he comes off his entry-level contract in the summer of 2019, and it would be unfathomable to think that the team would part ways with franchise goaltender Andrei Vasilevskiy as well. Once those two players are signed, though, the team may not have enough cap space left to fit Yanni Gourde, their latest breakout talent, into the long-term plans of the franchise.
Gourde Establishing Himself as a Star in the Making
After going undrafted in the NHL entry-level draft, Gourde took the long route to the NHL, playing in the ECHL and AHL for the better part of six years before establishing himself with the Lightning in the 2017-18 season. As a 26-year-old rookie, he stormed onto the scene, scoring 25 goals and 64 points all while making a strong case for the Calder Memorial Trophy.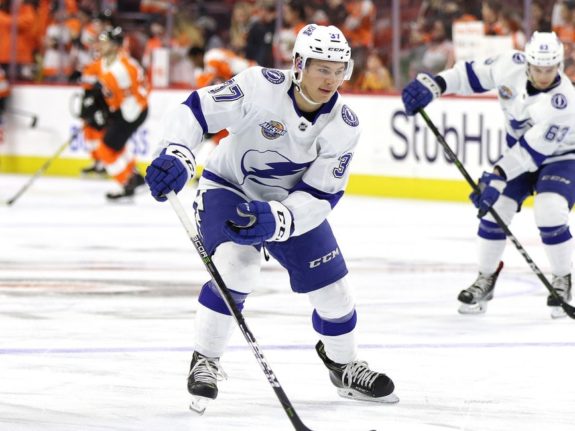 Now in his sophomore campaign, Gourde has found himself shuffled to the Lightning's top line, playing alongside Point and all-world scorer Steven Stamkos. While it is still too early to know if this will last all season long, the move has been fruitful for him so far, as he has put up four goals and four assists to start the year off with a six-game scoring streak.
If he can continue to find success alongside his two all-star linemates, there's no doubt that he could break 20 goals and 60 points again this year, finding himself as a key cog in the offensive machine that is the Lightning.
Lightning Can't Afford a Big Raise for Gourde
Here comes the bad part for Tampa Bay, though. When Gourde established himself as a full-time NHL talent during the 2016-17 season, Yzerman signed him to a simple two-year, $2 million bridge deal that was fitting for a relatively unknown player at the time.
So, in a rookie year where he scored 25 goals, Gourde only made $1 million dollars, making him one of the best values in all of the NHL. This year, he could post another 20-goal season on the back-half of that deal, meaning the Lightning could potentially have pulled 40 goals out of a player signed to what amounts to an entry-level contract.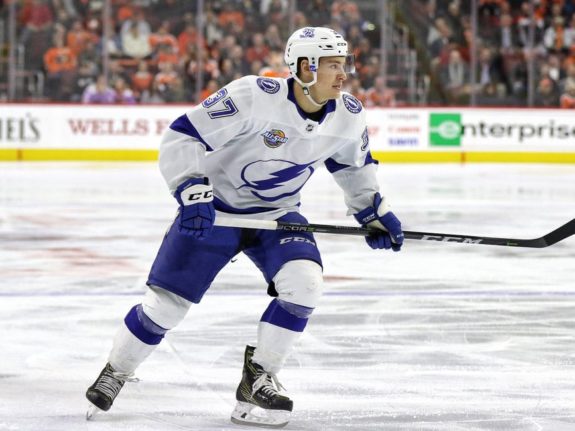 Needless to say, if Gourde can continue to score consistently, he will demand a major raise when he hits free agency in 2019. Given recent trends, one would expect him to command somewhere around $5 million on the open market, as proven 20-goal scoring forwards who can handle the puck and fight in front of the net for dirty goals is a bit of necessity around the league.
The problem for the Lightning it that the team really can't afford to pay another player that kind of salary with all of the players they already have under contract or commanding raises at the time. Barring a sudden shedding of cap through a trade or buyout, Tampa Bay will be forced to let Gourde walk away from the franchise with nothing to show for it.
Losing Gourde Would Hurt the Lightning
Should Tampa Bay go on and reach their ultimate goal of winning a Stanley Cup this season, losing a great player like Gourde in free-agency would be seen as a part of the process. Players with enough talent to win a championship will ultimately draw attention from franchises looking to make a splash with some of their available cap space.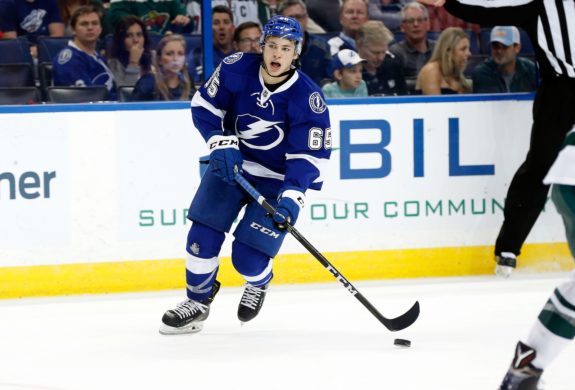 However, if BriseBois wants to endear himself to the Lightning fanbase in his first year as general manager, he could find a way to sign Gourde to a team friendly deal or move out one of his veteran contracts that are weighing heavily on the franchise. This would keep a talented forward entering his prime on the team that helped bring his NHL dream to fruition, which would only benefit them in the long-run.
For now, all that the Lightning and Gourde can do is play smart each night as they plug away at the regular season. Even if next year is murky, there still is a bright season ahead for both parties as they look to mutually benefit from each other's efforts.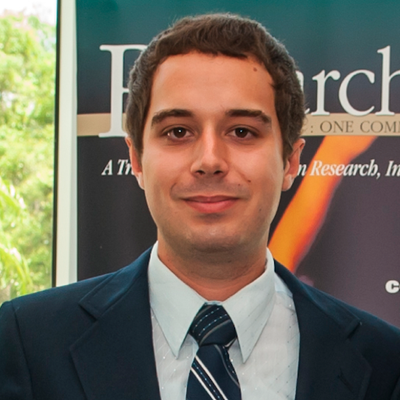 Eugene Helfrick is a Tampa Bay Lightning writer who is actually from Tampa Bay. He has written about the Lightning for six years, covering everything from their run to the 2015 Stanley Cup Final, to their crushing first-round exit in 2019, to their redemption in the bubble in 2020. While he is happy to talk about just about anything from cows to cars to video games, hockey will always remain one of his favorite pastimes.