With a hard salary cap, NHL front offices must ensure that they are being smart with the contracts they hand out. One bad contract can wreck a team's ability to be competitive for several seasons. Conversely, one bargain contract can free up enough cap space to build a talented roster. Of those bargain contracts, which one is the best on each franchise?
Some teams, like the Nashville Predators and Tampa Bay Lightning, only seem to give out good contracts so picking just one is difficult. Meanwhile, other teams, like the Vancouver Canucks and Detroit Red Wings, are in a rebuilding phase and don't have a value contract that stands out.
To find out which contract is the best for each team, I did not include players on entry-level contracts (ELCs) because there is a maximum cap hit that rookies can have. Instead, I focused on players who are currently playing on a standard player contract or have signed one that goes into effect next season. All salary information I used came from The Hockey Writers' salary cap information page.
Anaheim Ducks
RW Rickard Rakell – $3,789,444 AAV through 2021-22
Rickard Rakell is in the second year of a six-year, $22.8 million deal that he signed when he was 23 years old. At the time of signing, he was coming off a 20-goal, 43-point season but was a restricted free agent (RFA) and had limited negotiating power. Since signing his deal, Rakell has two 30-goal seasons, including 30 goals and 59 points in 64 games this season.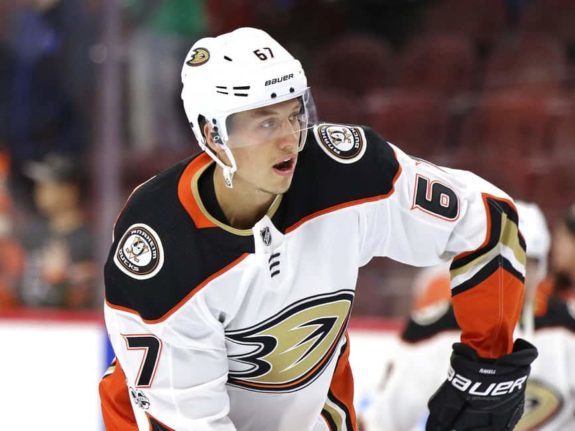 His 59 points and .91 points-per-game (PPG) average are both career highs and both have increased every season. The Ducks got a bargain in Rakell's contract, signing him through his age-29 season and giving him no trade protection.
Arizona Coyotes
D Oliver Ekman-Larsson – $5.5 million AAV through 2018-19
The Arizona Coyotes don't have any of the contracts that stand out as great bargains. There are only three players signed through 2020-21 and, apart from Oliver Ekman-Larsson, their most talented players are still on ELC's. I went with Ekman-Larsson because he is one of the best puck-moving defensemen in the league and on a reasonable contract. His contract has a $5.5 million cap hit with no trade protection. The deal was team-friendly when signed in 2013 and remains so now. Although he is having a down year this season, Ekman-Larsson still managed to eclipse the 30-point mark for the fifth consecutive season. Considering what puck-moving defensemen receive in free agency, his contract remains a bargain for the Coyotes. The downside to his deal is that it expires after next season and he will be looking to capitalize on a long-term contract.
Boston Bruins
RW David Pastrnak – $6,666,666 AAV through 2022-23
Dating back to the start of the 2016-17 season, 21-year-old David Pastrnak has 138 points in 143 games. Prior to the start of this season he signed a six-year, $40 million contract that expires soon after he turns 27.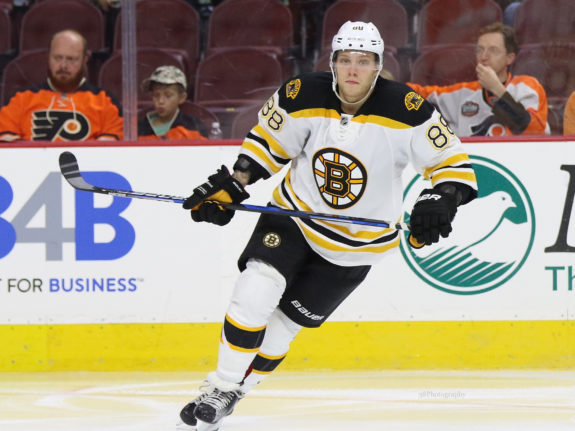 Pastrnak's cap hit is expensive but manageable for a player whose production continues to increase each full season. It also helps that he plays on the best line in hockey with Patrice Bergeron and Brad Marchand, two other underpaid players on the Bruins roster. The best part of Pastrnak's contract is that because the deal ends when he is at the end of his peak, there is almost no chance the Bruins overpay him.
Buffalo Sabres
D Rasmus Ristolainen – $5.4 million AAV through 2021-22
The Buffalo Sabres have been a bad team for nearly a decade, not making the playoffs since the 2010-11 season. Both the reason for their struggles and a result of being a poorly-run franchise, the Sabres have few value contracts. I went with Rasmus Ristolainen because he is 23 and has the potential to be a top-pair offensive blueliner. Ristolainen's play is questionable at times, leaving fans frustrated, but he is a right shot with two 40 point seasons in his career. His contract shows its value when compared to others at his position. Ristolainen's $5.4 million cap hit ties for 35th among blueliners and behind Brooks Orpik, Andrej Sekera, and Marc Staal. Ristolainen will also only be 27 when his deal expires and will be in the middle of his prime. The Sabres may have overpaid the first few years of the deal but, if he reaches his potential, they will get great value at the end.
Calgary Flames
LW Johnny Gaudreau – $6.75 million AAV through 2021-22
Johnny Gaudreau signed his contract in Oct. 2016 following a 78-point campaign the previous season. After a drop in production last season, he has rebounded with 80 points in 71 games this season. What makes Gaudreau the Flames' best contract is his impact on the team, registering a point on 40.8 percent of team goals this season.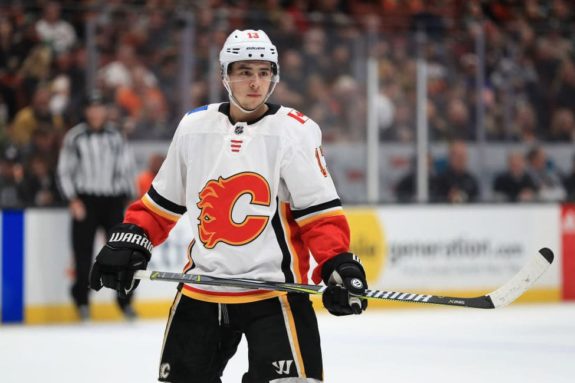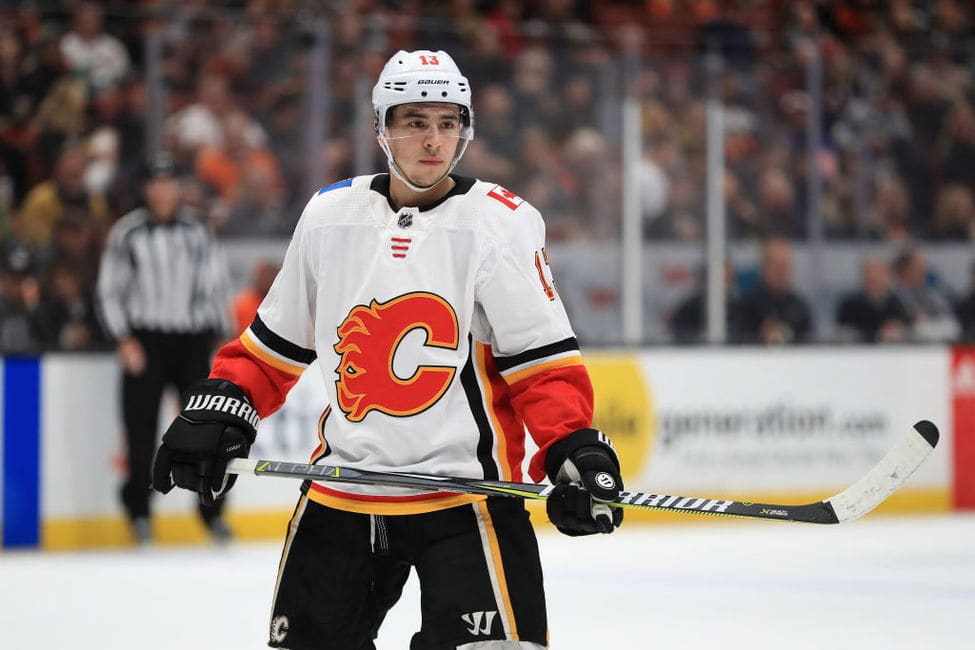 Gaudreau has an 18-point lead on Sean Monahan for the team's point lead, as well as pacing the team in assists by a margin of 26. For the Flames, the best part of Gaudreau's contract is that it extends through his age-28 season and only has a M-NTC in the final year.
Carolina Hurricanes
D Jaccob Slavin – $5.3 million AAV through 2024-25
The Carolina Hurricanes, with their young defense corps, have already signed three of them through the 2019-20 season. One of them, 23-year-old Jaccob Slavin, signed his contract extension in July 2017. He agreed to a seven-year deal worth $5.3 million per season that goes into effect next season, making him just 31 when the deal expires. I went with Slavin over others, not because he is an offensive threat, but because he leads the team in ice time while picking up his main partner, Brett Pesce. At 5-on-5, Pesce has a 50.8 percent Corsi without Slavin, but together, their Corsi jumps to 54.1 percent. Slavin also picks up Pesce in control of shots, goals, and scoring chances. A $5.3 million cap hit for a top pair defenseman is a bargain, especially for one who is as young as Slavin.
"Jaccob is one of the cornerstones of our team moving forward, and it was important to secure him with our organization long term." – Former Hurricanes GM Ron Francis announcing Slavin's extension.
Chicago Blackhawks
D Jordan Oesterle – $650,000 AAV through 2018-19
The Chicago Blackhawks signed defenseman Jordan Oesterle to a two-year, $1.3 million deal last offseason after the Edmonton Oilers chose to not re-sign him. Prior to this season, he played a total of 25 games but has already appeared in 44 this season, partnering with Duncan Keith on the top pair. He hasn't contributed much offensively with just four goals and 12 points but has a cost-per-point of just $29,065 and, with positive metrics at 5-on-5, he is worth his cap hit. His contract has one more year remaining, allowing the team to continue getting value out of him.
Colorado Avalanche
C Nathan MacKinnon – $6.3 million AAV through 2022-23
Nathan MacKinnon is in the second year of a seven-year, $44.1 million contract. The former first overall pick is having his best season with 82 points in 61 games and is the main reason the Colorado Avalanche are in a playoff position. MacKinnon has contributed on 37.4 percent of the team's goals this season, a high rate considering he missed eight games in February. If the Avalanche make the playoffs this season, MacKinnon is certain to be a Hart Trophy finalist, not a bad outcome for a player with a $6.3 million cap hit.
Columbus Blue Jackets
D Seth Jones – $5.4 million AAV through 2021-22
When the Columbus Blue Jackets acquired Seth Jones from the Nashville Predators for Ryan Johansen, they envisioned Jones on their top pair for a long time and that is what the Blue Jackets have. Jones is in year two of a six-year, $32.4 million extension he signed in June 2016. As a right shot, puck-moving defenseman, Jones has provided incredible value for the team. This season, he leads the team in time on ice by nearly two minutes and is second on the team in points.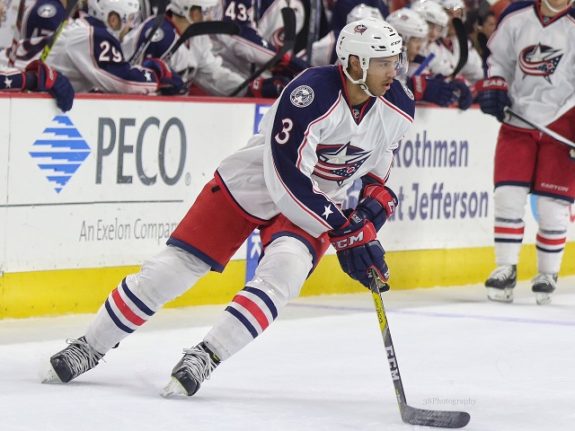 Jones has improved offensively each season in the NHL, already setting a career high in points and goals this season. At 23, Jones hasn't reached his prime yet and will still be in it at age 27 when his deal expires.
Dallas Stars
D John Klingberg – $4.25 million AAV through 2021-22
With John Klingberg, the Dallas Stars have their number one defenseman signed through his prime for a great cap hit. The Stars took a chance on signing Klingberg to a seven-year extension after his rookie season when he had 40 points in 65 games. In the three years since, Klingberg had seasons of 58 and 49 points and currently has 57 points, the most of any defenseman. This season, Klingberg is fourth on the Stars in scoring and leads their blue line by 33 points. His contract, which has four more years left on it, expires when Klingberg is 29 and has no trade protection included.
Detroit Red Wings
C Luke Glendening – $1.8 million AAV through 2020-21
Luke Glendening is in the second year of a four-year deal that will expire after he turns 32. Mostly a fourth liner, he takes the most difficult faceoffs for the Detroit Red Wings. He receives 65.5 percent of his 5-on-5 starts in the defensive zone and is winning 57.9 percent of all faceoffs this season.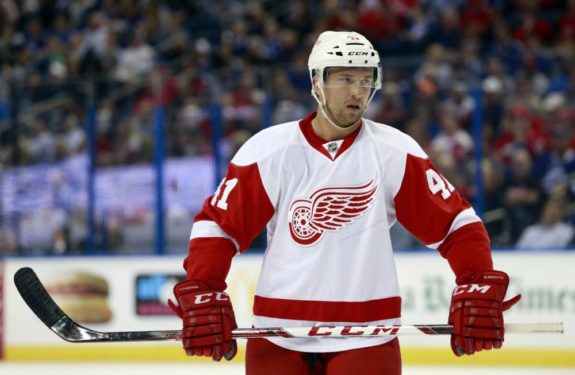 Offensively, he doesn't provide much with 14 points in 57 games but plays over two minutes per game on the penalty kill. At this year's trade deadline, he was linked to the Toronto Maple Leafs, the result of Mike Babcock's trust in Glendening from his time coaching in Detroit.
Edmonton Oilers
C Connor McDavid – $12.5 million AAV through 2025-26
Last offseason, Connor McDavid agreed to an eight-year, $100 million extension that starts next season. Coming off an MVP season, he deserved the maximum 20 percent of the team's salary cap ceiling but left money on the table, already making the contract a bargain. What makes the deal the best on the team is that although the rest of the roster has regressed, McDavid has been better than last season – he set a career high in goals and has a chance at another Art Ross Trophy. Leon Draisaitl may have a smaller cap hit by $4 million but there is some question regarding his value without McDavid, while No. 97 can be productive playing with anyone. McDavid's contract is great for the Oilers because he will be 29 when it expires, covering what should be his most productive seasons. The contract, with its cap hit, gives the team cap space to build a talented team around McDavid, even if that hasn't happened this season.
Florida Panthers
C Vincent Trocheck – $4.75 million AAV through 2021-22
The Florida Panthers have several bargain contracts, especially at forward. What makes Vincent Trocheck's contract the best is that he is a second line center with a cap hit under $5 million. He is also productive, improving his point total each season in the league, already setting a career high in goals (26), assists (38), and points (64) this season. He is second on the team in scoring and is averaging .96 PPG, by far the highest of his career.
Trocheck's $60,642 cost-per-point is fourth lowest on the team among players on standard contracts. His deal, which has four years remaining, expires after he turns 28, following the trend of teams attempting to maximize value during a player's peak years.
Los Angeles Kings
D Jake Muzzin – $4 million AAV through 2019-20
At 29, defenseman Jake Muzzin is one of the older players on this list. Muzzin signed his current five-year, $20 million deal in Oct. 2014 after he played a key role in winning the 2014 Stanley Cup. As a defenseman who plays a two-way game and can play on the top pair or anchor a second pair, Muzzin is a bargain at $4 million. This season, Muzzin has a career high .57 PPG and is on-pace to set a new high in points. In recent games this season, Muzzin has played with Christian Folin. On that pair, Muzzin has picked Folin up, bettering the latter's Corsi and control of shots and scoring chances at 5-on-5. When Muzzin's deal expires, he will be 31. That allows the team to let him depart via free agency and not overpay him if they choose to as he will already be out of his prime.
Minnesota Wild
C Eric Staal – $3.5 million AAV through 2018-19
When the Minnesota Wild signed Eric Staal in July 2016, he had come off a terrible stretch with the New York Rangers, the team he was dealt to at the trade deadline. With 39 points in 83 games that season, Staal's point totals had decreased for three consecutive seasons. So when the Wild signed Staal, he wasn't a prized commodity.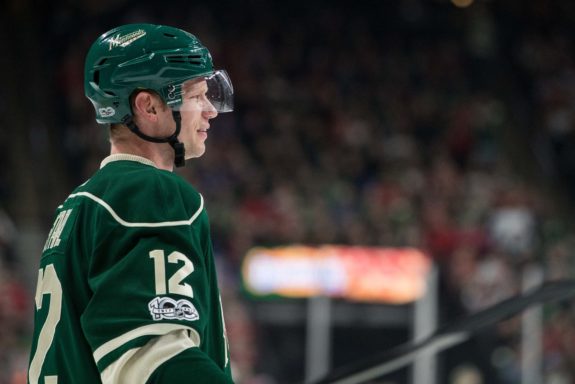 In his two seasons in Minnesota, Staal has had a career rebound with 65 points last season and 68 points in 69 games this season. His 68 points are his highest since the 2011-12 season and his 37 goals are his highest since 2008-09. Staal has been the driving force behind the Wild's offense, leading the team in goals and points.
Montreal Canadiens
RW Brendan Gallagher – $3.75 million AAV through 2020-21
Brendan Gallagher signed his current six-year deal in Nov. 2014 when he was 22. In the three-plus seasons since, Gallagher has had three 40 point seasons and eclipsed the 20-goal mark twice. His inability to stay healthy has been his only question mark, missing at least 18 games each of the past two seasons. That has not been the case this season – he's appeared in every game for the Montreal Canadiens. His ability to stay on the ice has translated to success with 43 points and a career-high 26 goals, leading the team in both. With a chance at 30 goals and a high probability of setting a new high in points, he has been the Canadiens best player. Gallagher will be 29 when his contract expires so the deal will cover his peak seasons, all with an undervalued cap hit.
Nashville Predators
D Mattias Ekholm – $3.75 million AAV through 2021-22
Nashville Predators GM David Poile has made a habit out of signing his players to great, team-friendly contracts. I chose Mattias Ekholm because he is a top-pair defenseman with a cap hit of less than $4 million. The pair of Ekholm and P.K. Subban has been one of the best in the league this season, with the second highest Corsi (58.3 percent) at 5-on-5 among pairs with at least 200 minutes of ice time. They have also controlled 52.6 percent of goals all while starting in the defensive zone 52 percent of 5-on-5 shifts.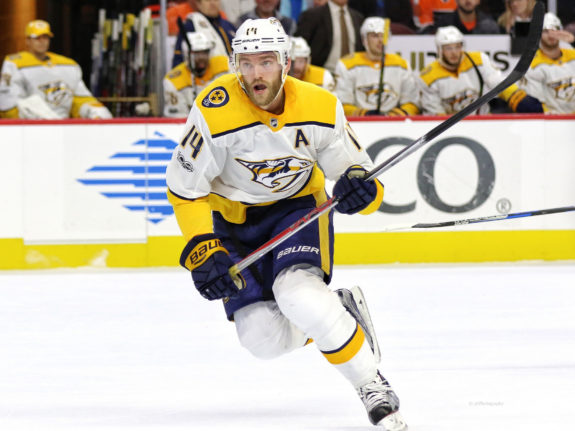 Ekholm signed his contract in Oct. 2015 after posting 18 points the season before. At the time, the contract bet on Ekholm's progression, but in the first two years of the contract, he has been underpaid. In last year's playoffs, he was excellent with 11 points in 22 games and has continued that production this season with 31 points and likely to set a career high in the category. Ekholm will be 31 when his deal expires so the Predators will have bridged his most productive seasons on such a team friendly contract.
New Jersey Devils
LW Taylor Hall – $6 million AAV through 2019-20
When the New Jersey Devils acquired Taylor Hall from the Edmonton Oilers for Adam Larsson June 2016, it was immediately a win for the Devils. Last season, he regressed in his first year in New Jersey, but could be a favorite for MVP this season. With 74 points in 64 games, Hall has blown away his previous career high in PPG for a full season. He is the only reason the Devils are in a playoff position, leading the team by 31 points and 12 goals. With his current performance, Hall has emerged as one of the best at his position and worth well above his current cap hit. The downside to Hall's deal is that it only has two years remaining and he will be 28 when it expires. However, given how well he is playing, that trade has been laughable on the part of the Oilers.
New York Islanders
D Adam Pelech – $1.6 million AAV through 2020-21
The New York Islanders were a difficult team because the players on good contracts are either veterans or their deals expire soon. I chose 23-year-old defenseman Adam Pelech because of his low cap hit and because he has three years remaining. This season is Pelech's first full one in the NHL so there isn't an extensive history, good or bad. The Islanders signed Pelech to a four-year deal after his rookie season, betting on his upside.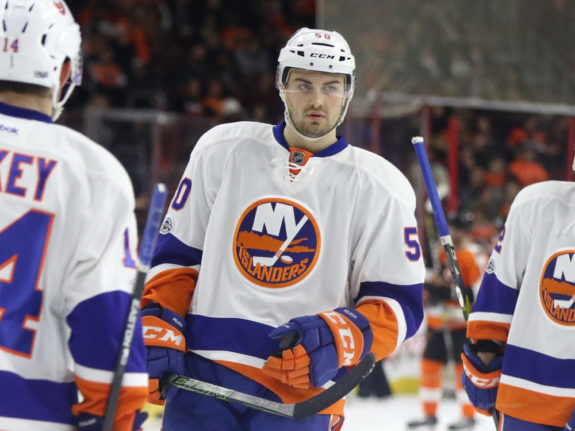 This season hasn't gone well for the Islanders and their defense and goaltending have been the culprits. Pelech has been decent this season with 14 points in 65 games and the pair of he and rookie Sebastian Aho has been fairly effective at preventing goals even with Pelech's questionable decision-making. Of Islander pairs with at least 200 minutes at 5-on-5, the pair has the second-highest control of goals at 58.3 percent while starting in the defensive zone 59.4 percent of the time. Pelech may not be ideal and his play can lead to dangerous chances for the opposition, but the results still convey that he is a value contract for the Islanders.
New York Rangers
LW Chris Kreider – $4.625 million AAV through 2019-20
Chris Kreider's injury earlier this season to resection a segment of his ribs was one of the main reasons the season went downhill for the New York Rangers. Before Kreider left the lineup on Dec. 27, the Rangers had a 20-13-4 record. Between Dec. 27 and Feb. 23, when he returned, the team went 7-16-1. While there are other factors in the team's decline, Kreider had 22 points in 37 games before his injury and still has the third highest PPG rate of his career despite only four points in nine games since returning. Kreider will be 29 when his four-year, $18.5 million deal expires after the 2019-20 season but, given his importance on the roster, he is a key part of the team's future.
Ottawa Senators
C Ryan Dzingel – $1.8 million AAV through 2018-19
Ryan Dzingel is in the midst of his best NHL season, scoring 20 goals for the first time and tying his career high in points with 32. The 26-year-old signed a two-year deal last offseason and has been one of the few bright spots on a struggling Ottawa Senators team. With a deal that expires next season, he provides the team with the option of extending him and making him a part of their core or taking advantage of his production and trading him this offseason. Regardless of which path they pursue, he has been a valuable asset to the Senators on his current deal and worth his cap hit.
Philadelphia Flyers
D Shayne Gostisbehere – $4.5 million AAV through 2022-23
The Philadelphia Flyers signed number one defenseman Shayne Gostisbehere to a six-year, $27 million deal last offseason after a regression in his sophomore season. His 39 points in 76 games last season followed up a rookie season in which he had 46 points in 64 games and finished runner-up in Calder Trophy voting. His down year likely played a role in allowing the Flyers to extend Gostisbehere through his age-30 season for such a low cap hit.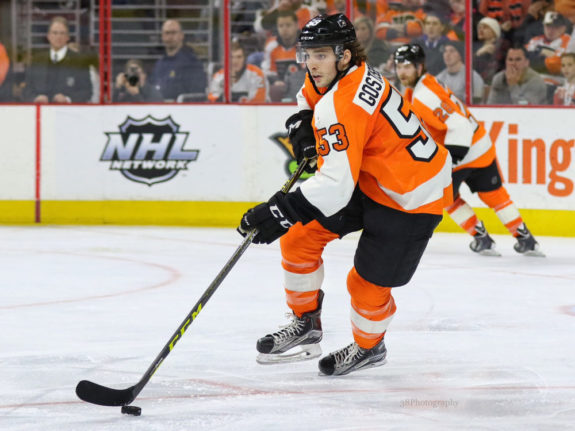 He has rebounded this season with 51 points in 66 games, leading Flyers defensemen by 19 points. The pair of Gostisbehere and Ivan Provorov has been dynamic with a 55.1 percent Corsi at 5-on-5 as well as controlling 59.0 percent of goals. Gostisbehere's contract allows the Flyers to build a talented team around him with the amount of money he left on the table.
Pittsburgh Penguins
D Brian Dumoulin – $4.1 million AAV through 2022-23
Brian Dumoulin signed his current six-year, $24.6 million deal with the Pittsburgh Penguins after his previous two-year, $1.6 million deal expired last offseason. Where Dumoulin stands out is at 5-on-5 where he has a 53.5 percent Corsi while playing on the top pair with Kris Letang. Dumoulin has picked Letang up this year at control of goals at 5-on-5. Together, they control 41.5 percent while Dumoulin, when playing with a different partner, controls 50.0 percent and Letang, without Dumoulin, controls 32.0 percent. In Dumoulin, the Penguins have a defensively responsible partner to play alongside the offensively minded Letang. Dumoulin's contract pays him until he is 31, a safe age because there is unlikely to be drop-off by that age. It also extends one year longer than Letang's contract, ensuring that the Penguins top pair will be together for at least the next four seasons barring a trade.
San Jose Sharks
RW Joonas Donskoi
Finnish-born forward Joonas Donskoi is having his best season, scoring a career-high 13 goals and his .49 PPG rate is the highest of his career. That has translated into him having the lowest cost-per-point among San Jose Sharks with a cap hit of at least $1 million at $47,114. Playing most recently at 5-on-5 on a line with Joe Pavelski, Donskoi improves Pavelski's Corsi For by 4.1 percent when together. With a $1.9 million cap hit, Donskoi is a bargain for the Sharks but will need a new contract after next season. Given his production this season, an offseason extension will not be surprising.
St. Louis Blues
D Colton Parayko – $5.5 million AAV through 2021-22
Defenseman Colton Parayko has increased his offensive production each of his three seasons in the league. He started with a .42 PPG rate in his rookie season and has averaged .46 PPG this season. Last offseason, Parayko signed a five-year, $27.5 million contract that will expire when he is 29. Given his cap hit and status as an anchor on the Blues second pair, his $5.5 million cap hit is reasonable for the team.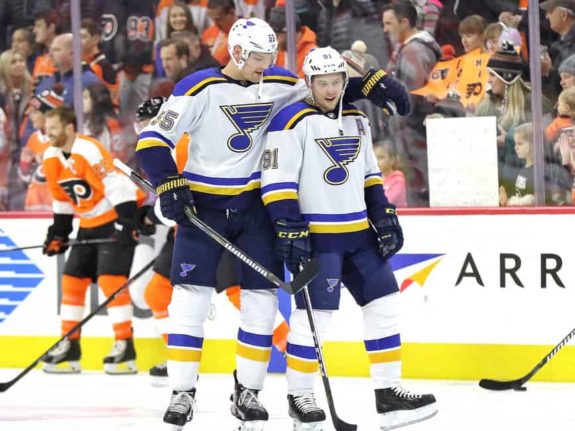 This season, Parayko has averaged the second highest average ice time on the blue line, only behind Alex Pietrangelo. His 32 points are also the second most of St. Louis defensemen, also behind Pietrangelo. Considering that Parayko's contract covers his ages 25 through 29 seasons, when he will be in his prime, the cap hit provides the Blues with great value. The contract also provides the team with security as it lasts two seasons after Pietrangelo's contract expires in case he departs in free agency.
Tampa Bay Lightning
LW Yanni Gourde – $1 million AAV through 2018-19
With several options to pick from on the Tampa Bay Lightning, I went with Yanni Gourde and his $1 million cap hit. In the first year of a two-year, $2 million contract, GM Steve Yzerman signed Gourde last offseason after 22 NHL games and nine points. In his first full season, Gourde has rewarded the team for their belief in him with 24 goals and 54 points in 70 games this season. That is equal to a cost-per-point of $15,808, best on the team. His 54 points are fourth on the team and only three behind his best AHL season. Gourde will need a new contract after next season and, as a UFA, will be expensive but he is just the next young, talented Lightning forward in a line of them.
Toronto Maple Leafs
C Nazem Kadri – $4.5 million AAV through 2021-22
Nazem Kadri signed his current six-year, $27 million deal in Apr. 2016 and went into effect last season. In his two seasons playing on the contract, Kadri scored 32 goals last season and has 26 this season, both career highs prior to the contract. With the same goal rate as last season, he should reach the 30-goal mark again this season.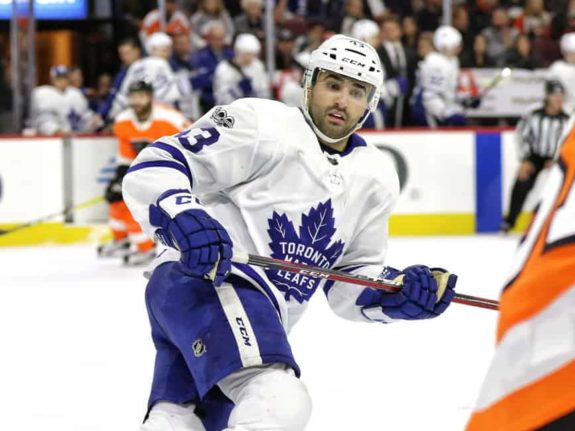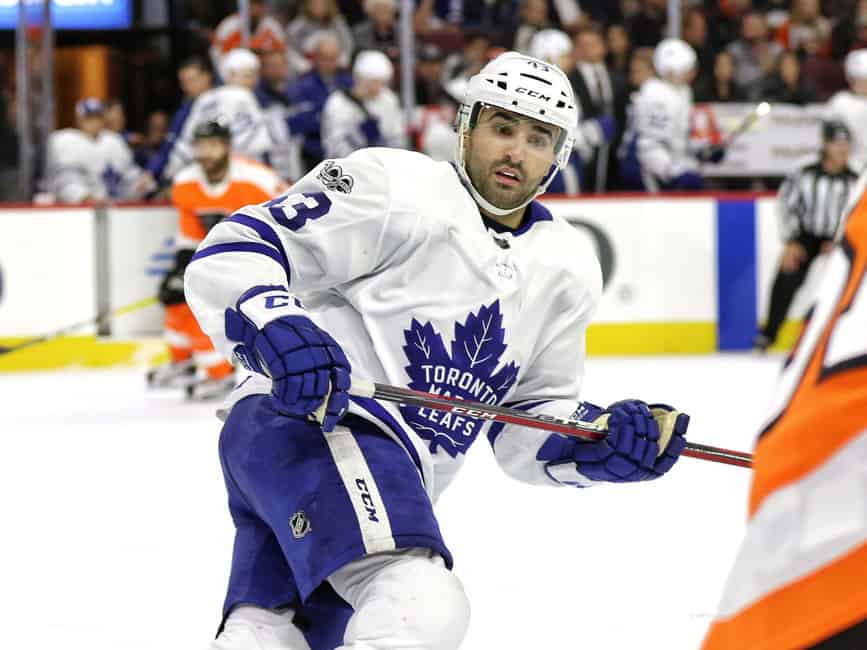 Kadri has had two of his best seasons since signing the contract and is counted on to provide offense while starting in the defensive zone 62 percent of 5-on-5 shifts this season. Kadri's contract provides great value for the Toronto Maple leafs because most 30 goal scorers have cap hits higher than $4.5 million. He will also only be 31 when the deal expires so there is little chance of a regression.
Vancouver Canucks
LW Brendan Leipsic – $650,000 AAV through 2018-19
This pick is likely to draw some criticism but there aren't any standout options on the Vancouver Canucks. Brendan Leipsic is young, cheap and has been fairly productive after the Canucks acquired him on Feb. 26. With six points in seven games with Vancouver, Leipsic has proven he has a knack for scoring. Next season, he should earn a roster spot in the bottom six on a bad Canucks team. With a $650,000 cap hit, Leipsic's contract has no risk involved and leads the team in cost-per-point at $21,277 when adjusted for games played and including his tenure with the Vegas Golden Knights.
Vegas Golden Knights
W Jonathan Marchessault – $5 million AAV through 2023-24
On his current deal, which expires at season's end, Jonathan Marchessault has scored 52 goals in 141 games. That production has occurred on a $750,000 cap hit so he was due a hefty raise in his next contract. On Jan. 3, the Vegas Golden Knights gave him that raise with a six-year, $30 million extension that includes a M-NTC each year. With a 30-goal season to his name and already 65 points this season, Marchessault appears to be a consistent producer in the NHL. A $5 million cap hit for a player producing at his level is a bargain for the team, especially with the salary cap increasing. Since most of the Golden Knights have outperformed career highs this season, there is a chance that Marchessault, like his teammates, will regress next season. But, because he plays on a line with William Karlsson and Reilly Smith, both returning players, Marchessault should remain productive. Even if there is regression, the contract is of little risk to the team because his deal expires when he is 33.
Washington Capitals
C Lars Eller – $3.5 million AAV through 2022-23
What makes Lars Eller's contract the best for the Washington Capitals is that the extension he signed on Feb. 10 has the same $3.5 million cap hit as his expiring contract. Eller is the Capitals third line center and has already set a career high in points this season and is one goal away from tying a high in that category. With Eller turning 29 in May, he is one of the older players on this list but his extension is only for five seasons so there isn't much risk for the team. With how players tend to pursue a raise in their next contract, it is a surprise that Eller didn't push for an increase. His extension also has no trade protection, giving the Capitals a bargain for a key role player on their roster.
"This club and this city has been a great fit for me personally, for my family," Eller said. "There's just so many things that have been good about it. It's been good for my career. I've found my game here, especially this year." As told to Sportsnet in regard to his extension.
Winnipeg Jets
C Mark Scheifele – $6.125 million AAV through 2023-24
At 24, Mark Scheifele is of the league's best centers, averaging better than a point-per-game the past two seasons. Injuries have hindered his impact this season but he has still scored 21 goals and 51 points in 50 games. He signed his eight-year, $49 million extension in July 2016 when he was 23 and coming off a season when he set then-career highs in goals and assists. With Scheifele's talent, a $6.125 million cap hit is a bargain for a first line center who hasn't entered his prime yet. The Winnipeg Jets top line of Scheifele, Blake Wheeler, and Kyle Connor has combined for 62 goals and 170 points this season.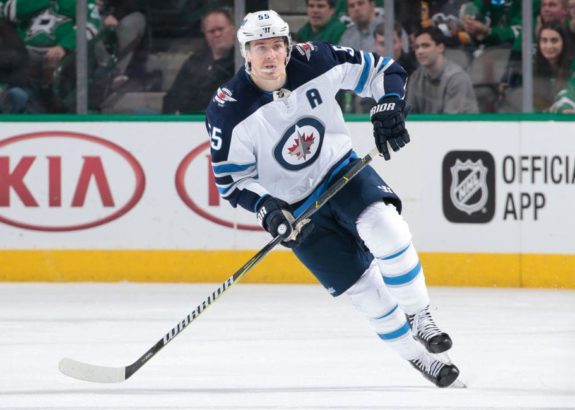 On that line, Scheifele has bettered both players' Corsi For percentages at 5-on-5. Wheeler's Corsi is increased by 6.8 percent and Connor's by 1.4 percent when playing with Scheifele compared to playing without. Scheifele's deal lasts until he is 31 and covers his entire prime. The money he left on the table also allows the team to extend key players and build a Stanley Cup contender.
Related: The Worst Contracts on All 31 Teams
*All stats came from Hockey-Reference, Natural Stat Trick and Corsica Hockey
My name is Kyle, and I'm the managing editor of The Hockey Writers. I joined THW in Oct. 2017 and am always striving to bring you the best hockey coverage possible. You can email me directly at kyle@thehockeywriters.com.