Oh, the shades of last year. The underdog Buffalo Beauts shocking the living daylights out of the Boston Pride to capture the Isobel Cup. The meeting was a true David versus Goliath affair in every sense of the expression. Buffalo turned the NWHL on its ear and came away as the surprise victors.
But that was last year.
Now it is a matter of not "what have you done for me lately?" – the Beauts are on a 10-game winning streak – but "what can you do for me now?". Believe us, there is plenty that the Beauts and the Pride can do in the opening round of this year's playoffs, and it is enough to pull you up out of your seats.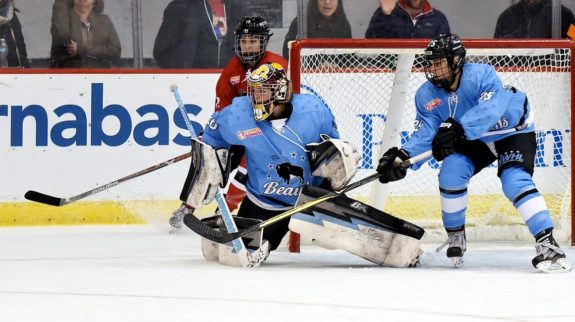 This is a different sort of war this time around. While some bad blood certainly still remains between the returning players – and perhaps some old scores to settle too – there are too many new players on each roster to hearken back too much to last year. Also, geography plays a factor too. Their playoff meeting this year will not be in Boston. For the first time ever the NWHL playoffs will be housed in the friendly confines of the HarborCenter.
The most important thing to realize though is the stakes that these two teams are involved in. It is not a matter of "win, and the Cup is yours" this time around. Rather, it is one team has to move through the other in order to continue on. THW previews how this showdown will look between the Buffalo Beauts and the Boston Pride.
Every Goalie Tells a Story…
This was a bit of a down year for the Pride's starting goaltender, Brittany Ott. Still, the statistical numbers that she did put forth are nothing to scoff at. The 27-year-old goalie posted the most enlarged goals against average (2.50) of her NWHL career and also her most modest save percentage (.910) too. This was the first time in Ott's three NWHL seasons that her goals against went above a 1.95. At the same time 2017-18 ended up being the only losing season of her three campaigns with the Pride as the bell-weathered netminder went 4-6-3 across 13 games.
But – and this is a big but – don't let those numbers fool you. Ott is a heck of a goaltender and arguably one of the best in professional women's hockey. She is not only an Isobel Cup champion but she is also a Clarkson Cup champion from her days in the CWHL with the Boston Blades. During the NWHL's inaugural 2015-16 season Ott was named the league's Best Goaltender. She made a pretty good argument to have recaptured the award in 2016-17 too but just missed out. Ott is also a battler, and even if her stats falter she still makes the saves that need to be made.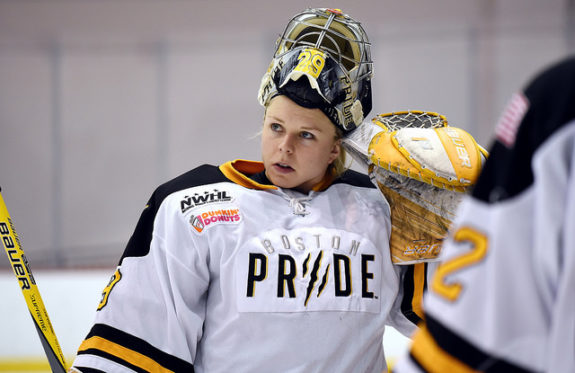 In Buffalo's goal crease is the goaltender most likely to be voted the league's best this year. Amanda Leveille played in all 16 games for the Beauts in 2017-18, and she just got better and better as the season went along. Leveille finished at the very top for nearly all of the key goaltending categories. Tied for number one in games played (16), tied for number one in wins (12), and then owning outright most minutes played (970:37), shots faced (498) and saves made (457). Leveille's whopping .918 SV% was the second best in the league. No goaltender in the league got the job done better than Leveille this year, and it was remarkable to see further poised she became with the more action that she saw.
Like Ott, Leveille has a highly impressive track record when it comes to championships. She was a member of the Beauts Isobel Cup winning team last year and put forth a remarkable performance in the opening round to advance the team. No buts about it – Leveille was vital in Buffalo becoming champions. She is also a three-time NCAA champion for the University of Minnesota. From her performance for the Beauts this year, Leveille should come away with Best Goaltender honors, and deservedly so.
All-Stars in Abundance
When the Boston Pride and Buffalo Beauts are on the ice together, it may just as well be considered an NWHL All-Star Game. The Beauts and the Pride each have eight 2018 All-Stars on their roster who were selected for the All-Star Game in Minnesota this year. Boston has the edge on All-Star forwards with five, but Buffalo has the monopoly on defenders with four blueliners. No matter how you slice it, both teams have an abundance of high-caliber players.
Let us take a look at a few All-Stars in particular.
Jordan Smelker is one of the original members of the Boston Pride and she has a tremendous track record. Since graduating from R.P.I. in 2014, the Alaskan native has been part of a finalist team for each season she has played. In 2014-15, Smelker won the Clarkson Cup with the Boston Blades. Then in the inaugural season of the NWHL she won the Isobel Cup. Last year of course she was with the Pride in their loss to Buffalo. Smelker has excellent size up front at 5-foot-8 and 165 pounds. She is a prototypical power forward who also possesses a bit of a scoring touch. While Smelker scored just three goals this year, her first NWHL season saw her record 19 points (nine goals, 10 assists) in 17 games for the Pride.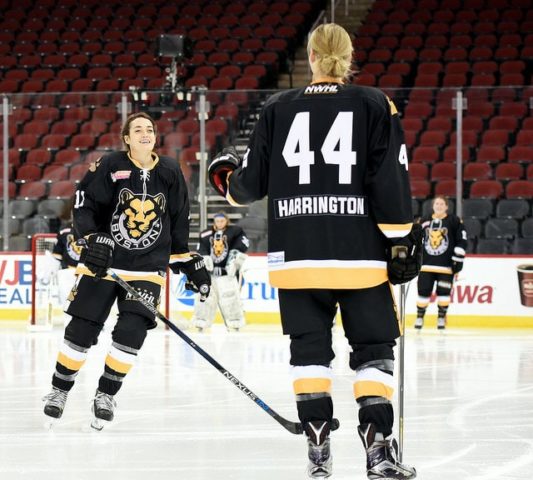 The Beauts have their own perennial finalist in team captain Corinne Buie. This particular All-Star is the only player in the entire league to have three straight championships. Buie was a member of the same CWHL and NWHL Boston championship teams that Smelker was, but then Buie outdid her former teammate by helping to lead the Beauts to Isobel last year. The Beauts captain also has great size at 5-foot-9 and over 150 pounds. Buie tied for third overall in team scoring for Buffalo with four goals and six assists for 10 points in 15 games. She adds a very calming presence to her team, and it becomes infectious in critical situations. Buie just never seems to be rattled.
All-Star Blueliners on Both Sides
When it comes to defenders, both teams have corps that would make other squads green with envy. Boston's Alyssa Gagliardi has the same postseason success that Smelker has had. In a year that did not go so well for the Pride, Gagliardi led the team's defenders in scoring (two goals, six assists in 16 games) and was one of just four Boston skaters to be a plus-player. Her 25 blocked shots led the team and were second overall in the league.
Buffalo's Sarah Edney has quietly been one of the best defenders in the NWHL. After two seasons in the CWHL with the Brampton (now Markham) Thunder, the 24-year-old defender led Buffalo's blueliners in goals with three. Those three markers along with her three assists in 14 games placed Edney at second overall in scoring from the Beauts back end.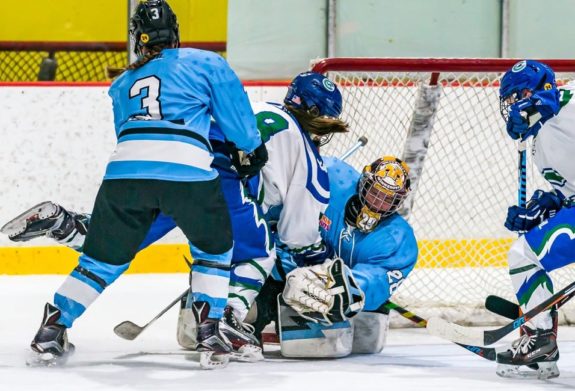 And these are just two of the defenders who will be taking to the ice in Buffalo. Both teams should be recognized for their defense corps, whether they are All-Stars like Gagliardi and Edney, or more utility defenders like Jacquie Greco (Buffalo) or Marissa Gedman (Boston).
Let's Not Forgot the Unsung Heroes
This THW writer wishes that the league annually presented an Unsung Hero award. Without a doubt, it would go to Kaylyn Schroka this year. Not many followers of the women's game realize how good of season Schroka has had – not to mention the fact that she is a rookie. She tied Buie for third overall in team scoring with four goals and six assists in 14 games. Schroka led all Beauts skaters in blocked shots with 19. She was also one of only two Beauts to score shorthanded, and also one of two to have more than one game-winning goal. Schroka has been highly impressive all season long.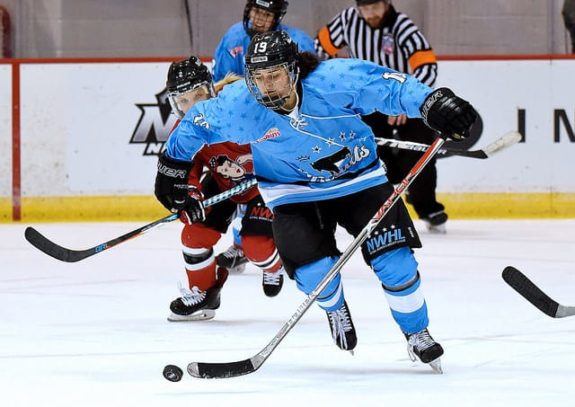 Corey Stearns would have to be Boston's recipient of such an award. Like Schroka, if you closely examine the season Stearns has had it becomes eyeopening for how solid it has been. Though this is her rookie season as well, Stearns is 27 years old and had previously played NCAA hockey for Princeton University until she graduated in 2013. On the season she had four assists in 13 games for Boston. Playing as more of a defensive specialist, Stearns' 15 blocked shots were third most on the team.
The Bottom Line
Boston's biggest challenge in this game is going to be stymieing Buffalo's potent offense while somehow finding offense of their own. It's not that the Pride can't score – it's just that they are not scoring as much as they need to. Offensive threats Smelker and Janine Weber saw their numbers slip. Weber is an incredibly talented player, but her production dropped sharply this year from 10 goals and 12 assists last year to three goals and four assists, admittedly though in four less games played. Still, it is a far cry away from her 22 points last season. On the whole, Boston generated 33 goals in 16 games in 2017-18. Buffalo did dramatically better by putting forth 51 goals.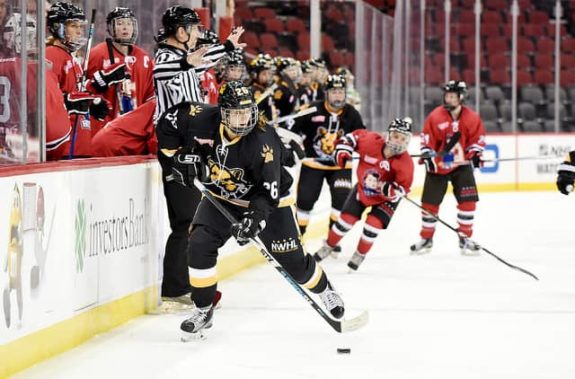 Boston certainly would want to exact a form of retribution but they are going to have their hands full in Buffalo. There is no one Beaut to key upon because offense can seemingly come from everywhere with Buffalo. Jillian Dempsey (7G, 8A) and Emily Field (5G, 7A) were the only Pride forwards to hit double digits in points. Meanwhile, Buffalo got double digit production from six players – Hayley Scamurra (7G, 7A), Maddie Elia (5G, 9A), Kourtney Kunichika (4G, 10A), Taylor Accursi (6G, 5A), Schroka (4G, 6A) and Buie (4G, 6A).
To pull out a Boston victory, Ott will need to be nothing less than stellar. She will need to steer aside any onslaught from Buffalo. Additionally, solid Pride defenders like Gagliardi, Lexi Bender, Kaleigh Fratkin, Kaliya Johnson and Paige Harrington will need to gird their loins for this one. The good news is that all of the Boston D can play a very physical, shutdown style. If they can force Buffalo shooters to the outskirts and make them think twice about coming into the Pride's end, then they could negate Buffalo's attack.
Boston will not be able to outscore Buffalo. Instead they will need to hold on for the ride and try and slow them down.