With the Los Angeles Kings earning their first Stanley Cup victory, the NHL off-season was ushered in. The Tampa Bay Lightning have pieces in place to return to playoff action, but they certainly have holes to fill on the roster. General manager Steve Yzerman has work to do this summer, made more difficult than usual with the NHL's CBA in limbo. So where do the Lightning need help the most?
1. Find a starting goaltender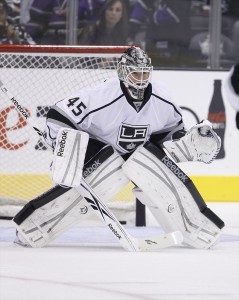 It's no secret the Lightning need to find a starting goaltender. Mathieu Garon, signed for one more year, played well at times last season but has proven during his NHL career to be more of a very capable back-up than a starter. With Jaroslav Janus a restricted free agent, that leaves only Dustin Tokarski and Pat Nagle as signed keepers. Tokarski played well for the AHL Calder Cup champion Norfolk Admirals, but isn't likely to be asked to carry the load in Tampa.  So what are the Bolts to do?
A trade seems more likely than a free agent signing with Josh Harding standing out as the lone unrestricted tender to be viewed as a possible number one. Jonas Gustavsson and Alvaro Montoya could be intriguing to some teams, but more in terms of depth in net. Trade targets could include Jonathan Bernier of the Los Angeles Kings, Anders Lindback of the Nashville Predators and Roberto Luongo of the Vancouver Canucks.
Luongo has the resume and abilities to back-stop the Lightning back to playoff success, but with a cap hit of $5.3 million for the next ten seasons, don't expect him to be wearing a Lightning bolt anytime soon.
Bernier is extremely talented, young and cheap, making him a perfect fit for the Lightning moving forward.  However, with Jonathan Quick entering the final year of his contract and a Stanley Cup championship in hand, the Kings may opt to hold onto Bernier for now.
Lindback is also talented, young and cheap. While he is a restricted free agent, he won't break the bank to sign. Nashville has all-world youngster Pekka Rinne in net long-term with prospects Jeremy Smith and Magnus Hellberg on the way. The Lightning have plenty of young forwards and draft picks to offer, making Lindback a name to keep an eye on.
2. Add depth to the blue line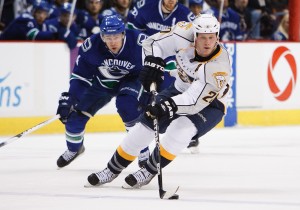 The Lightning suffered plenty of injuries a season ago and no area was hit harder than the back-end.
Mattias Ohlund missed the entire season with a knee injury, Marc-Andre Bergeron's back limited him to just 43 games and Victor Hedman was kept out of action 21 times with multiple injuries, including a concussion. For a team with limited depth on defense heading into the season, injuries and inconsistent play did not help things. The Lightning would like to see Ohlund, Bergeron and Hedman on the ice much more often this season to help stabilize the defense group along with veteran Eric Brewer.
Youngsters Keith Aulie, Brian Lee and Brendan Mikkelson are all restricted free agents and a decision will have to be made on those three quickly.  Given the injuries a year ago, it's likely that all three will be back with the club this fall. The Lightning will also take a long look at Radko Gudas and Mark Barberio in camp this year, both of whom excelled in Norfolk this season.
With the current collection of defensemen, Gudas probably stands a better chance of cracking the roster with his physical style of play, which is much-needed in Tampa Bay. The Lightning could also look outside the organization for help defensively.
On the free agent front, Ryan Suter will be hotly pursued this summer by many clubs and the Lightning have both the need and cap space to fit him onto their roster. Suter's ability to play big minutes and all situations would be welcomed in Tampa, taking some pressure of Hedman and Brewer.
Dennis Wideman and Jason Garrison could be options if Lightning brass is looking for rear guards to help on the power play. Barret Jackman, Matt Carle and Bryan Allen might garner attention from Tampa Bay as well.
A name to watch on the trade front is Niklas Hjalmarsson of the Chicago Blackhawks. Hjalmarsson is a rugged defender who can skate and move the puck well and could find himself on the trade block this summer. With plenty of options available, watch for the Lightning to add to their stable of defensemen.
3. Bring in a quality third line center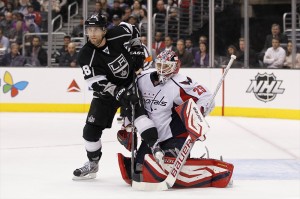 Steven Stamkos and Vincent Lecavalier are going to see a lot of action playing pivot in Tampa. Nate Thompson is an excellent depth forward given his play on the penalty kill and he can chip in the odd goal as well. However, don't overlook the need for a center to slot in behind Stamkos and Lecavalier.
While the Lightning will have a number of young wingers to watch in camp including Cory Conacher and J.T. Brown, they don't have tremendous depth down the middle.  Tyler Johnson certainly turned heads with his performance in Norfolk this season, but he isn't likely to be asked to play a top-nine role in Tampa next season.
While he had a down year with putting the puck in the net, Jarret Stoll would seem to be a player to watch should he not re-sign with Los Angeles. Former Bolts Jeff Halpern and Dominic Moore could also be options as free agents.
Stamkos and Lecavalier are going to play big minutes, but a veteran third liner who can create offense should be on the agenda this summer.
The Lightning were a win away from playing in the Stanley Cup Final two seasons ago. While a good number of players remain from the team that pushed the Boston Bruins to seven games, things didn't go to plan last season. There will certainly be changes made this summer to try to improve the on-ice results next season.
Given the cap space and assets Lightning management have at their hands to play with, there will be no shortage of rumors and transactions to follow. With the right additions, the Lightning could find themselves in another deep playoff run next season. After all, that is the plan.
I am a Tampa Bay Lightning correspondent for TheHockeyWriters.com. Hockey and writing have been passions of mine as long as I can remember. I have followed the Lightning from the initial puck drop at Expo Hall in 1992 and plan to keep fans in the loop with all things Lightning hockey.