Since Ondrej Palat joined the Tampa Bay Lightning as a seventh-round pick in the 2011 NHL draft, he has done nothing but exceed expectations. As one of the last picks that year, there was little thought about his future with the organization at the time, let alone the belief that he would turn into one of the faces of the franchise.
Yet, just a few years after he was drafted, Palat carved his way into the NHL. He worked his way up through the Norfolk Admirals, the Lightning's then AHL affiliate, into a starting role in Tampa Bay. In his rookie season, he scored 59 points in route to a second place finish for the Calder Trophy. The next year, he made magic happen as a member of the 'Triplets' line that dominated games and helped carry his team to the Stanley Cup Final.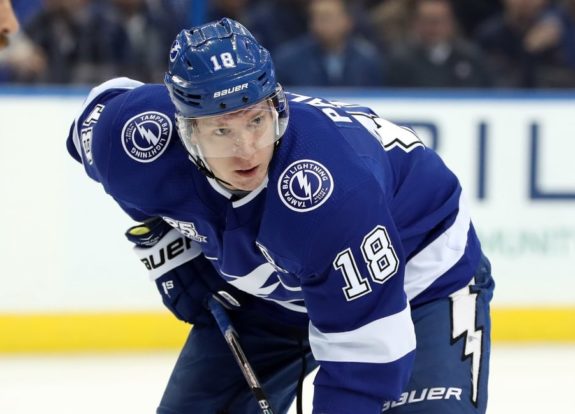 Since that time, though, things have been a bit of a struggle for him. Injuries have largely derailed the development of what could have been one the NHL's best defensive forwards. Since the 2015-16 season, he has suffered at least one major injury, causing him to miss meaningful playing time with the Lightning.
With an injury early in the 2018-19 season costing him weeks of playing time, Palat started out the year on the wrong foot. Even though he is viewed as a key part of the Lightning's recent success, it may be time for general manager Julien BriseBois to start asking the difficult question… Is Palat worth it anymore?
Palat's Costing More Than He's Producing
In the cap-crunch world of the NHL, a player's cap hit is one of the biggest determining factors for how they are viewed within an organization. In the case of Palat, it can be easy to forget the veteran winger is the Lightning's third highest paid forward this year.
When he is healthy, one can understand why he is making $5.3 million a year. Palat brings a two-way playstyle that works perfectly in head coach John Cooper's gameplan. He can slot in on almost any forward pairing, from a shutdown role on the third line to a top-line winger playing hard on the puck while setting up Steven Stamkos for a goal.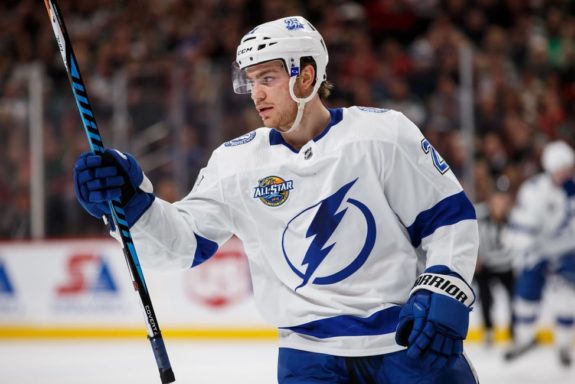 Due to his string of injuries and the incredible two-way play of young players like Adam Erne, Mathieu Joseph, and Anthony Cirelli, Palat has begun to look expendable. With his cap-hit in mind and players like Brayden Point and Andrei Vasilevskiy coming due for a contract extension next season, BriseBois will have to seriously consider moving him or risk losing a young star player.
A Healthy Palat Carries Value
Unlike some of his veteran teammates who are also under expensive, lengthy contracts, a player with the skillset of Palat still holds value in the NHL. Teams with a young core could benefit massively from his veteran presence and demeanor both on and off the ice.
If he can return from his early-season injury and contribute meaningful scoring numbers throughout the playoffs, someone might be willing to take a swing on him without the Lightning giving up much of anything else in return. Something along the lines of Palat plus a prospect or a mid-tier pick could be all it takes for a team to take on his contract.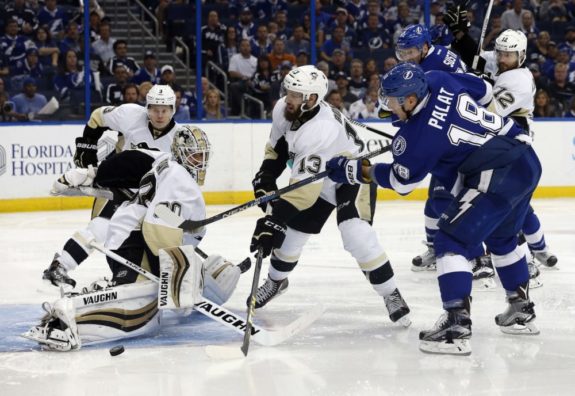 In fact, if he plays exceptionally well this year, the Lightning may be able to trade Palat at a premium and return a young, unproven player that could fight for a roster spot while clearing some cap space to re-sign Point and Vasilevskiy.
Losing Palat Isn't Ideal, but May Be Necessary
In a perfect world, the Lightning would never have to think about trading Palat. His story and playing style mesh perfectly with the organization, and when he is healthy, he makes the team better.
Related: Lightning Stop Sabres 10-Game Winning Streak
However, given their current state, the Lightning will have to consider all options in order to keep their new core intact. This will lead to difficult decisions, including parting ways with players that mean a lot to the franchise.
If BriseBois gets a fair value offer for Palat this summer, he will have to take the deal. Given his recent injury struggles, holding onto him would be a detrimental move to the Lightning'a future. With every dollar counting this offseason, opening up $5.3 million in cap-space would go a long ways towards keeping their new stars with the franchise.