For years, Tampa Bay Lightning captain Steven Stamkos was thought of as purely a goal scorer. He had the ability to snipe the puck from almost anywhere and he scored more often than he missed. From 2008 until 2013, he nearly single-handedly won games for the team. He earned himself two Rocket Richard trophies, one of which came on the heels of a remarkable 60-goal season.
Playoffs and championships were what Stamkos wanted most, though. During his first five NHL seasons, he endured a lot of losing and adversity on the ice. He only tasted playoff hockey once, as the Lightning fell short in the 2011 Eastern Conference Final.
Once Jon Cooper was hired to replace Guy Boucher as head coach in March of 2013, Stamkos began his slow evolution towards becoming a more well-rounded player. He shot the puck more when given the opportunity, but also became more aware of his surroundings on the ice. That led to his best career start, with 22 points in 16 games.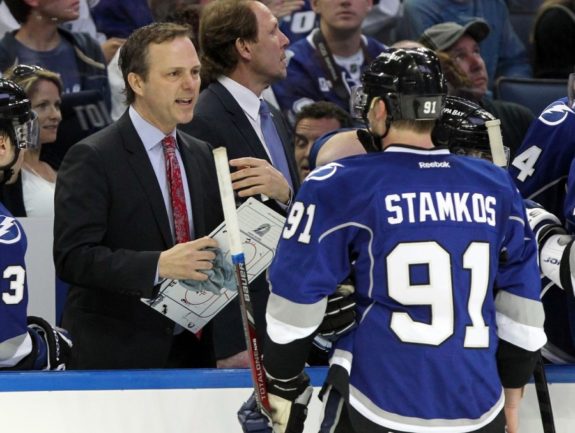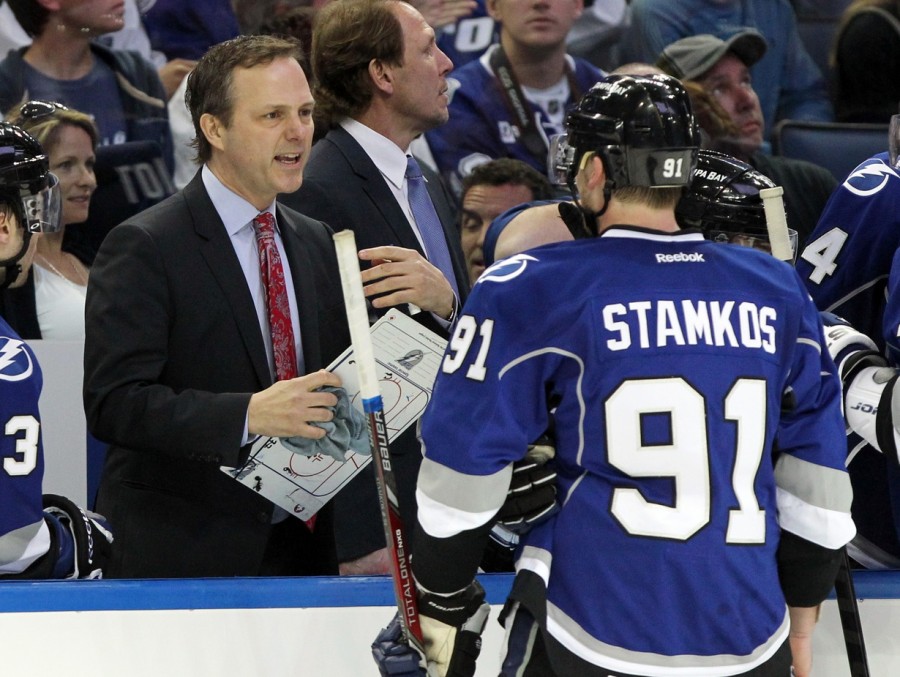 Unfortunately, a broken tibia suffered on Nov. 11 in Boston that year cut his season in half. When he returned to the ice nearly four months later, he didn't have the speed he had before getting injured. He faced immense pressure as well, inheriting the team captaincy from traded veteran Martin St. Louis.
Those two factors, along with the emergence of younger players, forced Stamkos to change the way he played the game. Gone were the days of him scoring many of the team's goals and expecting to win. In the faster-paced, more wide-open NHL, other aspects became critical to success. Players, especially pure goal scorers, were forced to adapt if they had any hope of being viewed as elite.
Stamkos has taken on the challenge of becoming a complete player. He's reinvented his game, focusing on defense more than offense, and the Lightning have gone from a league laughingstock to a championship contender in a few years time.
What made the biggest difference?
Stamkos Evolved Into Top-Notch Playmaker
Early in his NHL career, Stamkos was the beneficiary of elite play-making skills from St. Louis. For five-plus years, he gained experience from watching one of the game's best work magic with the puck. In fact, it's not a stretch to say that a majority of the now 28-year-old's goal-scoring success as a teenager was made possible by his mentor.
After five seasons together as teammates, Stamkos had scored 40 or more goals three times. It could have been more if not for the lockout-shortened 2012-13 campaign. During that same span of time, St. Louis contributed 40 or more assists in all five years. While that might not paint the best picture, the fact that he put up 60 or more assists in two of Stamkos' three best seasons as a goal scorer should mean something.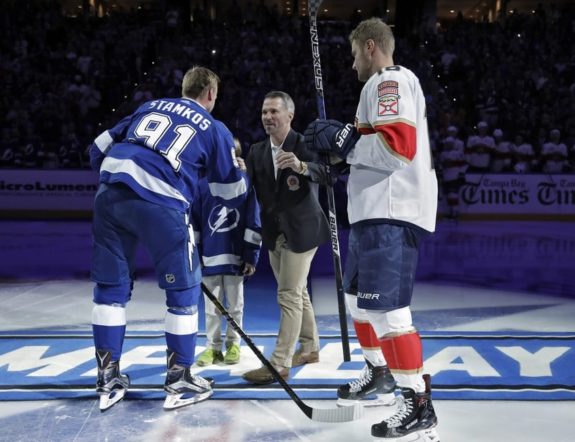 Upon St. Louis' departure from the Lightning, Stamkos found himself bouncing between linemates. He spent time centering another talented winger in Jonathan Drouin, along with Alex Killorn, before finding his home alongside Nikita Kucherov. His time with Drouin yielded few good results, as both battled injuries. The captain's only other 40-plus goal season came in 2014-15, with Drouin feeding him the puck often.
When Drouin was traded to the Montreal Canadiens prior to the 2017-18 season, however, Stamkos found himself becoming the set-up man to the NHL's best right winger. He flourished, tallying a career-high 59 assists in 78 games played last season. Kucherov benefitted from many of those plays, with the second-best goal total of his career at 39.
Related: Stamkos & Kucherov Are the NHL's Most Dangerous Duo
Both began last year on 11-game point streaks, sending a message to the rest of the league that the Lightning are for real and aren't letting up.
This season, Stamkos has spread the wealth. With the chemistry between him and Kucherov off target to begin the year, the captain has found himself playing with Brayden Point and Yanni Gourde at various times. His elite playmaking hasn't suffered, as he's put up 16 assists through 29 games.
Stamkos Giving Lightning Edge in Possession Time
A team that prides itself on possessing the puck more than the opposition, Stamkos' improving ability to win faceoffs in recent years has given the Lightning extra scoring chances. For a team with firepower up and down the lineup, those extra few shots could make a difference in the final outcome of games.
During the first four years of his career, Stamkos hovered between 45 and 47 percent in the faceoff circle. Those numbers aren't awful, but it was obvious that work needed to be done to raise the percentages. He did that slightly, reaching the cusp of 50 percent in the lockout-shortened 2012-13 season. The following season, a broken tibia limiting his action to 37 games caused him to endure a small dip to 49.15 percent.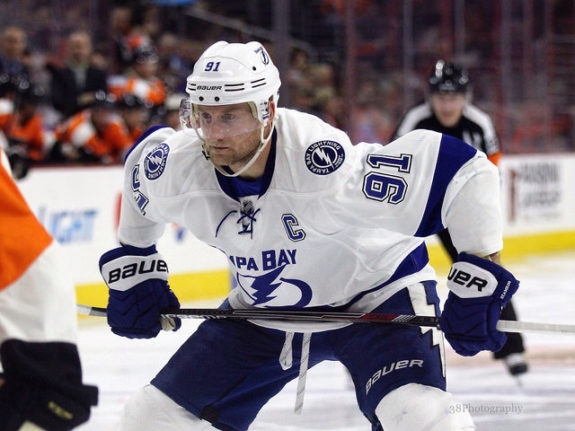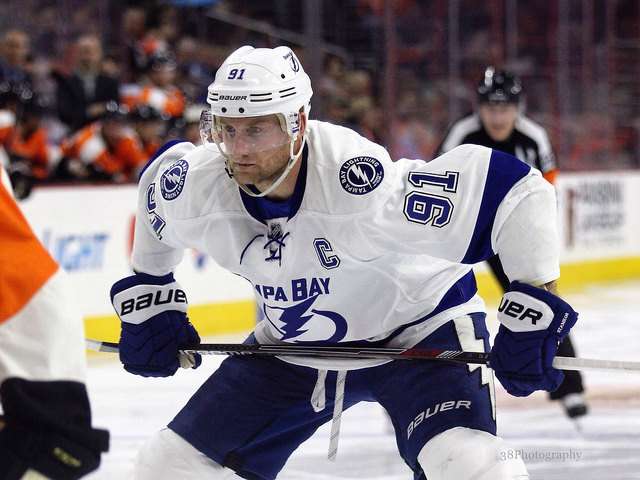 Since that point, Stamkos has steadily improved. He went from 49.73 percent in 2014-15 to nearly 50 percent the following season. He made a significant leap from there, winning 53.54 percent of his draws in a 2016-17 season cut short by a serious knee injury.
Coming off of surgery to repair a lateral meniscus tear and months of rehabilitation, there were questions as to how effective the Lightning captain would be upon returning to the ice. He put those to rest, finishing 2017-18 with the second-highest faceoff percentage of his career at 52.24.
Through 29 games this season, Stamkos has taken another big step forward. He's winning nearly 57 percent of his draws, a career best, and the team is rolling despite injuries to key cogs Andrei Vasilevskiy, Anton Stralman and more.
Can Stamkos join fellow elite talents Sidney Crosby and Alexander Ovechkin in becoming a Stanley Cup champion? While unknown, his evolution into a well-rounded player leaves the Lightning optimistic about the future.
*All stats courtesy of the Tampa Bay Lightning.