The Winnipeg Jets did the Big Apple and area in style over the past week, sweeping their three-game road trip and pushing their record to 17-8-2.
The path to their three wins was about as turbulent as a flight through a thunderstorm. Each night, the squad — piloted by a different player or group — found a way to navigate through the clouds to clearer skies.
Jets Powered by Scheifele in New Jersey
In the road trip's opening game against the New Jersey Devils on Friday, it was Mark Scheifele who willed the Jets to victory by scoring a gusty overtime game-winner even though he was absolutely gassed at the end of a long shift. The goal — which came after the team relinquished a 3-1 advantage — ensured their odd trend for losing when entering the third with a lead didn't continue. It was a truly brilliant solo effort and one of the team's most important goals so far this year.
If there's a will, there's a way!

Have a look at @markscheifele55's @EASPORTSNHL OT winning goal!#GoJetsGo | #WPGvsNJD pic.twitter.com/5uzm9L0ShF

— Winnipeg Jets (@NHLJets) December 2, 2018
Scheifele barely had any fuel left in the tank after several rushes in OT and a gutsy, 150-foot backcheck that left him sprawled on the ice after crashing into the end boards," Winnipeg Free Press sportswriter Jason Bell wrote in his post game article. "But his back pressure on Hischier was emblematic of his no-quit push all evening." (from 'Jets blow lead, again, but beat Devils 4-3 in OT,' Winnipeg Free Press, 12/1/2018)
Jets' "Never Say Die" Attitude in Midtown Manhattan
On Saturday against the New York Rangers, the entire team employed a no-quit attitude even though they found themselves trailing by a trio of tallies entering in the final frame and, to that point, repeatedly stymied by Henrik Lundqvist. Three different lines produced goals that eventually led to a catalyzing 4-3 shootout victory.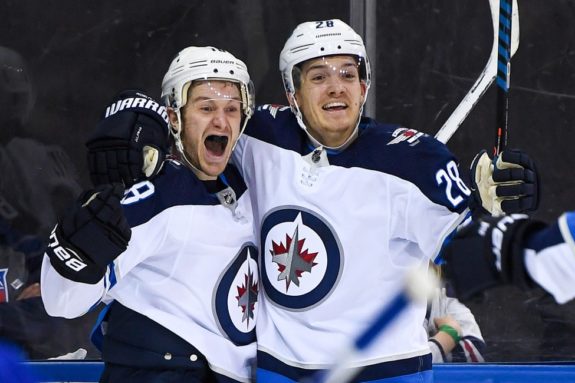 First, Scheifele and the Jets' prolific power play injected some life into the team with an early power-play marker.
Then, a new-look line featuring former Manitoba Moose bosom buddies Mason Appleton and Jack Roslovic, centered by veteran Mathieu Perreault, drew the team within one when Roslovic wired a high-slot wrist shot in. The line has shown flash and flair through their first few games together.
Finally, it was the second line that produced the game-tying goal in the dying minutes when Bryan Little pounded in a rebound off a Nikolaj Ehlers shot.
Jets Blueliners Beastly in Brooklyn
The Jets played the three games prior to their Tuesday date with the New York Islanders sans Dustin Byfuglien, Joe Morrow, and Dmitry Kulikov. Before the game, their blue line took yet another hit as Josh Morrissey was forced to sit out with a lower-body injury.
Related: Winnipeg Jets' Defensive Depth Tested by Rash of Injuries
Their D-corp — which already featured neophyte Finn Sami Niku and AHL journeyman Cameron Schilling — saw the last-minute addition of Nelson Nogier.
Niku had a rough time in his first three games of 2018-19 but his effort against the Islanders was his best so far. His ice time jumped from around seven minutes the two games prior to 19:01. He handled the minutes with aplomb, blocking a pair of shots. Schilling logged 14:27, and Nogier — playing in his first NHL contest since late in the 2016-17 season — didn't look out of place at all, logging a little more than 10 minutes.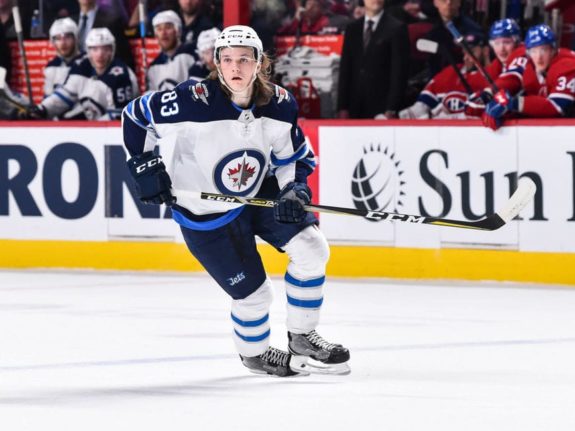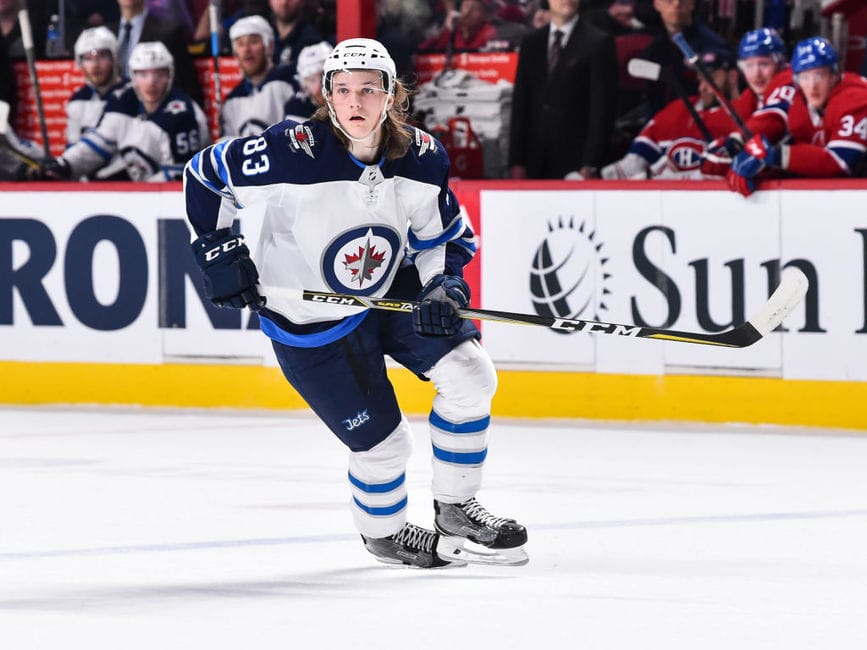 Jacob Trouba, Tyler Myers, and Ben Chiarot stepped up as well. Trouba — who's eaten huge minutes through the past four games — scored the game-tying goal in the early third and played 28:01.
Myers, who's struggled mightily this year, had a sturdy game – he played 22:25 and drew time on the second power-play unit. Chiarot, who put his heavy, positional game on full display, played 21:28.
The game was undoubtedly a grinder, but also one of the most complete and well-defended games of the season. No one seemed thrown by playing with new partners or having to shoulder more responsibility. After Trouba's goal, Adam Lowry potted the eventual game-winner just 22 seconds later.
Another impressive win for the #NHLJets. Given that their blue-line was 50% #MBMoose call-ups, holding the opponent to 28 shots and just 1 goal is quite something.

— Mike McIntyre (@mikemcintyrewpg) December 5, 2018
"Of the three I was most pleased with tonight, especially with the people we had on our back-end… Paul Maurice said post game in praise of his depth defensemen. "You've got Sami Niku blocking shots, Cam was moving the puck really well, and Nog (Nogier) kind of pressed into duty late today. All three of them were a really important part. We didn't hide them. They played, and played well."
Jets' Grind Just Beginning
The Jets will need to continue to put the resiliency they did in their New York sweep on display for the rest of December. They begin a four-game homestand Friday against the St. Louis Blues, the first of a stretch of nine contests in just 16 days.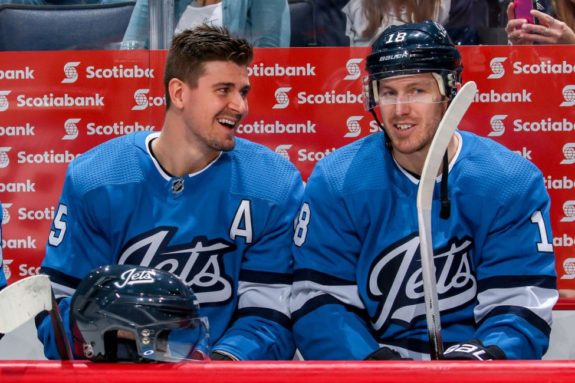 It's a crucial part of the schedule that will go a long way in dictating where they could end up in the ultra-competitive Central Division. They will certainly continue to face adversity, but if they overcome it as they did on their perfect road trip, there's no reason why they won't be in a good spot by the new year.