Not many people thought goaltending would be an issue for the 2018-19 Winnipeg Jets.
The team appeared to be set between the pipes coming into this season, inking Vezina-nominated goalie Connor Hellebuyck to a six-year, $37 million contract that seemed to be a steal.
However, through the first 23 games of the season, the 25-year-old has looked shaky and been far from the goaltender who won 44 times and contributed massively to his team's success in 2017-18.
Hellebuyck's Statistics Show Regression
At this point a year ago, Hellebuyck was 13-2-2 with a 2.31 GAA and a .932 SV%. Currently, he is 9-7-2 with a 2.98 GAA and a .907 SV%.
His GAA has him 31st among qualified goaltenders, and his SV% has him 30th. Those aren't numbers or placements befitting of someone who is supposed to be — and paid to be — one of the NHL's elite netminders.
Hellebuyck appeared to have begun to hit his stride earlier this month. In a five-game span between Nov. 9 and Nov. 21 — in which the Jets went 4-0-1 — Hellebuyck won four straight starts, only allowing eight goals and posting a SV% of .932.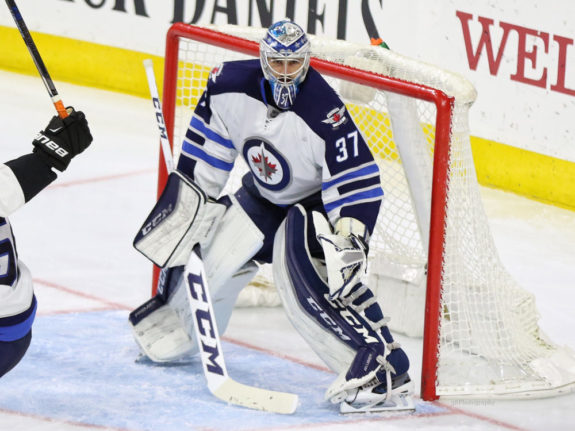 Since then, though, he has struggled mightily and concerns over his play have grown louder and more legitimate.
Last year, he allowed three-plus goals in only 28 out of 64 (43.75 percent) of his starts. This year, he has allowed three-plus in 11 of 18 (61.11 percent) starts overall and in each of his last three.
At times, Hellebuyck has struggled with rebounds and looked scrambly. Both are unusual considering he's exhibited calmness, good rebound control, and economy of movement throughout his five-year professional career.
Hellebuyck Has Third Period Problems
Last year, when the Jets were leading heading into the final frame, a win was nearly a foregone conclusion. With a record of 42-1-1 after two periods, they were one of the league's toughest to come back on.
Comparatively, the Jets have had a penchant for blowing third-period leads this year and are just 7-3-2 when leading after 40 minutes. Hellebuyck is partly to blame for this.
Third periods have been the stuff of nightmares for the Michigan product. 23 of his 51 goals against (54 percent) have come in the third period, and his SV% is just .862 in the third compared with .927 in the first and second.
Just ran the numbers on #NHLJets Hellebuyck and it confirms my suspicions

Pd 1 & 2 – 28 goals against on 383 shots .927
Pd 3 -23 goals against on 167 shots .862

Jets not exactly getting torched in 3rd in his games.

Is it between his ears? Or just small sample size?

— Aavco Cup (@AavcoCup) November 28, 2018
That's concerning considering every team needs their goaltender to be the strongest, not weakest, in key moments. The numbers are confounding considering how often Hellebuyck stole wins last season. He has, at times this season, bailed out his team when they've needed the most — such as in the third period against the Vancouver Canucks on Nov. 19 — but hasn't done so consistently.
He allowed three in the third to the Edmonton Oilers in a 5-4 overtime loss on Oct. 16. He allowed three in the third to the Maple Leafs in a 3-2 loss on Oct. 27. He allowed three in the third to the Minnesota Wild in a 4-2 loss on Nov. 23.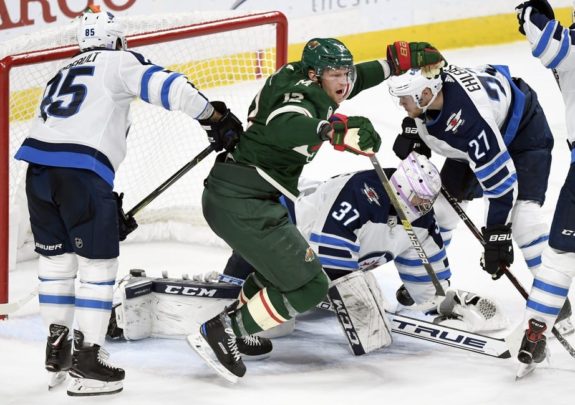 The Jets entered the third with the lead in all three of those games.
Most recently, He allowed two in the third to the Pittsburgh Penguins in a 4-3 loss on Tuesday. Hellebuyck took full responsibility for the loss, in which he allowed an abysmally weak goal to Derek Grant that tied the game at three.
Our wish for a third goal… It has been GRANTed.

Wilson with an assist (his first NHL point). Maatta with the other assist (his 100th NHL point). pic.twitter.com/Gj1Cbm1s7N

— Pittsburgh Penguins (@penguins) November 28, 2018
TSN's Craig Button didn't pull any punches after the game in his analysis of Hellebuyck's play.
"He cost them the game," Button said. "He allowed two goals that should never have gone into the net… the Pittsburgh Penguins only had five shots in the third period, so it wasn't like they were under siege."
What's To Blame for Hellebuyck's Struggles?
Perhaps the problem is that Hellebuyck doesn't have enough adversity and it's made him complacent, if only subconsciously. He came into 2017-18 as Steve Mason's backup and had a one-year, "shape-up-or-ship-out" contract. He stole the crease from Mason and rose above tough circumstances, including a litany of injuries to Jets' backups and back end.
Related: Hellebuyck Deserves Vezina Consideration
This year, he came in as the undisputed starter and the Jets have been fairly healthy. While it's true he doesn't have as much incentive to win as he did last year due to his lucrative, long-term contract, it's tough to question a professional athlete's dedication or desire to win.
Another possibility is that the new smaller chest protector is still bothering him. Earlier this season, he admitted to having problems adjusting to the new equipment.
"We all knew this would happen (changes to the chest protector)," Hellebuyck said in late October. "The sad reality is it's here. I think it's here a little too soon. I think we should have had these chest pads, maybe for a couple years, then work out the kinks. But that's what we have to deal with, and we're going to go ahead and deal with it." (from 'Jets 'tenders feel a little tender,' Winnipeg Free Press, 10/23/18.)
Hellebuyck Is Capable of Sorting Things Out
Some of Hellebuyck's biggest assets are his mettle, maturity, and ability to overcome adversity. He never wallows in a subpar performance and rarely allows a bad game to turn into a bad stretch. Prior to the Jets' Nov. 23 game against the Wild, Hellebuyck was 22-2-2 with a 1.99 GAA and .932 SV% in games following a loss dating back to the start of last season.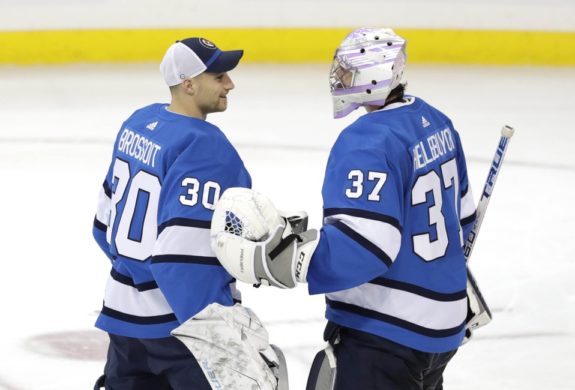 While Hellebuyck's numbers are cause for concern, they shouldn't be cause for panic. His body of work and past trends overwhelmingly indicate he will get his game sorted out and morph back into the goalie everyone expects him to be. Anyone calling for him to be benched or traded is reacting emotionally rather than rationally.
However, he needs to get back to last year's form soon. He's already been to blame for too many squandered points — points teams look back on at the end of the season and rue missing out on. Points that can make the difference between playing in the postseason and playing golf.
As goes Connor Hellebuyck, so do the Winnipeg Jets. Where they'll be in the standings at the end of the year rests largely with him.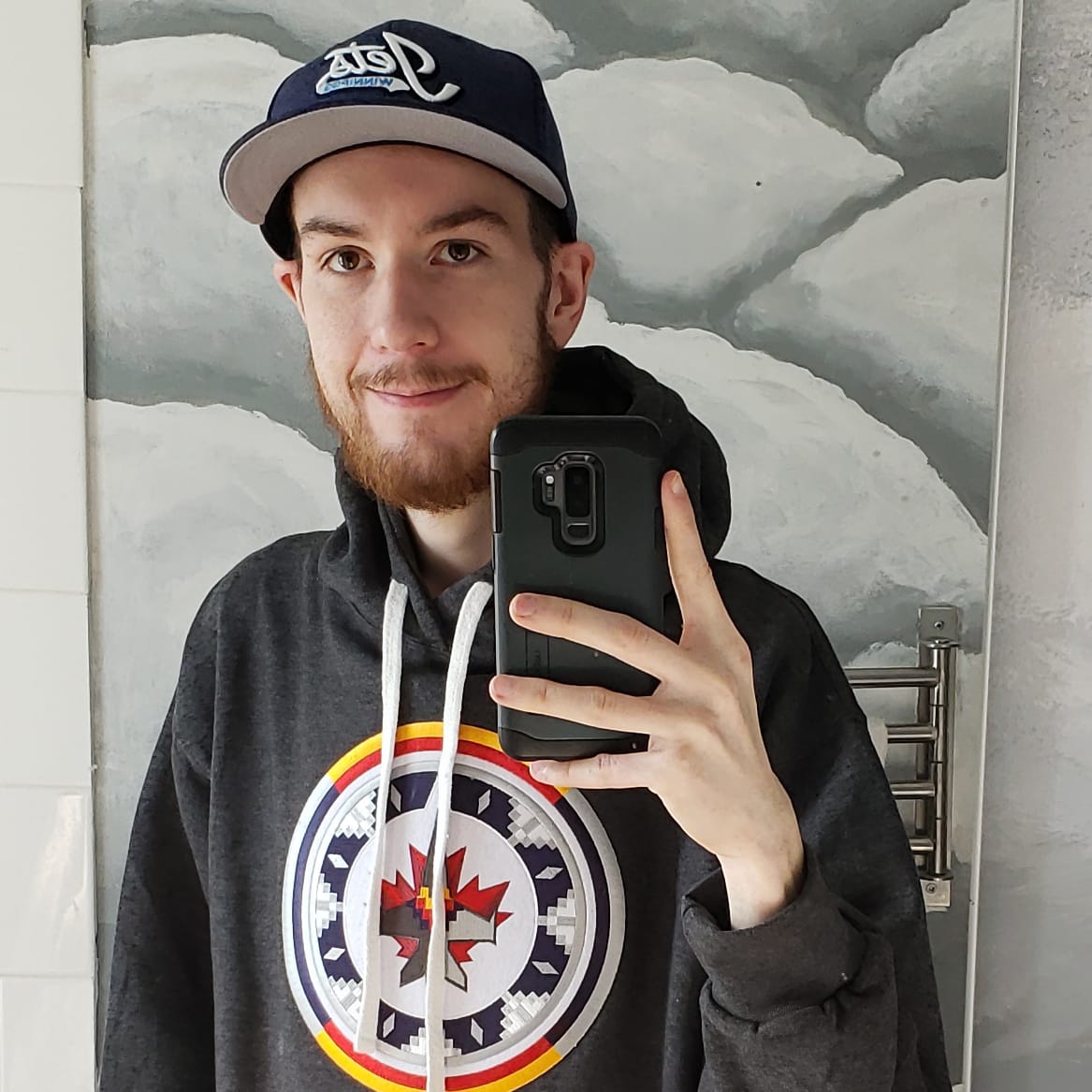 Declan Schroeder is a 27-year-old communications specialist and freelance journalist in Winnipeg, Manitoba. He holds a diploma in Creative Communications with a major in journalism from Red River College and a bachelors in Rhetoric and Communications from the University of Winnipeg.
Deeply rooted in the city's hockey culture, the original Jets skipped town when he was two and the 2.0 version came onto the scene when he was 17.