The Chicago Blackhawks need to work on a lot of things right now. They're guilty of slow starts to games, questionable defense, and a lack of scoring, to name a few. But today I'd like to specifically concentrate on the power play. Because let's face it, a power play goal here and there could easily make the difference between a win and a loss. It's supposed to be an advantage, not the detriment it's become.
The Hawks' power play currently ranks dead last in the league. In 25 games, they've only scored nine power play goals on 73 opportunities for a dismal 12.3%. It's gotten to the point where players are gripping their sticks too tight, and opponents are being ultra-aggressive on the penalty kill. A better power play might not be the only answer, but it's definitely an area that could help.
So exactly why do the Hawks look so bad on the man advantage, and what can they do to correct it? Well if there was an easy answer to these questions the Hawks would arguably be much higher in the standings right now. It's certainly worth exploring some ideas.
Related – Blackhawks' Roundtable: Coach Colliton's Priorities
Power Play Results Since Colliton Took Over
For the sake of a starting point, and since we are officially in the Jeremy Colliton era, let's look at results since he took over as head coach on Nov. 8. In a span of 10 games the Hawks have scored two power play goals on 23 opportunities. That puts them just below nine percent. Not good. Under Quenneville, they were at least 14% (7-of-50). Since that's not a very high standard to compare to, Coach Colliton doesn't appear to be righting the ship in this department.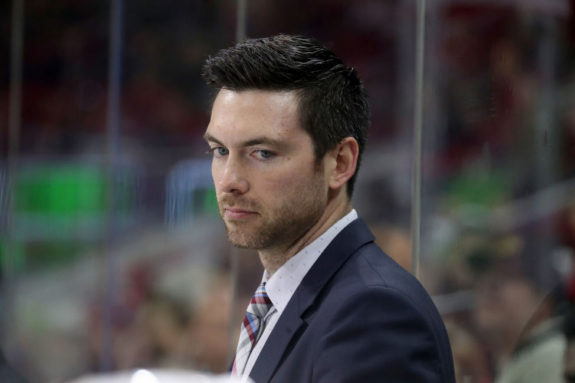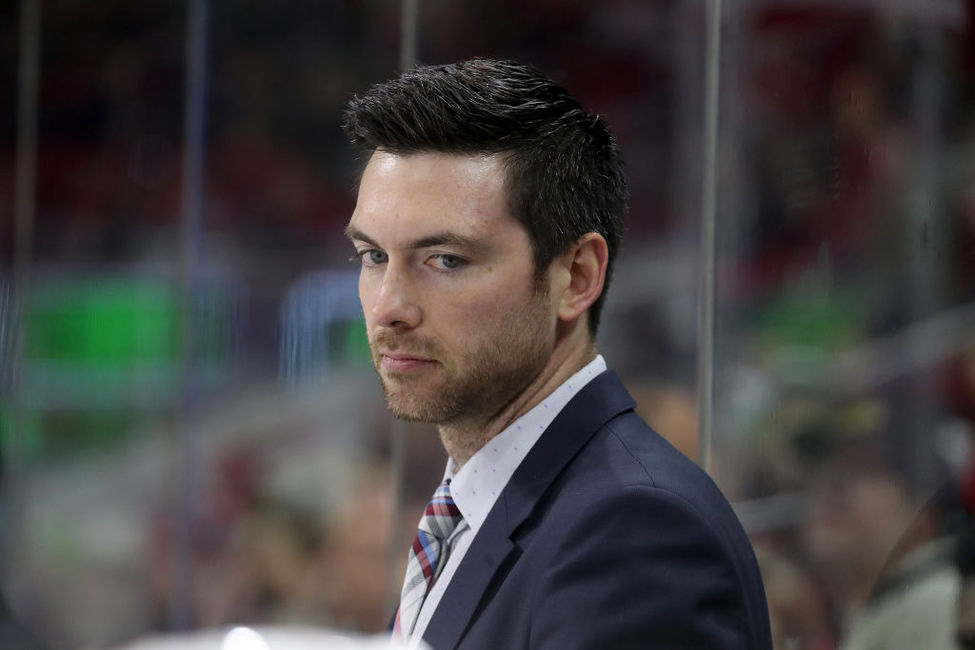 Blackhawks' Recent Power Play "Providers"
Yes, I have the word providers in parentheses because they're not exactly providing, are they? But this is who Colliton has mainly been deploying on the man advantage.
Forwards:
Patrick Kane
Jonathan Toews
Brandon Saad
Artem Anisimov
Alex DeBrincat
Nick Schmaltz
Dylan Strome
Defensemen:
Brent Seabrook
Duncan Keith
Erik Gustafsson
Henri Jokiharju
Gustav Forsling
Power Play Units and Deployment
I'll attempt to keep this simple. There have been some variations, but these have for the most part been the units over the last 10 games.
PP1: Kane, Toews, Saad, Seabrook, Keith
PP2: Kane, DeBrincat, Anisimov, Schmaltz, Gustafsson
If you notice, Colliton has been partial to three forwards, two defensemen on the first unit, while he's been a bit more modernistic with four forwards and one defenseman on the second unit.
He did change things up a bit in the middle of this 10-game stretch. For the tilts against the Kings and the Wild he went with three forwards and two defensemen on both units. This is where he experimented with partnering Jokiharju and Seabrook. He's since ditched that idea and gone back to Keith and Seabrook on the first unit and Gustafsson on the second unit.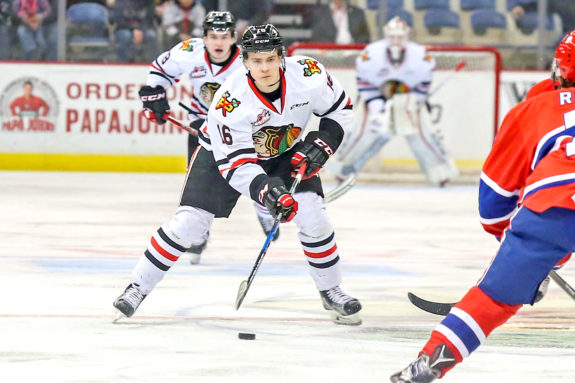 For the most recent tilt against the Vegas Golden Knights, two new players were introduced – Forsling on defense, and Strome on offense. They seem to have replaced Keith and the recently traded Schmaltz, respectively.
Arguments for Improvement
The Kane Factor
Quenneville experimented with double-shifting Kane on the power play, but Colliton has taken it to another level. Since he's taken over, Kane has pretty much been a staple on both units. Has this been successful these past 10 games? Well, it's really hard to say. He's notched a primary and secondary assist on both power play goals, but no goals himself. As a matter of fact, he's only scored one PP goal all year.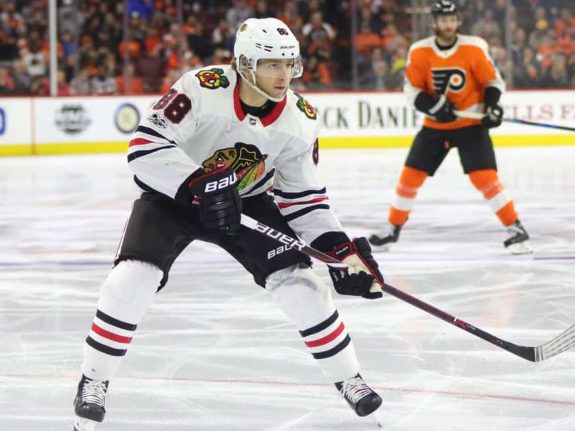 So is it worth it to give him such big and heavy minutes? Is he getting burnt out? He'll tell you no. He's recorded two goals and five assists during 5-on-5 play during said games, which is still a pretty decent pace. But I'm of the opinion it's time to give some different forwards a look instead of double-shifting Kane. This will keep him fresh, as well as make things less predictable.
Other Forward Options
There's a number of other options that could fit the bill here. Colliton has dabbled with using Dominik Kahun on the power play. Dabble some more! Kahun and David Kampf have some good chemistry. Throw them out there together and see what happens. John Hayden recently played on the top line, and he's willing to go to the net. Give him a shake. Perhaps even Alexandre Fortin could be an option. Or the new guy, Brendan Perlini. At this point, what have you got to lose? These guys are hungry and want to contribute. Let them! Give them a bigger role. It will help build their confidence.
As I mentioned above, Schmaltz was a constant on the power play until he was traded to the Arizona Coyotes on Nov. 25. Colliton wasted no time getting the newly-acquired Strome out on the man advantage against the Golden Knights.
Expect Strome to get power play minutes. He's got a big shot and played a lot on the Coyotes' PP before the trade.

— Satchel Price (@SatchelPrice) November 27, 2018
It's worth mentioning that Strome's first goal with the Hawks on Tuesday night was the result of him going to the net. That could come in awfully handy on the power play as well.
Why Keith and Seabrook?!
Why, why, why is Colliton leaning on these two veterans to quarterback the power play?! They weren't even very good at it in their primes! Sure, Seabrook has that wicked shot. But it usually comes from the point. Isn't the idea here for more speed and mobility and crashing the net? Keith and Seabrook don't really offer any of that. And they're so predictable – they pass, hesitate, pass, hesitate, and shoot from the perimeter.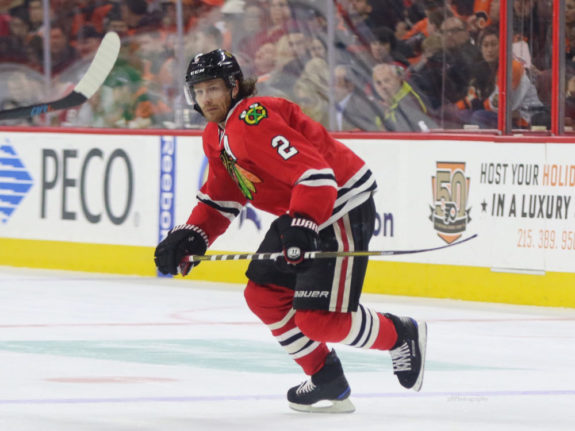 To me, this is one of the first keys that could lead to power play success. Take Keith and Seabrook off the power play!
Other Defensive Options
There have been a few contests where Keith has already been excluded from the power play, including most recently against the Golden Knights. Colliton used Forsling for the first time instead. This is a good sign that the head coach is considered making some major adjustments moving forward.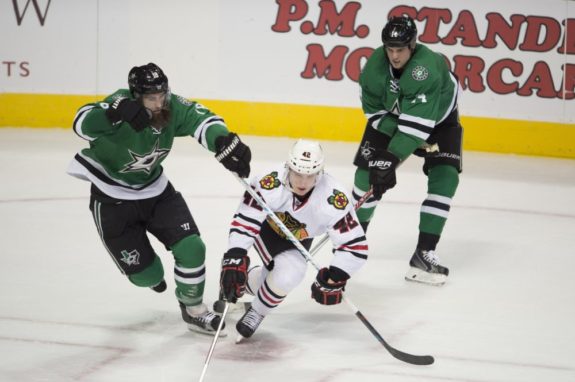 He already has Gustafsson entrenched in the power play. And he experimented with Jokiharju as well. I feel Gustafsson, Jokiharju, and Forsling all three offer more options and more of a threat. They're speedy, mobile, will keep the puck moving, and they aren't afraid to shoot the puck.  The young, up-and-coming defensemen should be given a more consistent role on the power play.
Related – Blackhawks Take 2 Steps Back & 1 Forward
Commit to 4 Forwards, 1 Defenseman
Another big piece towards revamping the power play will come from committing to four forwards and one defenseman on both units, with a 1-3-1 setup. For defensemen, place Gustafsson on one unit and Forsling on the other. Or Gustafsson and Jokiharju, or even Forsling and Jokiharju. Let them man the point, and then have three forwards in the middle, and one forward at the net.
Regarding forwards, the combinations are endless. But just to get the juices flowing: Toews, Saad, Anisimov, Hayden, and Perlini are all willing to go to the net. Experiment with who works best with whom. Get creative, and try to have some fun.
Summary
In conclusion, here are three suggestions towards formulating a more successful power play.
Stop double-shifting Kane and give other hungry forwards a chance.
Take veterans Keith and Seabrook off the power play and utilize the younger, more mobile defensemen instead.
Commit to a four forward, one defenseman system where offense is more of a threat. After all, the whole point of the power play is to have the offensive advantage, and to score goals!
Let's end this on the positive note, shall we? Here's an example of a good power play goal by the Hawks when they recently took on the Minnesota Wild.
See, they really can do it!
Once the Hawks score a few power play goals and gain some confidence, the floodgates could open. Wouldn't it be fun if the Hawks got on a roll with the man advantage? Maybe we'll all be talking about how awesome their power play is come February. Crazier things have happened. You just never know…
Gail Kauchak has covered the Chicago Blackhawks as a content writer since 2014. She previously wrote for Fansided's Blackhawk Up, and has been part of The Hockey Writer's team since 2017. It's not always easy to balance life's responsibility's with one's passion, but Gail's doing her best to make it happen. Quote to live by, "Follow your dreams, and good things will happen." Wait, maybe it's "Good things happen when you shoot the puck!" You get the idea.
Follow Gail for her unique commentary about this storied franchise. And be sure to catch her and the rest of the Blackhawks' crew on their weekly Blackhawks Banter show, as well as follow her on Twitter.