Last week I discussed how frustrating it's been to watch the Chicago Blackhawks slowly progress as they also continue to struggle. I described it as a classic case of one step forward and two steps back. This past week has been much of the same. As a matter of fact, they literally took two steps back and then one step forward.
The team hit the road for matchups against the Washington Capitals, the Tampa Bay Lightning, and the Florida Panthers. It was three tough games in four nights. They dropped their first two contests, both by a score of 4-2. But their most recent tilt brought some hope. The Hawks fought back from a 2-0 deficit and then a 4-2 deficit to win in overtime and earn a critical two points. Let's get to the highlights.
Blackhawks' Week 8 Matchups
@ Washington Capitals, Wed. 11/21, Loss 4-2
@ Tampa Bay Lightning, Fri. 11/23, Loss 4-2
@ Florida Panthers, Sat. 11/24, Win 5-4 (OT)
Overall Record: 9-10-5, 23 points
Slow Starts
The Blackhawks certainly had trouble showing up on time this past week. They trailed 2-0 in the first period and then 3-0 in the second period to the Capitals on Wednesday before Brandon Saad finally scored. Against the Bolts, the Hawks gave up four goals in the first and only answered with one of their own. To make matters even worse, the Caps tallied their first goal just 54 seconds into the game. It only took the Bolts 29 seconds.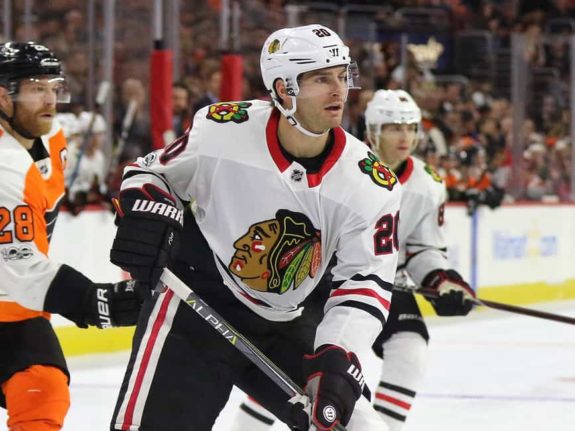 In the Blackhawks' defense, neither of these teams are any slouches. The Capitals are the defending Stanley Cup Champions, and the Bolts currently sit in second place in the Eastern Conference. So you would think after two such games the Hawks would come out flying against the bottom-feeding Panthers. Nope. At the end of the first period, the Hawks were again down 2-0.
Shots on goal tells a similar story supporting the Blackhawks' slow starts. In the first 20 minutes, the Hawks were outshot by the Bolts 19-11, and the Panthers 16-9. They edged the Capitals 14-12, but that was after the Caps went up 2-0 in goals and 8-0 in shots to begin the game.
The Hawks got their act together and performed much better in the second and third frames this past week. But not putting forth a full 60-minute effort is really hurting them. Chasing the lead isn't fun, and it's been too-little, too-late in two out of these past three outings.
Adjusting to the New System
Several of the goals the Blackhawks gave up appear to be the result of adjusting to their new man-to-man style of play. It's a more aggressive system and allows everyone to roam a bit more instead of stay on their side of the ice. But it also requires constant communication so there isn't a breakdown in coverage. Mark Lazerus of The Athletic recently wrote about what head coach Jeremy Colliton is trying to do differently.
"Because every player has his assignment. That doesn't mean a player simply shadows one specific player all over the ice, but it does mean a change in the way the Blackhawks think, react, and communicate in their own end…That goes for forwards, too, who now have greater urgency to get deep and get the puck out, regardless of position." (from 'Breakdown: What is Jeremy Colliton doing differently than Joel Quenneville with the Blackhawks?' The AthleticCHI – 11/13/18)
Essentially, the Hawks' forwards are being held more accountable defensively. But they aren't yet executing this as they should.
The Capitals' first goal was the result of Nick Schmaltz not covering his man which led to a defensive breakdown. For their fourth goal, Duncan Keith, Henri Jokiharju, and Artem Anisimov did not communicate correctly which left the goal-scorer open.
The third goal in Tampa came after Saad didn't react fast enough. And Patrick Kane failed to cover his man which resulted in goals for both the Bolts and the Panthers. For the Panthers' second goal on Saturday, three Blackhawks were covering the puck carrier. All he had to do was execute a pass to a wide-open man for an easy tally.
It's a work in progress, and hopefully the Hawks will respond better as they become more comfortable with the system.
The Goals Are Coming
As we discussed above, the Hawks have been struggling with slow starts and their new structure. That was still the case against the Panthers on Saturday. But they were able to counter it by scoring five goals for the win.
The Hawks have only scored five or more goals two other times this year. They won 5-4 in overtime against the St. Louis Blues on Oct. 6, and then fell 7-6 in overtime to the Toronto Maple Leafs the very next night. But unlike in these tilts where it was mostly the heavy hitters Jonathan Toews and Kane doing the scoring, in this one they benefited from some depth scoring.
David Kampf tallied his third goal of the season just 49 seconds into the second period to cut the Panthers lead in half and make the score 2-1. Alexandre Fortin also notched his third NHL goal on a short-handed effort in the third period. Defenseman Erik Gustafsson played in his 100th NHL game and scored his third of the season for the overtime win. How ironic they all three tallied their third goals in this one.
Kane finally broke a seven-game goal drought, and Alex DeBrincat ended five games without a goal to add to the scoresheet. DeBrincat's tally can only be described as clutch. He was calm as a cucumber and slid the puck through with only .8 seconds left on the clock to force overtime.
Lineup Adjustments
Colliton is taking a page out of Quenneville's book and going a little crazy with forward line and defensive pairing changes. The only forward line that stayed intact the past three games was the Saad-Toews-Kane top line. The second line was DeBrincat-Anisimov-Schmaltz for the first two contests, but then changed to Schmaltz-Kampf-Dominik Kahun against the Panthers. Here's what the new third and fourth lines looked like on Saturday.
DeBrincat-Anisimov-John Hayden
Fortin-Marcus Kruger-Andreas Martinsen
And this was after Hayden and Martinsen were scratched the previous game. Confused? Good, because things changed again in the third period.
New #Blackhawks lines and pairings in third period:
Saad-Toews-Hayden
DeBrincat-Anisimov-Kane
Schmaltz-Kampf-Kahun
Fortin-Kruger-Martinsen

Keith-Jokiharju
Gustafsson-Forsling
Manning-Seabrook

— Charlie Roumeliotis (@CRoumeliotis) November 25, 2018
Moving on to the defensive pairings, Colliton finally admitted defeat and separated Keith and Brent Seabrook. His latest first pairing has been Keith and Gustav Forsling. Meanwhile, Gustafsson has remained a staple on the second pairing, and his partner was Jokiharju for two of the last three tilts. If you look again at the above tweet, Keith with Jokiharju and Gustafsson with Forsling could be another option moving forward. Brandon Manning and Seabrook have comprised the latest third pairing. Manning, Jokiharju, and Jan Rutta were each scratched once.
Related – Blackhawks' Roundtable: Coach Colliton's Priorities
Other Blackhawks' News & Notes
Toews was unable to continue his streak of six points in the last six games when he failed to record a point on Saturday. He still continues to be second on the team with 20 points.
Luke Johnson was assigned to the Rockford IceHogs Sunday. He's recorded only one assist in 13 games with the Blackhawks.
According to the Blackhawks Twitter account, defenseman Brandon Davidson will undergo knee surgery this Tuesday. There is not yet a timetable for his return.
The Blackhawks' power play is 0-for-7 in the last three games. Perhaps Coach Colliton will flip a switch from his lineblending and change up his power play units as well.
UPDATE! Nick Schmaltz was traded to the Arizona Coyotes late Sunday night for forwards Dylan Strome and Brendan Perlini. Wow! Never a dull moment. Schmaltz had three assists in the last three games, and two goals and nine assists on the season for the Blackhawks.
---
Can the Hawks' latest win give them some momentum headed into this week? Let's hope so, because now they enter a stretch of four games in six nights, all against fellow Western Conference teams. They host the Vegas Golden Knights this Tuesday at the United Center. Then they hit the road again to take on the division rival Winnipeg Jets and Nashville Predators on Thursday and Saturday. There's no rest for the weary, as the Hawks host the Calgary Flames Sunday night.
Let's see if they can limit their mistakes and capitalize on their successes for this next segment of games.
Gail Kauchak has covered the Chicago Blackhawks as a content writer since 2014. She previously wrote for Fansided's Blackhawk Up, and has been part of The Hockey Writer's team since 2017. It's not always easy to balance life's responsibility's with one's passion, but Gail's doing her best to make it happen. Let's put it this way; she's probably reading and writing about hockey instead of cooking and cleaning. Shh, don't tell her husband!
Follow Gail for her unique commentary about this storied franchise. And be sure to catch her and the rest of the Blackhawks' crew on their weekly Blackhawks Banter show, as well as follow her on Twitter.