While the Chicago Blackhawks lost their first two contests under new head coach Jeremy Colliton, they fared much better this past week by earning six out of a possible eight points in the standings. They certainly helped their cause by defeating two division rivals, as well as picking up a point apiece in an overtime and a shootout loss. Right now they're hovering just outside of a wildcard spot.
It's nice to see this progression as the team attempts to learn a new system and get used to a new coaching style. But at the same time, they're still struggling to put it all together. It's a classic case of one step forward and two steps back. So what's been working and what still needs work? Let's take a look.
Blackhawks' Week 7 Matchups
@Carolina Hurricanes, Mon. 11/12, Loss 3-2 (OT)
Vs. St. Louis Blues, Wed. 11/14, Win 1-0
Vs. LA Kings, Fri. 11/16, Loss, 2-1 (SO)
Vs. Minnesota Wild, Sun. 11/18, Win 3-1
Overall Record: 8-8-5, 21 points
Related from last week – Blackhawks' Downward Spiral Continues
Defensive Progression
Arguably one of the biggest changes from Coach Quenneville to Coach Colliton is the defensive structure. While Quenneville utilized a zone style defense, Colliton is operating under a man-to-man defense. Naturally, there have been some growing pains. The Hawks' first game with this new system was riddled with turnovers and open ice in front of their own net, resulting in a 4-3 loss to the Carolina Hurricanes (Nov. 8). The following tilt wasn't much better, as they were blanked 4-0 to the Philadelphia Flyers (Nov. 10).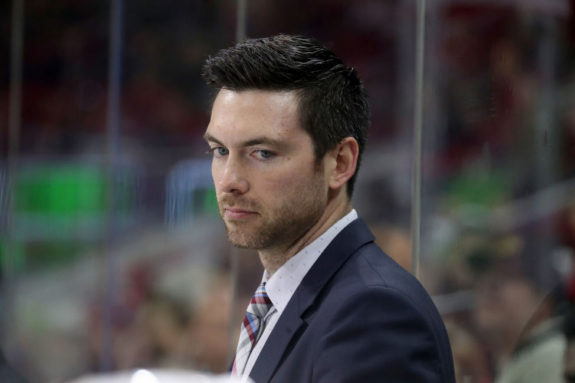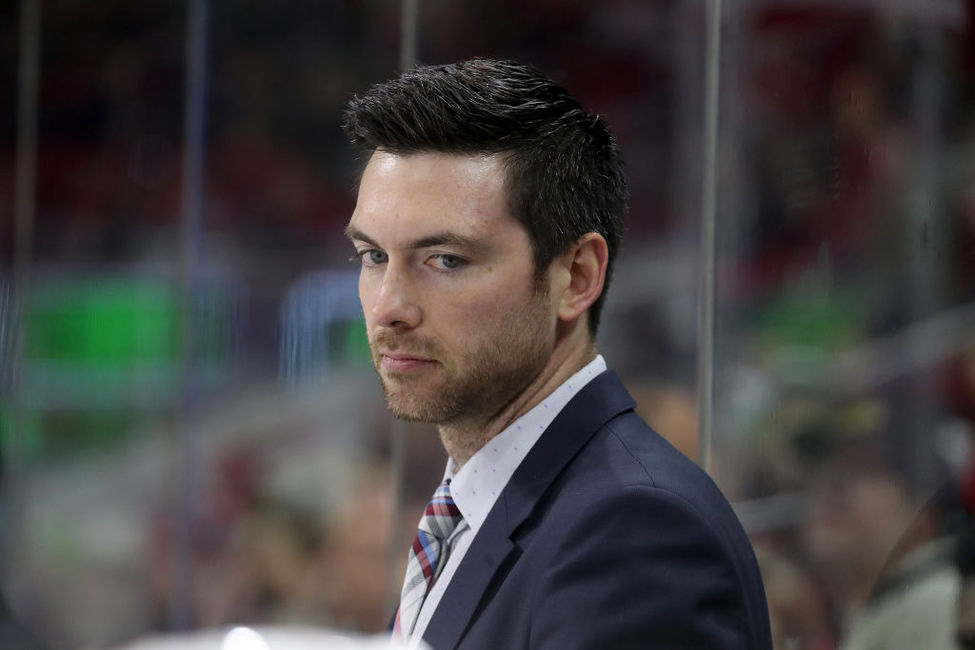 But the Hawks have since shown improvement in this area. Compared to 11 and then seven giveaways and eight total goals against in the above-mentioned games, the Hawks aren't giving up as much. They only had five giveaways against the 'Canes last Monday, but were back up to seven and eight versus the Blues and then the Kings. They committed only six turnovers against the Wild. And not counting overtime and the shootout, the Hawks have only given up four goals in the last four games. Three of those goals came when the other team was on the power play. That's only one 5-on-5 goal against. Not too shabby! The Hawks are certainly trending upwards at limiting their opponent's chances and goals.
Defensive Personnel Changes
Coach Colliton is experimenting with the defensive pairings as to tries to figure out how to best utilize his players. He's reunited veterans Duncan Keith and Brent Seabrook, and put the youngsters Erik Gustafsson and Henri Jokiharju together. At first it seemed Gustafsson and Jokiharju were being used as more of the top pairing, but Colliton has since moved back to leaning heavily on Keith and Seabrook. Jokiharju, on the other hand, has seen a dip in his ice time the last few games. He's gone from playing well over 22 minutes a night to a season low 17:04 minutes against the Kings and 18:32 minutes versus the Wild.
Meanwhile, the Hawks received some reinforcements on the blue line when Gustav Forsling was recalled and joined the team this past Wednesday. He's since been utilized on the third pairing for the last three contests, twice with Brandon Manning, and then alongside Jan Rutta Sunday night.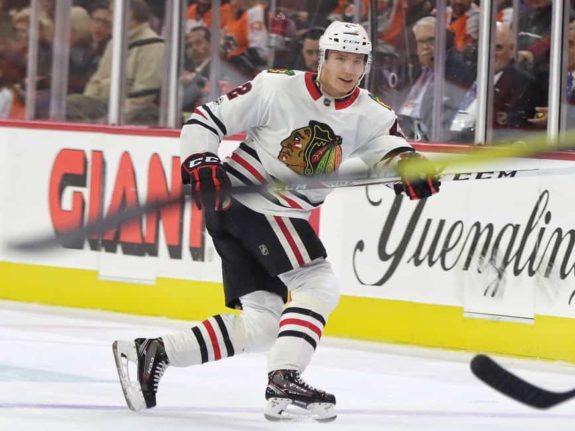 "Happy to have him here," Colliton said. "We think he can help us. He's a fantastic skater, moves the puck clean, with his gap he can really defend lines well, we think he can add something to our group."
The 22-year-old is off to a good start; he's been deployed for over 15 minutes of ice time in his first three matchups. On Friday against the Kings, he recorded 19:39 minutes, and notched his first point of the season with a secondary assist on Brandon Saad's goal. He added another helper on Sunday. Colliton's also been trusting him with some penalty kill time.
With the Forsling call-up, the Hawks are currently carrying eight defensemen on their roster. Although Brandon Davidson was placed on injured reserve Friday. He last played Monday against the Hurricanes. Manning and Rutta have both been healthy scratches two times in the last four games. And Connor Murphy has started skating as he gets closer to returning from his back injury. The Hawks blue line is getting awfully crowded. It will be interesting to see how it all plays out.
Continued Scoring Drought
What the Blackhawks have gained on defense appears to be at the expense of their offense. They may have earned six-of-eight points this past week, but that's not going to continue unless they can find the back of the net more often. As a matter of fact, a lack of scoring has been an ongoing problem since the Hawks started their eight-game losing streak back on Oct. 27.
The Hawks have only recorded seven goals in the last four games. Two have come from Jonathan Toews. Two have come from Saad. Alex DeBrincat scored when he suited up for his 100th game last Monday. Seabrook added a goal from a defenseman. And Dominik Kahun tallied an empty netter on Sunday. It's simply not enough.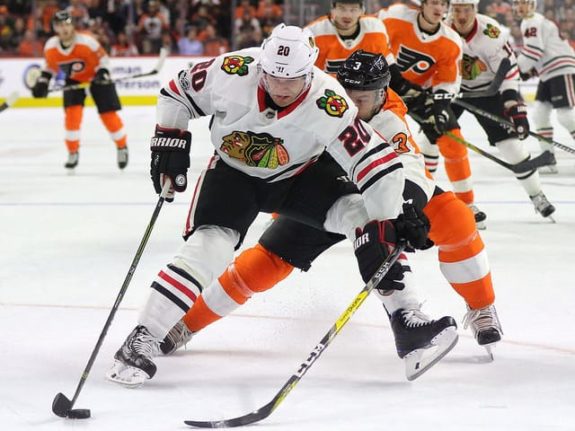 All of these goals were made by players who were members of the top-six forwards at the time. As he's done with the defense, Coach Colliton has been tweaking the offense in an attempt to balance the lines. He has the veterans Toews and Patrick Kane together on the first line. Their partner was Nick Schmaltz, but recently changed to Saad. The second line of DeBrincat, David Kampf, and Dominik Kahun has transitioned into DeBrincat, Artem Anisimov, and Schmaltz.
Where are Anisimov and Schmaltz on the score sheet? One would expect more production from them. And depth scoring is a problem. If the current third line of Kampf, Kahun, and Alexandre Fortin could step up, it would be incredibly helpful. As I mentioned above, the Hawks are getting used to a new defensive system. This requires the forwards to have more defensive responsibility as well. It could easily be hindering their offensive chances. Hopefully this is a temporary problem that will be rectified soon.
Related – Jonathan Toews: Beyond the Glory
Light at the End of the Power Play
The Hawks have struggled all season (and last season for that matter) on the power play. As a matter of fact, they've never really been strong on the man advantage under Quenneville. So can Colliton change that? Well, he's taking baby steps, as the Hawks scored two power play goals on eight attempts this past week.
Although can we really count the first one? Seabrook was given credit for the goal when his shot went in off the skate of Blues' player. Well, at least he shot it on net. The second power play goal was more what we're looking for. The five-man unit was moving well, and Toews was right where he needed to be in front of the net. These are two things Colliton has been stressing.
I'll be the first to say I'm not crazy about Colliton's power play units. Whatever happened to using four forwards and one defenseman?! But that's another story for another day (stay tuned!).
Other Blackhawks News and Notes
Goaltender Corey Crawford was named the NHL's second star of the week. According to the Chicago Blackhawks' Twitter account, he went 2-0-1 (including a shutout), had a 0.65 goals against average, and a .980 save percentage.
19-year-old defenseman Jokiharju is currently leading all NHL rookies with 10 assists. He has yet to score that elusive first NHL goal.
Patrick Kane turned the ripe old age of 30 Monday. But the star winger is showing no signs of slowing down. He currently leads the team in goals (12), assists (13), and points (25).
Former Blackhawk Eddie Olczyk was honored with "One More Shift" on Hockey Fights Cancer Night Sunday night. He's currently cancer free after battling colon cancer.
---
After three games in a row at the United Center, the Hawks hit the road for three more contests in this eighth week of the season. They meet the Washington Capitals Wednesday, then head to Florida for back-to-back tilts against the Tampa Bay Lightning and the Florida Panthers on Friday and Saturday. Let's hope they can continue making progress and earning points!