This past week was originally penciled in as just another ho-hum part of the grind for the Chicago Blackhawks. There were only two games on the docket, one home and one away. Neither opponent was a division rival — both were from the Metropolitan Division which Chicago sees very little of. Nothing much to see here, right?
Boy were we ever wrong.
This past Tuesday the Blackhawks' brass decided to drop a bomb of epic proportions. They decreed head coach Joel Quenneville's time with the team was done, after 10 very successful years, including three Stanley Cups.
So how does one continue when it's the end of an era, arguably the best Chicago has ever known? How about by dropping two more games to make it seven straight losses in a row? Yeah, things aren't looking very pretty right now for the Blackhawks, or their new head coach Jeremy Colliton. Let's discuss.
Related – Chicago Blackhawks Lay a Goose Egg on Canada Trip
Blackhawks' Week 6 Matchups
Vs. Carolina Hurricanes, Thurs. 11/8, Loss 4-3
@ Philadelphia Flyers, Sat. 11/10, Loss, 4-0
Overall Record: 6-8-3, 15 points
Terrible Turnovers
In both games this past week, the Hawks didn't do themselves any favors, with numerous defensive breakdowns. In the game against the Hurricanes, the Hawks were guilty of six giveaways in the first period alone — they ended the night with 11 giveaways altogether. It didn't get much better against the Flyers, as the Hawks committed seven turnovers in that contest.
Defenseman Erik Gustafsson was guilty of two turnovers in both games. Sure, he's touted for his offensive upside, but that's not going to prove very helpful when you're constantly giving the puck to your opponent. Henri Jokiharju didn't have the best game against the Flyers, committing two turnovers as well. And two of Duncan Keith's miscues led directly to the first two Flyers' goals.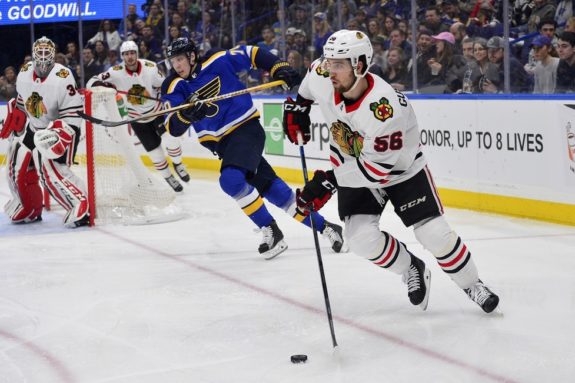 The Hawks need to keep it simple and be responsible with the puck. Cut down on those giveaways so they're not always chasing the puck and forced to be on the defensive. This will lead to them having more control of the play, which can lead to more goals. Which brings me to my next point.
Lack of Scoring
The shots just aren't going in right now. Despite having 38 shots on goal against the Hurricanes, the team only managed three goals. They went 0-for-2 on the power play, and just couldn't score that equalizer at the end of the game.
The Hawks came up with a goose egg for goals against the Flyers, even with 33 shots on goal and four power play chances. This comes after five other losses where they only scored nine goals, for an average of 1.8 goals a game. That's just not going to cut it, especially with the defense giving up so much on the other end.
Every team goes through their scoring droughts and has bad puck luck, so hopefully this will turn itself around. But the entire team must take some responsibility here. First, the defense isn't helping transition to offense, and the offense therefore has a hard time setting up scoring chances. Finally, the power play absolutely must improve.
Kane's Minutes
Patrick Kane played a whopping 27:43 minutes in Thursday's tilt against the Hurricanes. According to John Dietz of the Daily Herald, this was second only to his career high of 28:48 minutes in Columbus back in Oct. 2016 (from 'Colliton: Quenneville texted to wish him good luck', The Daily Herald – 11/8/2018). Kane also played the entire two minutes of the first power play, and most of the second power play for a total of 3:34 minutes on the man-advantage.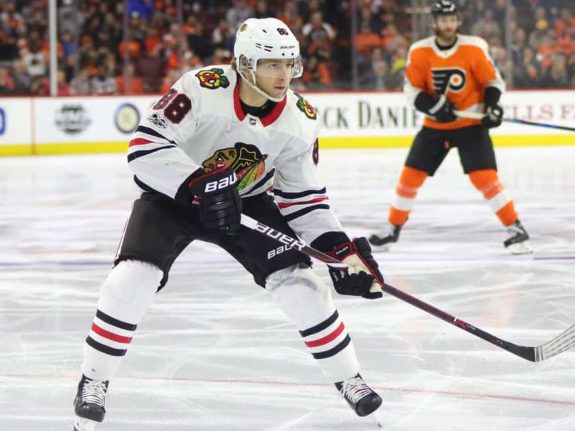 This was followed up by 24:33 total minutes of playing time in Philadelphia, and 5:06 minutes of power play time. Sure, you want your best offensive player to be out on the ice as much as possible, especially when you're losing. But, having Kane on both units of the power play seems like it won't be sustainable or smart in the long run. Even a rink rat like Kane can get burnt out, and perhaps someone fresh and hungry on one of the units would be a better option.
Colliton's Take
New head coach Jeremy Colliton certainly has his work cut out for him. Losing five games in a row culminated in Coach Q getting the axe. But now the Colliton era has started with two sloppy losses, and the Hawks making all the same mistakes and more.
It will obviously take some time for the coaching staff and the players to get on the same page and learn how to work together. It won't just happen overnight. But the pressure is on Colliton as the team slips farther and farther out of playoff contention. His post-game TV interview proved he understands this, but he's doing his best to keep things positive. "These things are still in our control. We can fix them, but hurry up," he said with a wry smirk.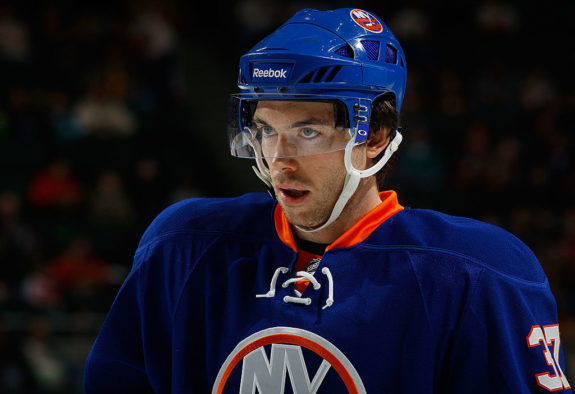 As far as his message to his new players? Well it's a bit different from the hard-nosed approach of Quenneville, who was notorious for benching players at the drop of a hat for their mistakes. This is what he told Charlie Roumeliotis of NBC Sports Chicago.
"It's OK to make a mistake," Colliton said. "We can live with that. And you know what, one might end up in the back of the net. But what we need to build here is, if you play with the right intentions and you work for the team and you play for the team, then you get some rope. Of course, you've got to perform, but we want them to play free, we want them to play with joy. Then it's easier to be a good player."
Related – Chicago Blackhawks: Coach Colliton's Priorities
There's no rest for the weary this coming week. The Blackhawks head to Carolina on Monday to meet the same Hurricanes they just lost to this past Thursday. Then they head home to host the St. Louis Blues, LA Kings, and the Minnesota Wild, playing a game every other night. We're in this for better or for worse, Blackhawks' fans. Let's hope it gets better sooner rather than later.
Gail Kauchak has covered the Chicago Blackhawks as a content writer since 2014. She previously wrote for Fansided's Blackhawk Up, and has been part of The Hockey Writer's team since 2017. It's not always easy to balance life's responsibility's with one's passion, but Gail's doing her best to make it happen. Quote to live by, "Follow your dreams, and good things will happen." Wait, maybe it's "Good things happen when you shoot the puck!" You get the idea.
Follow Gail for her unique commentary about this storied franchise. And be sure to catch her and the rest of the Blackhawks' crew on their weekly Blackhawks Banter show, as well as follow her on Twitter.