There are Czech hockey players in the NWHL this season for the very first time. Czechs have been in the CWHL before too. Various NCAA women's hockey programs have scouted them and brought them aboard, including the University of Maine Black Bears, the University of Minnesota-Duluth Bulldogs and the Northeastern Huskies. Plenty more female Czech hockey players are waiting at the doorsteps of North American programs, looking to make their marks too. One of them is a sizable Czech forward with a scoring touch who eagerly intends to join the ranks. THW would like to introduce you to Veronika Lorencová – a 5-foot-9 forward from Plzeň, Czech Republic who wants to bring her game to an NCAA school.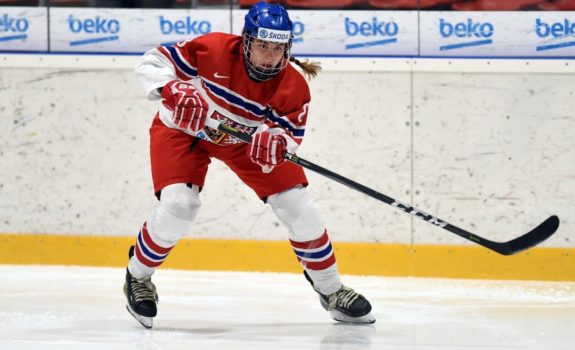 Lorencová has represented her country on the international stage at the 2018 IIHF Women's U18 World Championship. One thing that NCAA coaches and programs will enjoy about her is her friendly personality and warm nature that come in addition to her natural ability on the ice. Lorencová also knows her hockey, and finds inspiration from one of the game's all-time legends.
"I think every hockey player could be admired for something," Lorencová shared. "But if I should pick one it would be probably Bobby Orr, since I have read his autobiography. I admire him for (how he kept) going even through the pain and hard injuries. He also never forgot about people around him, who made his hockey career possible – family, friends and the others who had always supported him. And I feel it the same way. Without my family I would never be able to play hockey on this level. Another player I admire a lot is my boyfriend, who currently plays in Canada. He showed me that sometimes to just believe in yourself is the very most important thing. He always smiles on the ice and reminds me that after all it is just a game. Of course, it is our life. But still, just a game. So why do not be happy about playing it?"
For schools who may be interested in scouting this young lady and bringing her into their program, we would like to help you get to know Lorencová a bit more. With her good size up front and her hockey skills, combined with her ideal personality, she would make a good fit for a wide number of schools.
Learning the Game and Life in the Czech Republic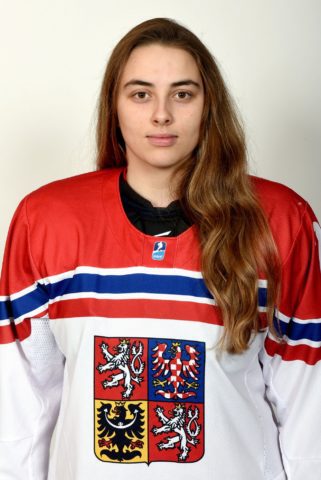 Born Feb. 1, 2000, Lorencová will be turning 19 years old in a few months from the time of this interview. Like most players talented enough to compete internationally, she began learning the game at a young age. Hockey came naturally to Lorencová and has remained so ever since.
"I had been four years old when I stepped on the ice for the first time," Lorencová explained. "I was just going skating with my dad and one day a coach, who had been recruiting new kids, told my father: 'Why don't you come to the training on Saturday with your son?'. And Dad was like 'Well, it's a girl.' And the coach said, 'It doesn't matter, we don't play hockey there. We are just skating and having fun. That's all.' Well, since then I have spent almost every day at the hockey rink and I feel playing hockey is the most natural thing in the world."
Lorencová spent her early years playing for her hometown women's team, HC Plzeň. A teammate of hers with that squad was forward Veronika Bucifalova who now plays college hockey in Canada and is presently the leading scorer for the Red Deer College Queens. For Lorencová, playing in one of the Czech Republic's bigger hockey markets has afforded her ample opportunity to hone her skills and play the game that she loves.
"I come from Plzeň – a quite big city in the Plzeň Region in the Czech Republic," Lorencová  shared. "The most famous team here is HC Škoda Plzeň, which is my number one team since I have been a little child. Czech Republic is known as a hockey country all over the world. You can find a hockey stadium in almost every big town. So yes, there are a lot of opportunities to play hockey. Girls play with boys usually until they are 18 years old, then they mostly play only on women's teams. The only problem is there are no women's college hockey teams, so nowadays a lot of girls are going abroad. Mainly because of the better studying opportunities connected with playing hockey on the high level.
Plzeň is the same hometown of current NHL defenseman Andrej Šustr, and retired stars Martin Straka and two-time Stanley Cup Champion Petr Sýkora.
Making the Jump to Slavia Praha
Beginning with the 2016-17 Czech Women's Extraliga season, Lorencová has made the jump to playing for one of the perennial top teams in the league, HC Slavia Praha. Through her first 13 games with Slavia, Lorencová tallied five goals and an assist for six total points. One of her teammates is Aneta Cornová whom THW interviewed in August of 2018. Since transitioning to a new team Lorencová learned that it would take a little while to get accustomed to her new teammates and surroundings. The change had her anxious at first.
"When I started playing for Slavia," she explained, "I must admit I was a little bit nervous, or as I would rather say – excited. I had always seen this team winning the league. So I did not know what to expect when I came there for my first season. I was happy to find there just the same girls like me – girls who love playing hockey. Together, we created a great team. The thing I probably love the most about our team is the fact that even though sometimes it is a bad day, we still play our game. Also, our coach always rises above every situation. So in the end you just forget about the bad period and start another one with a clear head and new passion to play."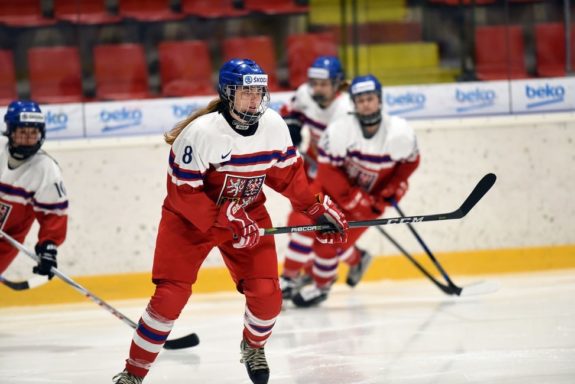 Lorencová has not overlooked the fact that her size gives her a natural advantage at times during game action. However, her muscles are not her only strength. Lorencová feels that she may be stronger mentally than she is physically, and she uses this trait to make a difference on the ice.
"My strongest physical attribute would probably be my height, as I am 178 cm tall (approximately 5-foot-9)," Lorencová shared. "This gives me a big advantage on the boards. I also have long legs so back checking is no problem for me. Actually, sometimes I am faster in my way back than in my way forwards. My mental strength would probably be playing under stress in the last few minutes of the game. In fact, the last five minutes are usually my best ones. But first of all, I always play for my team no matter the situation. As one wise man said: 'In a good team everyone is a star. In a bad one, even the biggest star will burn out.'
Words from Lorencová to play by and to live by.
Playing in the IIHF Women's U18
The 2018 IIHF Women's U18 World Championship was held in Dmitrov, Russia from Jan. 6 through 13, 2018. Considering that she is already 18 years old – soon to be 19 – this particular tournament is Lorencová's only World Championship that she will have played in at U18 level. This is something that she cherishes and is very proud to have been a part of. When asked what the tournament meant to her, she is able to sum it up in one word.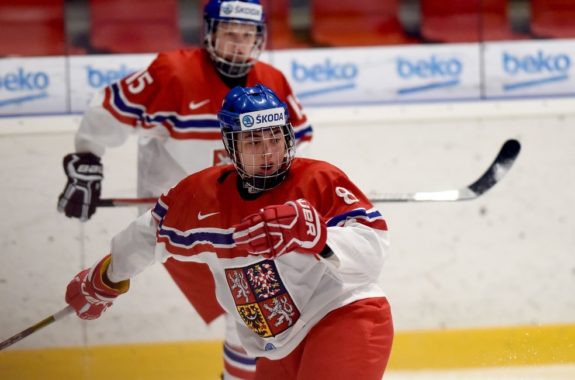 "Experience. When we set off on our way to Russia," Lorencová elaborated, "I was on the fourth line and I had already known I would not get much ice time. Nevertheless, I was happy to be there with my team and felt excited for the first game to come. As I expected, we started our match against Switzerland playing with three lines only. I had been cheering up the girls on the bench when our coach said: 'You are going on the ice!' At first, I thought it was just a slip of the tongue. But suddenly it was really happening. Actually, a few seconds after I had stepped on the ice, I scored a goal. This was one of the best feelings in my life. In the end, we won the game 4-3 and at that very moment I realized that everyone in the team is an essential part. No matter if you are sitting on the bench or playing on the first line."
Despite coming away from the tournament with a sixth place finish, the Czechs posted a decent overall record of two wins, two losses, and one overtime loss. Lorencová played in all five of the team's games and scored the Czech's very first goal of the tournament in a 4-3 preliminary win over the Swiss. The tally was one of 10 goals scored by the Czech Republic during the tournament.
A Potential Jump to North America
More than anything else, Lorencová is actively seeking out an opportunity to play hockey at a high level and be able to attend to her studies. As she shared, such opportunities are not presently available in the Czech Republic. Hence, Lorencová's desire to cast her eyes abroad while completing her final year of high school, and seeing what may lie on the other side of the Atlantic. She is open to introductions and discussions from any collegiate hockey program that may show an interest in her.
"In fact, playing in the North America or somewhere else in Europe is now my goal number one,"Lorencová explained. "As it is not possible to study and play in a college team here in Czech Republic, I know it would be the best for me to go abroad. I also know there will be a lot of work behind it – not only on the ice but also in school as it is my senior year here. However, I believe nothing is impossible when you really want it and sacrifice everything to make it happen."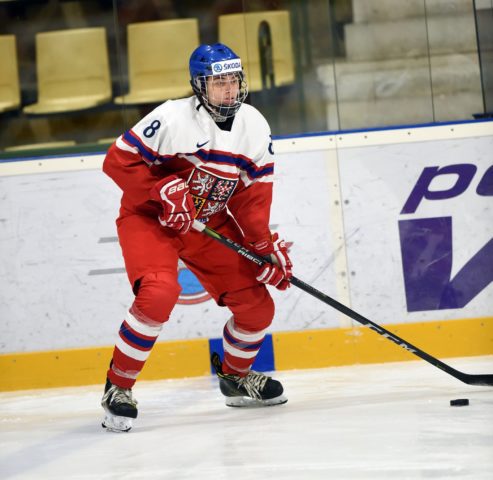 Aside from the college game, Lorencová aspires to continue playing onward and upward in her hockey career. That includes both her desire to represent the Czech Republic in more international tournaments, and the thought of playing professional hockey as well. Right now the NWHL has two current stars that are fellow countrywomen of Lorencová's – the Connecticut Whale's Kateřina Mrázová and the Boston Pride's Denisa Křížová. Is following their paths something she envisions herself doing? Lorencová responded:
"To play hockey on the highest level has always been one of my biggest dreams. It would be such a great experience to play together with the best players in the world! So as well as the Olympics, playing in the NWHL, CWHL or any European League are my big goals, and my every minute spent on the ice and also off the ice is dedicated to reach them."
"Hockey Is Not One Big Thing"
Lorencová still has time to decide where she will be playing and studying after she finishes high school. Maybe Křížová's former Northeastern Huskies or Mrázová's alma mater UMD Bulldogs take an interest in her. Perhaps it is a new NCAA team altogether that signs a Czech player for the first time. Wherever she ends up next autumn, Lorencová knows that it is not because of one single moment or experience that will lead her to wherever her future lies. She summed it all up rather nicely.
🎥 | Co od duelu proti Německu očekávají Kristýna Kaltounková a Veronika Lorencová? 🙌🏻 A co musíme podle trenéra Zuziaka zlepšít? 💪🏻 #U18WWC#CZEvGER 🇨🇿🆚🇩🇪 pic.twitter.com/k6X54igVjq

— Hokejový nároďák (@narodnitym) January 7, 2018
"You know, hockey is not one big thing," Lorencová stated. "It is a thousand of the small ones. It is friendship. It is an excitement. It is fair play. It is family. It is humility. It is passion. Also it is pain and a lot of sacrifice. But if you ask me what is the number one, what also helps me in life is that you should never ever give up. And when you persist during the hard times and will keep working hard, you still can become a champion."
Peace be the journey, Veronika!
General Manager of the Buffalo Beauts (NWHL). Hockey history writer "The Hockey Writers". Credentialed media for the NHL Combine and 2018 IIHF World Junior Championships in Buffalo, NY, USA. Born and raised in Buffalo, NY. Lifelong hockey fan for over 40 years. Proponent of the women's game.