Before the 2018-19 NHL season began, no one really expected much from the Detroit Red Wings. After their fifth game of the year, those expectations were probably lowered.
Facing an aggressive and highly talented Boston Bruins team, the Red Wings quickly imploded after keeping pace in the season's first four games. Goaltender Jonathan Bernier was hung out to dry, giving up eight goals on 39 shots. Team defense was non-existent. Dylan Larkin even suggested after the game that he should have fought to rally the lackluster Red Wings.
The dreary depths of the rebuild had been reached. And it was an ugly sight for the once-fearsome franchise.
Flash-forward one month. The Red Wings—after opening the season with seven straight losses—have won eight of the past 10 games and are riding a wave of momentum generated by their young core pieces.
While the two combatants are the same, the stakes are not. With some confidence on their side, the upstart Red Wings have a chance to prove that their winning ways are no fluke.
Red Wings Finding Their Groove
When the two teams last faced off, Detroit's offense was stuck in neutral. Over the past ten games, however, things have been different. Detroit's curly fries-craving offense has awoken and is averaging 3.4 goals per game over that span.
"After our start, I think everyone was counting us out and here we are the last ten games, we've shown not only the league and our fans, but we showed ourselves that we can play with any team on a nightly basis," said Dylan Larkin to The Hockey Writers' Dan Rice following the 3-2 win in New Jersey. "We can win on the road, our power play can be good, our penalty kill can be good. We're winning games and having fun, and we're rolling. We need to keep this going."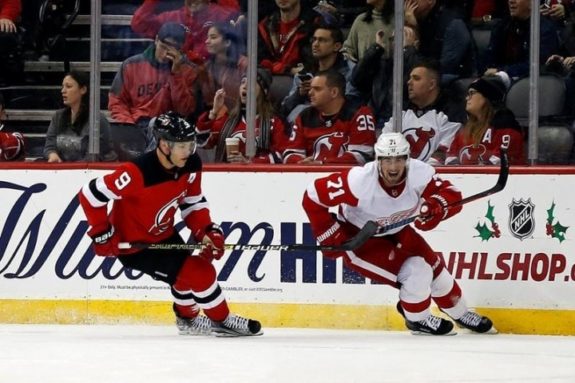 Team defense has picked up as well. So has the goaltending, as Bernier and Jimmy Howard have kept the Red Wings in every game as of late.
Everything went wrong in Boston. Recently, everything has gone right for the Red Wings. Will we see one or the other on Wednesday night, or a more evenly matched contest?
Big Test for Improving Red Wings
After Detroit downed the New York Rangers in thrilling fashion on Nov. 9, I suggested that the following night's game in Carolina would be a major test for the Red Wings. How would they respond the one night later against a team that had utterly dominated them a week prior?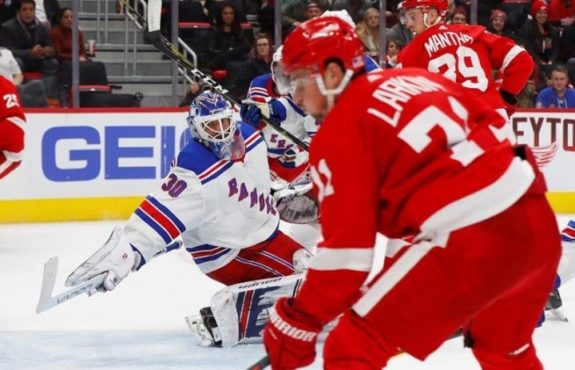 While they started slow and relied on Jimmy Howard's superb goaltending, Detroit passed the test. Boston presents the next opportunity for evaluation: How will the Red Wings match up against the hungry, contending Bruins in all facets of the game – offensively, defensively, physically, and emotionally? Can they keep their composure and give Boston "60 minutes of Hell?"
If the Red Wings want to advance the rebuild through player development, they'll need to learn how to win these big games. Whether it's Boston, Toronto, Tampa Bay, or another playoff-bound team, the Red Wings need to be a tough team to play against. They need to give themselves a chance to win, rather than rely on their goaltending to bail them out or the opponent to shoot themselves in the foot.
Related: Do the Red Wings Have a No. 1 Center in Dylan Larkin?
News & Notes
Early in the game against New Jersey, Darren Helm went down with a shoulder injury. He's expected to miss six-to-eight weeks. For the time-being, Justin Abdelkader has moved into his spot on the top line with Dylan Larkin and Anthony Mantha.
Jonathan Ericsson and Thomas Vanek could return to the lineup against Boston. Both have missed a handful of games as of late.
Boston has been dealing with the injury bug lately as well. This is especially true for their defense, which is without Charlie McAvoy, Zdeno Chara, John Moore, Brandon Carlo, and rookie Urho Vaakanainen. Patrice Bergeron could miss the game as well.
The Red Wings haven't defeated Boston since January 18, 2017, when they won 6-5 in a shootout. The last regulation victory versus the Bruins took place nearly a year prior on Valentine's Day 2016.