With 19 points (8g-11a) over his first 20 games with the Detroit Red Wings, this season Dylan Larkin has officially taken the reigns as the team's prominent offensive star. With the recent departures of players like Henrik Zetterberg and Pavel Datsyuk, it is now Larkin who is the franchise's most dynamic forward as he helps guide the new era of Red Wings back to the playoffs.
Detroit is playing this season without a captain after the retirement of Zetterberg prior to training camp, but if anyone on the current roster would be a successor to no. 40, it would definitely be the 22-year-old Larkin as evidenced by the trust that the coaching staff puts in their top line center as well as the A that he wears on his jersey. Over the last ten games, Detroit has gone 8-2-0, after starting the post-Zetterberg era 1-7-2.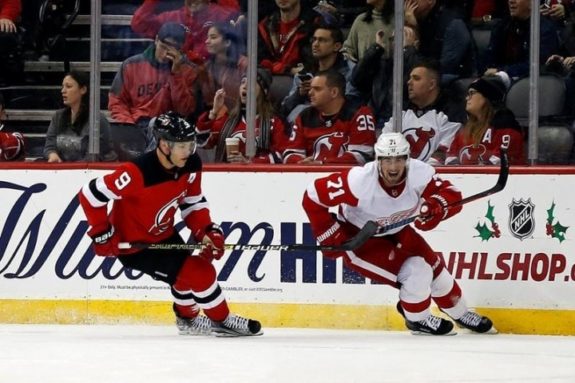 "I've watched Dylan develop as a young guy over the last four years. He's been an alternate captain for me two times (for Team USA) at the World Championships," said Red Wings head coach Jeff Blashill following his team's 3-2 overtime win in New Jersey in which Larkin netted the game-winning goal in overtime. "I just think he's continued to grow into that role."
"I was a little taken aback by New Jersey's set up there in OT on the draw. I just told Mo (Anthony Mantha) that I'm trying to get the puck to the left side to you, and I did. Then we ended up getting a two-on-one and I had the whole net (to shoot at), it was a great play by him," Larkin said of his winning goal.
Another look at @Dylanlarkin39's @EASPORTSNHL OT Winner! 🙌 pic.twitter.com/Nz7ByyyxOH

— Detroit Red Wings (@DetroitRedWings) November 17, 2018
"Part of it is when you get an A on your chest it gives you a little more latitude to speak and those types of things, and I think he's done a really good job with that. But he's a natural born leader, he's done a good job," added Blashill.
Larkin's overtime winner was his second in eight days (at home vs. New York Rangers Nov. 9, also a rally from a 0-2 deficit) and his coach confirmed that he wants to be looked upon to take the reigns in those moments when stars shine.
Green, Athanasiou & Larkin combine for tonight's @EASPORTSNHL Overtime GAME WINNER! | #NYRvsDET #LGRW pic.twitter.com/RzQiSUpVS2

— Detroit Red Wings (@DetroitRedWings) November 10, 2018
"There's no question that Dylan wants the big moment. Sometimes he wants it too much and he tries too hard and makes mistakes because he's trying too hard but there's zero doubt that he wants the moment. Without question."
Last season he led Detroit in points (63) and assists (47) and was one of only three Red Wings to appear in all 82 games. With his two game-winning goals this season he is already halfway to his total of four GWGs from last season.
"We're finding ways to win, instead of like last year where it was going the other way – we'd be leading and had nights where we fell apart," said Larkin of his team's resiliency over the last ten games. "It feels good and it seems like it's a different way every time. We had to wake up after the first period, a bit of a slow start for us. But we didn't panic, stuck to our game and once we got on the forecheck that's when we started playing."
Larkin admitted after the win over the Devils that the Red Wings are playing with a bit of a chip on their shoulder and now 20 games into the season they are showing that they could be a team to be reckoned with before all is said and done in the 2018-19 season.
"After our start, I think everyone was counting us out and here we are the last ten games, we've shown not only the league and our fans, but we showed ourselves that we can play with any team on a nightly basis," proclaimed Detroit's de facto leader. "We can win on the road, our power play can be good, our penalty kill can be good. We're winning games and having fun, and we're rolling. We need to keep this going."