The Edmonton Oilers lost an entertaining hockey game on Saturday night. A true battle of Alberta it was — that is, of course, until the Oilers folded in the third period and Edmonton wound up on the short end of the stick after a series of hard hits, nasty plays, mild fisticuffs, and old-school Hockey Night In Canada hockey.
At the end of the day, the loss is a loss and it won't destroy the Oilers season. That said, the third period of this particular game may be what everyone remembers as it was a classic meltdown, highlighted by incredibly poor coaching and head-scratching decisions. It was the kind of coaching that might cause management to reevaluate their current situation. In fact, it was the kind of coaching that if a coach were giving lessons on how to lose a job, said coach would use this game as a glowing example.
This One is On McLellan
It's often unfair to blame the coach for every loss even though they tend to bear the brunt of the team's failures by losing their jobs before players are shipped out. I'm actually not a fan of people ragging endlessly on a coach because, as a coach, you work with the hand your dealt and players have to play. McLellan has been on the end of some of that type of talk. It's unfortunate. However, in this case, McLellan messed up, and he messed up big.
While the game was slightly back and forth with chances at both ends in the first two periods, Edmonton's bench boss got severely out-coached in the final frame when the game changed and his decisions cost the Oilers this game, plain and simple.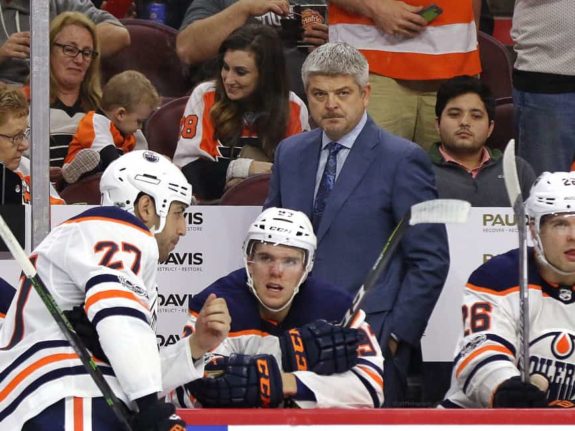 With the game in their control going into the third, Edmonton allowed four unanswered goals and gave the win away. There are plenty of reasons why this happened, unfortunately, none of them are good, nor should they be acceptable.
McLellan's Commitment to Juggled Lines
Coaches juggle lines, that's part of hockey in the NHL. It can be argued McLellan had a reason to when the game opened as it did, including hits, cheap shots and Flames players taking liberties with stars like Connor McDavid. It's difficult to fault McLellan for moving a player like Milan Lucic up to McDavid's line when things got sketchy. It was a message to Calgary, 'I dare you to touch our star now with Lucic on his line.'
It worked too. The Flames didn't get in McDavid's face nearly as much as they'd done prior when Lucic wasn't patrolling the ice. The same went for Zack Kassian who was put up on Ryan Nugent-Hopkins line as a way to deter the Flames from going after Nuge.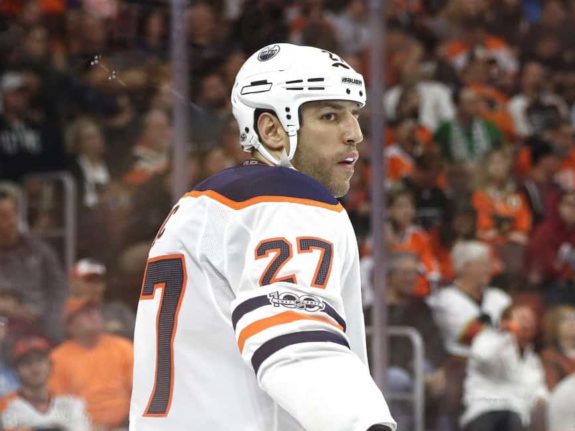 The issue isn't necessarily switching things up as a response to some nasty play, it's keeping them switched up when the game has completely changed. In the third period, the battle was not at all like it was in the first two frames. Yet, Lucic stayed on the top line for a ton of the game, Zack Kassian stayed in a top-six role, and players like Kevin Gravel and Matt Benning were on the ice when the Oilers needed the tying goal.
Perhaps one can argue Edmonton didn't have a lot of options offensively with new guys on the roster and injuries to core forwards were an issue, but how can anyone argue Lucic, Kassian, and two bottom-two d-men give you the best chance to score? You can't.
McLellan shorted his bench for the entire period and kept it short when Calgary took it to Edmonton. There were no timeouts, no trying something new to spark the offense or disrupt Calgary's rhythm and only five shots on net for the Oilers who were drowning in their own zone.
Related: Oilers Trade Strome to Rangers for Spooner
Where's the Motivation?
McLellan proved on Saturday, he did not have a handle on the situation at hand. Calgary was/is the NHL's best third-period team. They'd scored more third-period goals than any other NHL club and he had to know they'd come out swinging, but not the literal kind of swinging that set the tone over the first 40 minutes. Despite knowing what was coming and that Calgary couldn't fight their way to a win, the Oilers came out lifeless. The coach has to take some of the heat for that.
Whether it's pumping the guys up, making sure to switch the lines back to help put the game away or slowing the game down when the ice was tilting, McLellan did none of the above. He could have predicted the third, saw the start of an offensive onslaught and set a game plan, but he let it come. It's hard to understand why.
He Took No Responsibility
It's bad enough that McLellan made such terrible decisions in the final period of Saturday's game. What's mind-boggling is the explanation he gave for the loss.
After the game, McLellan addressed the media and said things like, "I thought our first two periods set them up in the third." He tried to explain that too many penalties meant Calgary had fresh stars with strong legs playing the third because they got soft minutes on the power play for the first two periods. His exact words were that their top end guys "had juice left in the tank."
"It was a very emotionally charged game. It was just too many (penalties) & that was probably the difference at the end." Coach McLellan on tonight's physical affair pic.twitter.com/6YitcwQ03I

— Edmonton Oilers (@EdmontonOilers) November 18, 2018
Here's the thing. The penalties were bad, no doubt. Still, if the Oilers were constantly short-handed, Edmonton's top-offensive talents should be fresh as daisies. The idea that Calgary's top guys were not tired but Edmonton's were is hard to swallow. McDavid played all of 27 seconds when the Oilers were down a man and Draisaitl played 1:37 seconds. That excuse might work for Nugent-Hopkins who played 4:17 seconds while short-handed but what about Benning, who was out on the ice trying to get the game-tying goal, but had already played 3:48 seconds on the penalty kill? Ty Rattie hadn't played at all short-handed, not one second, but he was nowhere to be found.
You can't argue Calgary's guys were fresh when they'd actually played and then argue Edmonton's stars were drained having sat their watching Calgary on the power play. Yes, McDavid played over 21 minutes, but he wasn't tired because he was killing penalties. He just couldn't score and part of that had to do with the fact he still had Lucic on his line.
Related: NHL Rumors: Hurricanes, Oilers, Penguins, More
Looking Over His Shoulder
At the end of the day, the Oilers lost. They shouldn't have, but they did. Perhaps McLellan doesn't lose his job because of this disaster and he certainly won't be fired before Sunday's game against Vegas. But, coaching performances like this mean McLellan should be looking over his shoulder.
There are some pretty good coaches out there (paging Joel Quenneville) and while every coach has a bad game or two, Edmonton can't afford to have many more of these types of losses. In McLellan's case, one more might be all she wrote. He was already on the hot seat. It's likely on fire now.
By the way, did anyone else notice that Jesse Puljujarvi and Kailer Yamamoto scored for Bakersfield on Saturday? I'm not saying… I'm just saying.
Jim Parsons is a senior THW freelance writer, part-time journalist and audio/video host who lives, eats, sleeps and breathes NHL news and rumors, while also writing features on the Edmonton Oilers. He's been a trusted source for five-plus years at The Hockey Writers, but more than that, he's on a mission to keep readers up to date with the latest NHL rumors and trade talk. Jim is a daily must for readers who want to be "in the know."
Other content contributions include: NHLtradetalk.com, The Sportster and hosting weekly video casts, THW News and Rumors Rundown, plus Oilers Overtime.
For interview requests or to provide content info, follow Jim on Twitter or his social media accounts. They appear under his photo on articles like this one.