RED DEER, Alta. — Reese Johnson completed his hat trick at 2:50 of overtime as the Red Deer Rebels toppled the Kootenay Ice 5-4 on Saturday in Western Hockey League action.
Jeff de Wit and Alex Morozoff also scored for the Rebels (15-5-1), who extended their win streak to four games
Connor McClennon struck twice while Owen Pederson and Jonathan Smart had the others for the Ice (7-13-4).
Ethan Anders kicked out 26 shots for Red Deer as Jesse Makaj made 35 saves for Kootenay.
The Rebels went 3 for 4 on the power play while the Ice scored once on two chances with the man advantage.
—
TIGERS 2 BRONCOS 0
SWIFT CURRENT, Alta. — Mads Sogaard stopped all 48 shots he faced as Medicine Hat blanked the Broncos to snap a five-game slide.
Ryan Chyzowski scored twice in the first period to give the Tigers (10-11-3) all they offence they needed.
Joel Hofer turned aside 28 shots for Swift Current (3-18-2), which has lost five in a row.
—
RAIDERS 6 WHEAT KINGS 0
BRANDON, Man. — Ian Scott made 26 saves and Sean Montgomery scored twice as the Raiders shutout the Wheat Kings for their 13th win in a row.
Carson Miller, Cole Fonstad, Brett Leason and Noah Gregor also found the back of the net for Prince Albert (20-1-0), the No. 1 team in the Canadian Hockey League.
Jiri Patera turned aside 40 shots for Brandon (10-5-6).
—
BLADES 5 AMERICANS 3
SASKATOON — Eric Florchuk scored two of his team's three third-period goals and Kirby Dach had a goal and three helpers as the Blades beat Tri-City for their fourth straight victory.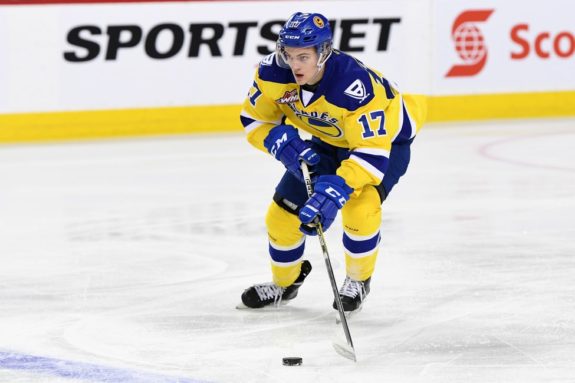 Randen Schmidt produced the winner at 15:32 of the third for Saskatoon (14-7-2) and Josh Paterson also scored. Nolan Maier had 29 saves for the win.
Mitchell Brown, Dom Schmiemann and Parker AuCoin replied for the Americans (12-8-0). Beck Warm stopped 35-of-40 shots in a losing cause.
—
HITMEN 5 CHIEFS 1
SPOKANE, Wash. — Mark Kastelic netted a hat trick as Calgary beat the Chiefs for its third win in a row.
James Malm added a pair of goals while Carl Stankowksi stopped 33 shots for the Hitmen (8-12-2).
Adam Beckman had a goal as Dawson Weatherill turned aside 24-of-28 shots for Spokane (11-8-3).
—
ROCKETS 3 OIL KINGS 1
EDMONTON — Nolan Foote scored twice in a 32-second span as Kelowna beat the Oil Kings to halt a four-game slide.
RELATED: Don't Miss our Feature on Nolan Foote
Liam Kindree also scored for the Rockets (9-13-1), who got 26 saves from Roman Basran.
David Kope responded for Edmonton (13-8-3), which lost in regulation for the first time in 11 games after entering 8-0-2. Boston Bilous stopped 10 shots in defeat.
—
WARRIORS 3 HURRICANES 2
LETHBRIDGE, Alta. — Tristin Langan scored twice as Moose Jaw slipped past the Hurricanes.
Brodan Salmond made 22 saves while Brayden Tracey also scored for the Warriors (9-5-4).
Logan Barlage and Zachary Cox had goals for Lethbridge (9-7-4). Carl Tetachuk kicked out 38 shots in defeat.
—
THUNDERBIRDS 6 WINTERHAWKS 4
KENT, Wash. — Matthew Wedman scored twice — 27 seconds apart — and Liam Hughes made 51 saves as Seattle snapped its seven game losing streak with a win over Portland.
Andrej Kukuca, Jared Davidson, Samuel Huo and Zack Andrusiak also scored for the Thunderbirds (8-9-3).
Jake Gricius had a pair of goals while Clay Hanus and Nick Perna also scored for the Winterhawks (13-7-2), who entered on a 6-0-1 run. Dante Giannuzzi made 30 saves in defeat.
—
BLAZERS 5 COUGARS 1
PRINCE GEORGE, B.C. —  Jermaine Loewen scored twice as Kamloops downed the Cougars to avoid a fifth straight loss.
Josh Pillar, Zane Franklin and Luc Smith also scored for the Blazers (7-9-2). Dylan Ferguson made 13 saves for the victory.
Mike MacLean scored for Prince George (9-9-3). Taylor Gauthier turned away 31 shots in a losing cause.
—
ROYALS 2 PATS 1
VICTORIA — Tanner Sidaway broke a 1-1 deadlock at 17:15 of the third as the Royals edged Regina.
Kaid Oliver also scored while Griffen Outhouse made 17 saves for the Royals (11-6-0).
Jake Leschyshyn was the lone skater to beat Outhouse. Max Paddock stopped 25 shots for the Pats (7-15-0).
—
SILVERTIPS 6 GIANTS 5
EVERETT, Wash. — Connor Dewar and Sean Richards each scored twice as the Silvertips hung on to beat Vancouver.
Luke Ormsby and Jake Christiansen also scored for Everett (16-7-0). Dustin Wolf made 17 saves for the victory,
Davis Koch aced the Giants (14-5-2) with two goals as Matt Barberis, Jared Dmytriw and Dawson Holt added the others. David Tendeck made 28 saves in defeat.
—
The Canadian Press