As we prepare for the 2018-19 season, we have seen two players native to the Czech Republic sign with NWHL teams. Kateřina Mrázová, a University of Minnesota-Duluth alum, has joined the Connecticut Whale while former Northeastern Huskies player Denisa Křížová signed with the team who drafted her, the Boston Pride. Moves such as these may have begun opening the floodgates for more Czech players to arrive on the scene. THW caught up for a one-on-one with Aneta Cornová, a native of Mělník, Czech Republic, who will soon be playing for HC Litvinov in the Czech Women's Extraliga. While she loves playing in her native country, she has NWHL aspirations too.
"For now I prefer playing in Europe," Cornová said, "but my dream is to play in the NWHL."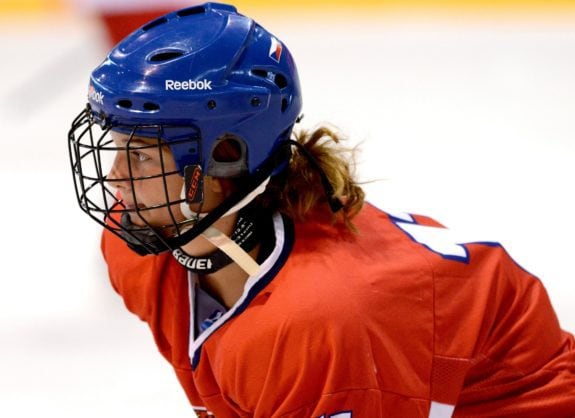 As we introduce you to this young player, you will see that she is more than capable of playing professionally in North America. As she attends school and finishes her studies, she could very likely follow in the steps of Mrázová and Křížová someday. But let's help you get to know her first.
Learning the Game Early and Young
Cornová is originally from Mělník – a town in the Central Bohemian Region of the Czech Republic – where she lived and played hockey until her mid-teens. Born Jun. 21, 1999, she just recently turned 19 years old at the time of her interview. It is hard to imagine that she has actually been playing in the Women's Extraliga since the 2011-12 season when Cornová was barely a teenager. She played for HC 2001 Kladno during her first season at 13 years of age, appearing in 10 regular season games plus two more in the playoffs.
"I started playing hockey when I was four," Cornová recalled. "My mom wanted me to go to figure skating, but when I saw that learning to skate next to the playground were the boys and that they played hockey, and I wanted too. So my parents bought my hockey skates and a hockey stick, and that was my start. I lived in Mělník. This is where I started playing hockey. I was here until 15 years old. Then I had to go to high school in Litoměřice, where I started playing too.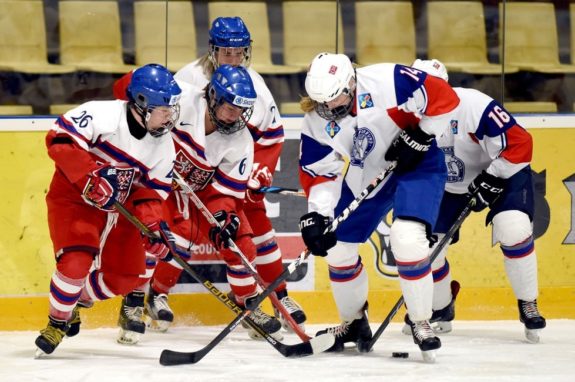 Litoměřice is about 40-minute drive away from Mělník, and is located in the more northern part of the Czech Republic. The town has some notable hockey names including Stanley Cup champion Martin Škoula and former NHL goaltender and Olympic medalist Milan Hnilička. Cornová still lives in Litoměřice now with her boyfriend.
An Upbeat and Fun-Loving Individual
Cornová is very much like most young athletes. Players whom she looks up to and admires are the current stars of the game. The way that she interacts with her teammates and embodies herself as a teammate helps to promote camaraderie in the locker room. Being of positive mind despite any setbacks has helped sculpt the successes that she has had – both in the Czech Republic and internationally.
"My favorite player in the NHL is Alex Ovechkin," Cornová shared, "and in women's hockey it is Hilary Knight. I'm a team player. I like to joke in the dressing room. I live for my team. Hockey should be fun."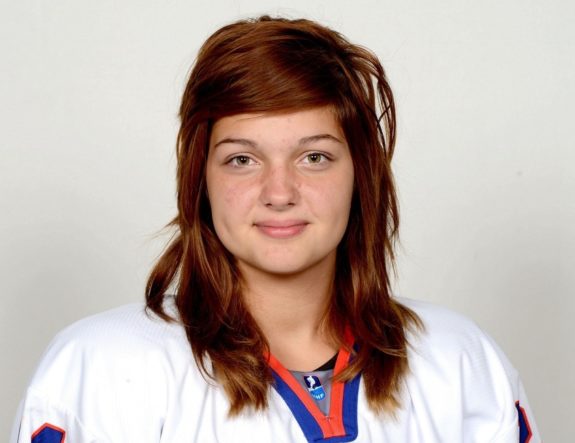 Even though she is just 19 years old, she has had to deal with adversity due to injuries. A number of her seasons in the Women's Extraliga were cut short but Cornová has not allowed such trials keep her down.
Asked about what her more positive attributes are as a hockey player, in addition to her playful personality with her team, she stated:
"Wariness. I already have had several operations – but I have always continued on."
Career Thus Far in the Extraliga
Cornová has played a total of seven seasons in the Women's Extraliga. All but her first season have been played with HC Slavia Praha, one of the oldest and most accomplished teams in the league. In total Cornová has played 55 Extraliga regular season games, scoring six goals and seven assists for 13 points as a blueliner.
Describing her role as a defender, Cornová stated:
"I sometimes go onto the attack. But sometimes I like to beat someone for the puck, so playing defense is the best for me."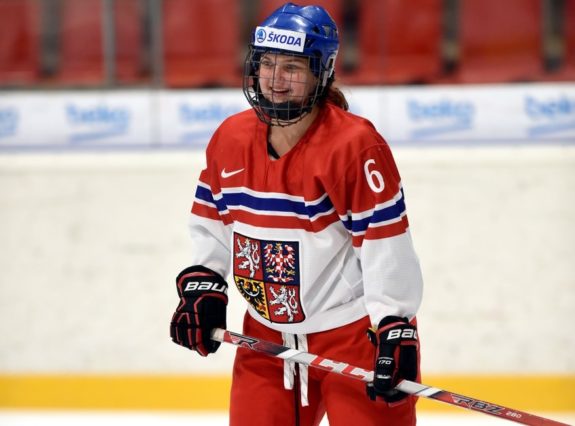 Statistically speaking, Cornová's finest season came in 2012-13. That year she generated four goals and three assists in 12 games. Cornová also is not hesitant to play a physical game either. At 5-foot-3, she is a very sturdy, strongly built 150 pounds and has a low center of gravity out on the ice. Through her 55 career games Cornová has accumulated 28 penalty minutes.
Despite her history and longevity with Slavia Praha, Cornová will be playing for a new team this coming 2018-19 season:
"I'm going to play this season in Litvinov," she shared. "We had a lot players in Slavia, and I need to play and not be sitting at home. But the team (Litvinov) is cool and the girls are fun."
Cornova's International Exposure
The 2017 IIHF Women's U18 World Championships were Cornová's first opportunity to represent her country. This particular tournament was played on Czech soil no less, as the tournament was hosted by the cities of  Přerov and Zlín. There has been a longstanding rivalry between the Czech Republic and Russia in women's hockey, particularly at the U18 level. The teams have been very similarly matched in terms of skill, and routinely compete against one another for bronze at U18 tournaments. While this tournament would be Cornová's only one at the U18 level, it was certainly a memorable one to say the least.
Cornová and the Czechs were able to advance to the quarterfinal after coming out of the tournament's Group B bracket with a record of 1-1-1. Of the 20 Czech Republic skaters, Cornová was one of only four to tally goals in the tournament. Her first international goal was scored in a 3-2 loss to Switzerland in the preliminary round. Unfortunately for Cornová and the Czech Republic, they would suffer a hard fought 2-0 loss when they faced the Russians in the opening round of the tournament's playoff. This particular game was a penalty-filled affair which erupted into a brawl in the dying minutes of the third period. 113 minutes in penalties were issued by the time all was said and done. Needless to say that this game will keep the rivalry fueled between the two countries for years to come.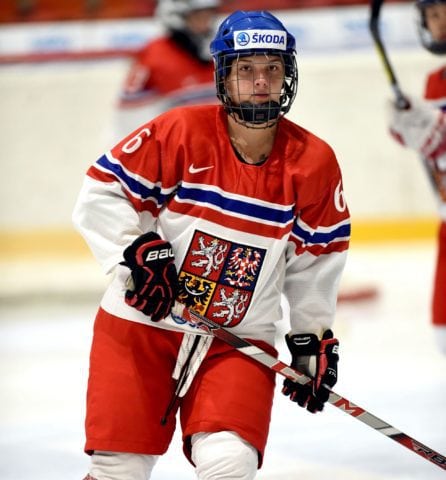 "I will remember the match against Russia for a long time," Cornová said with a bit of grin. "But for me the whole tournament was an experience. Every moment I could have enjoyed there, I did. I was glad my parents would be proud of me. I scored my first goal in the World Championship – it was amazing! It's hard to pick one moment. Representing the Czech Republic is an honor for me."
In addition to ice hockey, Cornová is also an accomplished ball hockey player too. She has competed in the Ball Hockey World Championships for the Czech Republic on multiple occasions. NWHL past and present names such as Shannon Doyle, Colleen Murphy, and Devon Skeats have all found success in international ball hockey. Cornová has found success too these past few years and has medaled.
"Last year (2017) I was at the World Championship where we finished second in the aftermath of a loss with Canada" Cornová explained about the Ball Hockey Championships, "it was a terrible disappointment. This year I was at the World Championships in Russia, where we finished third. I hope we will be able to defeat Canada next year."
The Right Mindset and a Love for the Game
Though Cornová's main focus now is her studies and hockey in the Czech Republic, if she does someday make the jump to a North American professional league she will be a player with the right mindset – in addition to her skill level. She is a kind of athlete that embodies the ideal characteristics and values that the NWHL wants to see in its players. Cornová feels that hockey is in the essence of her very being.
"Hockey has taught me discipline and respect," Cornová stated strongly. "Hockey is not just sport – this is who I am. I play hockey for my family to make them proud, and for my teammates. I play to build character, learn to have passion, and fully be able to dedicate myself to something."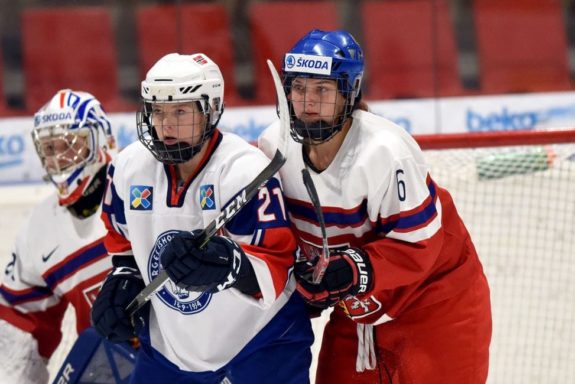 We asked Cornová if she had any sort of message or guidance for younger players. Perhaps especially for young girls playing the game in the Czech Republic. She certainly had some thoughts to offer for the younger generation.
"Playing hockey is a great way to learn about teamwork," Cornová explained. "The bigger the dream, the bigger the team. Hockey builds character. If you want to play – play. Mainly do what you enjoy."
General Manager of the Buffalo Beauts (NWHL). Hockey history writer "The Hockey Writers". Credentialed media for the NHL Combine and 2018 IIHF World Junior Championships in Buffalo, NY, USA. Born and raised in Buffalo, NY. Lifelong hockey fan for over 40 years. Proponent of the women's game.