The Connecticut Whale have seemingly set the standard for European influx into women's professional hockey in North America. The Whale presently have players from Russia, Sweden, Finland, and the Czech Republic on their 2018-19 NWHL roster. They are the first NWHL team in league history to have either a Swede or a Finn on their roster. During the NWHL's inaugural season of 2015-16, the Whale and the Metropolitan (formerly New York) Riveters were the first squads to have Russians. In fact, the Whale have the NWHL record as the team with the most Russians in a team's history with a total of three (though goaltender Mariya Sorokina has yet to suit up this season, she is still technically under contract).
Where the Whale have made the biggest splash as far as Europeans go is being one of two teams this season to skate the first Czech-born players in NWHL history. Connecticut's Kateřina Mrázová and the Boston Pride's Denisa Křížová are pioneers for their fellow countrywomen as far as the league is concerned. While each has suited up this season for their respective teams, Mrázová will always be in the NWHL record books as the first Czech to play a regular season game, the first to score a goal, to pick up an assist, and to record a point.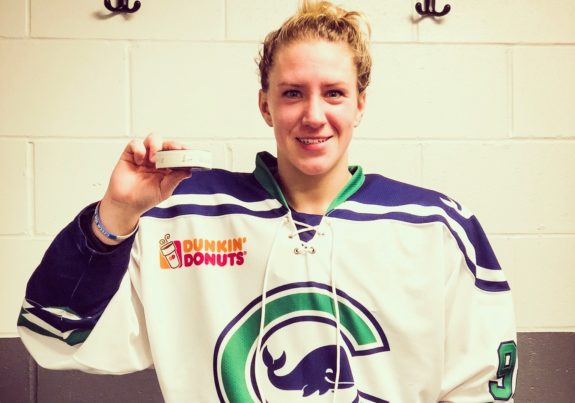 She has also quickly established herself as one of Connecticut's most skillful players and one who is a necessary component for pulling them out of the 0-3 doldrums that they currently find themselves in. Through their three games thus far, the Whale have scored only two goals. Doing the simple math, the team has not been able to record a goal yet without Mrázová's aid.
THW caught up with the talented Czech forward to see what led her to signing with the Whale and what her goals are for the season. Furthermore, we chatted with Mrázová regarding her role in paving the way for more Czech players to make the jump to the NWHL. It would seem that with the early steps that she is making, Mrázová may be unintentionally persuading other female Czech hockey players to follow suit.
The Decision to Come to the NWHL
When the NWHL came about, Mrázová knew that it was a league she wanted to play in. The fact that she was able to sign with the Whale has fit perfectly with what she wants to achieve in her own career.
"When I first heard of the NWHL professional league,"Mrázová explained, "I was really excited and I had a new dream – to play in this league (someday). Moreover, when I add in that I like great hockey challenges, I knew (that) I wanted to play in this league. Of great importance for deciding whether to play for Whale was the fact that I can coach little girls, which is absolutely great. And when the serious behavior of the Connecticut Whale club is added, it was decided. I am really happy to be here. It was the right decision."
BREAKING: The @CTWhale_NWHL have signed Czech Republic National Team and UMD Forward Katerina Mrázová.

🔗: https://t.co/Mq58bYPb8a pic.twitter.com/raMQFFS67v

— NWHL (@NWHL) July 11, 2018
It is not as if the 26-year-old Mrázová is completely unfamiliar with North American hockey. Quite the contrary. Prior to embarking on a collegiate career at the University of Minnesota-Duluth, she played a full season with the Boston (now Worcester) Blades of the CWHL. Playing in 21 regular season games plus four more in the playoffs, Mrázová helped the Blades win the 2013 Clarkson Cup title. Some of her teammates on that squad include well-established NWHL names of the past and present like Hilary Knight, Gigi Marvin, Meghan Duggan, Anya Battaglino and more.
Following her lone season in the CWHL, Mrázová began her NCAA career with the UMD Bulldogs. Her time in college stretched from the 2013-14 season through this past year's 2017-18 campaign. Mrázová totaled 25 goals and 50 assists for 75 points in 117 career games at UMD. Current Whale teammate – and Swedish player – Michelle Löwenhielm was also a member of those Bulldog teams beginning with the 2014-15 season up through last season.
The European Flavor of the Whale
In addition to her former college teammate in Löwenhielm and the Russian Sorokina, Mrázová also has standout Finnish goaltender Meeri Räisänen by her side as well. Despite the three losses for Connecticut, both Mrázová and Räisänen have been paramount in keeping their team competitive.
Asked whether having a number of European teammates made her feel more comfortable, Mrázová did not really feel it was the case.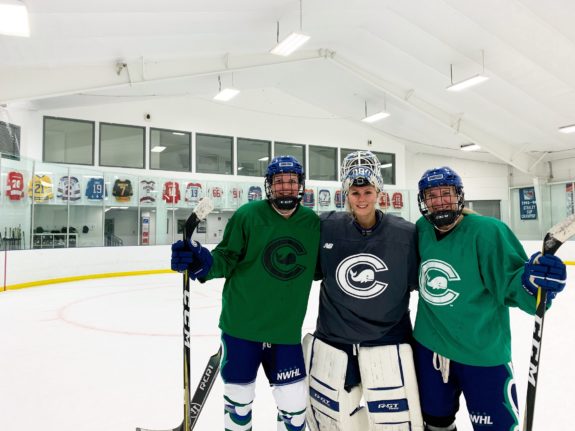 "I would not say so," she explained. "It was quite common at the University that I met people from all over the world at school and in sports. This is a thing that enriches you for life. It does not matter if you are from Europe or not. I have a lot of great friends in the US and in Europe. It is not about where you are from, but it is about who you are as a person. We have a really good group of people here and the whole team made it easier for me and welcomed me nicely. This is something special and I know that is something that not every team does. So, I am really thankful and happy to be part of the Whale team."
A Stickhandling Whiz
The Whale are certainly excited to have Mrázová as well. Part of the reason why she has been one of their few bright spots on offense is because of her tremendous stickhandling. This was especially apparent during the Whale's 7-0 loss on the road in Buffalo on Oct. 13. While the score may have depicted otherwise, more than once Mrázová appeared to have the puck on a string and dipsy-doodled through a Beauts defender. Her stickhandling is something she has worked on since she was a child.
Mrázová shared, "I enjoy playing hockey every second, and when you do something you love, the game and practice are really fun. As a little girl, I enjoyed playing with a puck and trying different moves outside of the ice, and it was probably the best practice for me. I spent a lot of time outside playing street hockey with boys and we were always competing who can do better tricks and moves. We had so much fun and it probably helped me to develop some of the technique I have today. If you do something you like, you will improve without even thinking about it as a practice."
What She Is Doing for Czech Hockey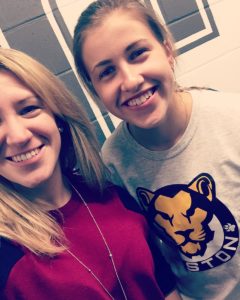 Though she may downplay what impact being European has on her NWHL career, Mrázová is incredibly proud to represent the Czech Republic in international play. She also recognizes that the exposure that she and Křížová are receiving in the NWHL is a good thing for Czech women's hockey on the whole.
"I am very happy to be part of the NWHL," Mrázová shared, "and I would definitely like to see more Czech players in this league. It is very important for the whole Czech women's hockey, which can help us to get better and move us to the next level. If Denisa and I were able to open the door for (other) Czech players, it would be great. But, it is also important for the World women's hockey, where American and Canadian National teams still dominate. It would be better if the teams were more balanced."
Three times as a teenager Mrázová represented the Czech Republic at IIHF Women's U18 World Championships. As she moved into her adult years, she has played for the Czech Women's National Team in five IIHF Women's Worlds tournaments.  That accounts for 26 games total, in which Mrázová has scored nine goals and 12 assists for 21 points. Anytime that she dons the colors of her country, she knows that the experience betters her both as a person and as a hockey player.
"The World Championships are very specific tournaments where you are under pressure," Mrázová stated. "Every single game is very important and always matters at the end of a tournament. Also, playing for a National Team is always like a holiday for me and a great responsibility. Such games give you experience that no one can take it from you. The experience of international tournaments is very beneficial, and I wished all the players could play such games in their career sometimes.
Eyes on the Isobel Cup
Mrázová and the Connecticut Whale have 13 regular season games remaining. Their next game is Nov. 18 on the road in New Jersey to face Metropolitan. With The Ice Garden's report that all five NWHL teams will in fact participate in the 2018-19 postseason and vie for the Isobel Cup, losing their first three games seems inconsequential for the Whale, at least in the grand scheme of things.
In Mrázová's eyes, it is even more so. She has no hesitation in setting lofty expectations for herself. In fact, Mrázová is adamant that her team is capable of winning it all, and will strive to do so.
"I always have the highest personal goals," she shared, "and so I believe we can handle the season well, and that we will battle in the final and win the Isobel Cup."
General Manager of the Buffalo Beauts (NWHL). Hockey history writer "The Hockey Writers". Credentialed media for the NHL Combine and 2018 IIHF World Junior Championships in Buffalo, NY, USA. Born and raised in Buffalo, NY. Lifelong hockey fan for over 40 years. Proponent of the women's game.