When the 2017 NWHL Draft was held on August 17th Denisa Krizova became a part of history. Selected at lucky number 13 by the Connecticut Whale, Krizova became the first player to be drafted into the league from the Czech Republic. Entering into her senior year of college at Northeastern University, she is excited to be that first Czech-born player and to have the opportunity to play hockey professionally.
"It really means a lot to me to have this opportunity to play with the best female hockey players from all over the world," Krizova shared. "I am happy to represent my country in this league and I hope to see more Czech players become a part of it in the future."
New England Compared to Krizova's Home
A selection by the Whale is a natural fit for Krizova. Entering into her fourth year, she is already well-accustomed to life in the New England area. To eventually play for a hockey club in the next state over works out nicely. In some way, it is even reminiscent of her hometown of Horní Cerekev.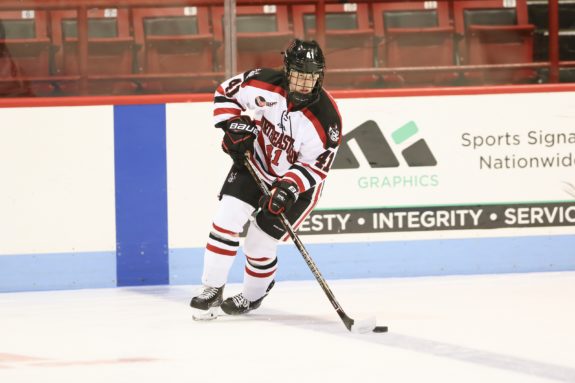 "I am glad to be a part of the Connecticut Whale organization and I think they will be a good fit for me," Krizova went on to say. "Weather-wise, New England is very similar to my home in the Czech Republic. I like the feeling of Boston since I am from a very small town; there are a lot of exciting things to do here that I enjoy very much."
Success With the Huskies
Regarding her thoughts on Boston, Krizova has established a second home at Northeastern, a Boston-area school. Her statistics speak for themselves. In only three seasons, she surpassed the 100-point plateau for her collegiate career. With freshman and sophomore point totals that added to 94, she nearly accomplished the feat in two seasons alone. Most college hockey players do not reach that mark at all. This young lady still has a season to go.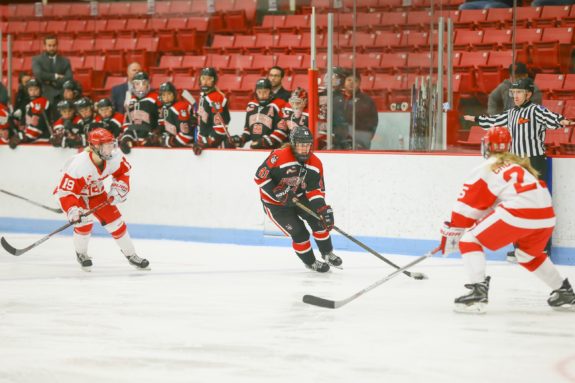 Not surprisingly, Krizova has produced at least a point per game in each of her three seasons with the Huskies. In 2014-15, her freshman season, she scored 13 goals and 22 assists for 35 points in 33 games. Those totals placed her second overall on the team in scoring in only her first season. Krizova was named to the United States College Hockey Organization's (USCHO) All-Rookie Team.
Krizova's Sophmore and Junior Seasons
While Krizova's freshman campaign was admirable, her second season at Northeastern is when she really took off. ICounting assists alone, she still had a point per game. In 37 games, she compiled 39 assists. Factor in her career high of 20 goals and she ended up with 59 total points on the season. That point total led all NCAA sophomore players.
She also demonstrated that she was a multifaceted player who was responsible in her own end. Within those 20 goals were three power play markers, two shorthanded and four game-winners. She was also a plus-53 on the year.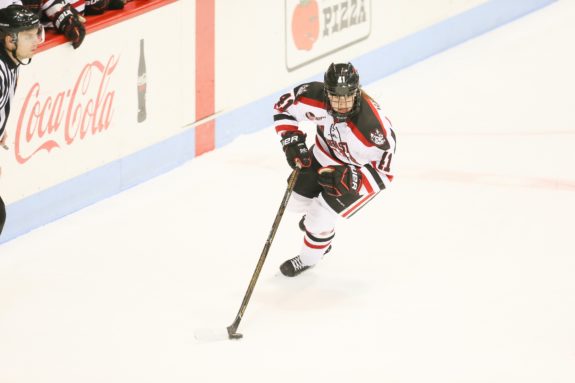 This past season, in 2016-17, Krizova continued to showcase her skills consistently. She posted her highest shot total of her career with 115. Perhaps more noteworthy, is the fact that she led the Huskies in total points with 45 and assists with 27. Her plus-27 was also tops on the team.
Speaking on her own versatility, Krizova told THW: "I think of myself as a playmaker. I take pride in my work-ethic on and off the ice."
Time With the Czech National Team
Krizova has plenty of international experience that will pay dividends in the NWHL. From 2010 to 2012, she represented the Czech Republic in three straight IIHF World Women's U18 Championships. Those three tournaments consisted of 16 games that Krizova appeared in. Within those games, she compiled six goals and six assists for 12 points.
With the 13th pick of the #2017NWHLDraft, the Whale select Denisa Krizova (@CzechMonkey14) from @GoNUwhockey. pic.twitter.com/pnDD2U2P26

— Connecticut Whale (@CTWhale_NWHL) August 17, 2017
Upon turning 18 years of age, Krizova was naturally promoted to the Czech Women's National Team. Since that time, she has appeared in World Championships, World Championship qualifiers and Olympic qualifiers for her country. That consists of 44 games in which she compiled 28 points. In Olympic qualifying competition alone she scored six points (three goals, three assists) in six games.
What Lies Ahead for Krizova
Krizova has one more year of college hockey at Northeastern. If her first three years are to be an indicator, she will most assuredly compile yet another spectacular season. The question is, where will her final mark lie? She is already in the top ten scorers in Huskies history.
She has scored more points for the program than many current and former star players who were Huskies. Some of those names include the Buffalo Beauts' Hayley Scamurra and the Boston Pride's Paige Savage. There is a strong likelihood that after her senior season she will be in the top five.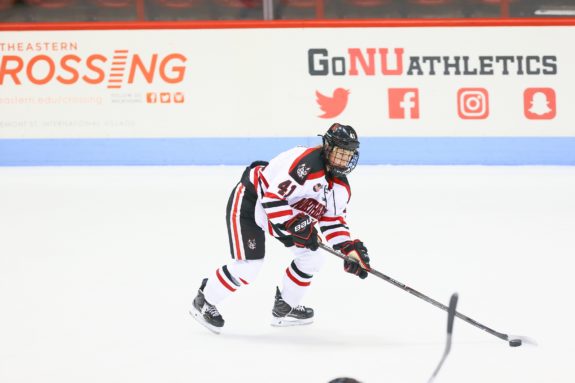 Beyond that, the Connecticut Whale have chosen a player who could become an NWHL superstar and a marquee player for the team. For now, Krizova is simply excited for the season ahead. Asked what she is most looking forward to for 2017-18 Northeastern season, she shared: "Being able to play the sport I love with my best friends in a great culture."
General Manager of the Buffalo Beauts (NWHL). Hockey history writer "The Hockey Writers". Credentialed media for the NHL Combine and 2018 IIHF World Junior Championships in Buffalo, NY, USA. Born and raised in Buffalo, NY. Lifelong hockey fan for over 40 years. Proponent of the women's game.