Now that University of Wisconsin Men's Hockey Head Coach, Tony Granato, has been named to the same position with the United States men's team for the 2018 Winter Olympics, the man who orchestrated a huge turnaround with the Badgers now has another daunting task in front of him. The man who took over the Wisconsin program, a team that had won just 12 games in the previous two seasons, and turned them into a 20-game winner in his first year must now put together the United States' first Olympic team without NHL players since 1994.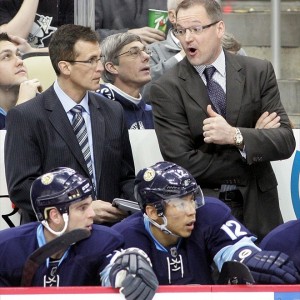 With the full roster of American-born NHL players (and AHL players on NHL contracts) ruled out, Granato, along with his assistant coaches and management team, must now scour the familiar as well as the unfamiliar to ensure they put together the best team. As Kurt Russel, as Herb Brooks, said in Miracle, "I'm not looking for the best players. … I'm looking for the right ones."
The Old Guard
One source of non-NHL talent that the Team USA executives appear to be targeting are recently retired American NHL players. USA Hockey general manager Jim Johannson recently told NBC Sports' Nick Zaccardi, "Without naming names, there are some guys that have a rich history in the NHL and with USA Hockey that we think could potentially really help this roster."
In that same article, Johannson said that he expected a "large list" of potential players to be submitted to him sometime in September. That list is sure to include European-based players, college players, players on an AHL contract and junior players. Another key group that could provide a ton of leadership and experience are older players who are essentially retired from the NHL after not securing a contract for the 2017-18 season.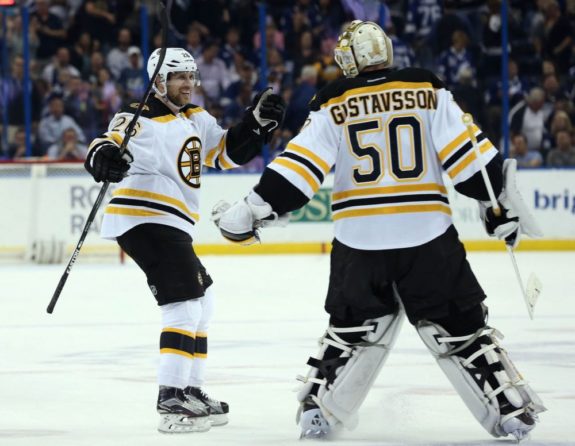 European Influence
The team could be filled with European-based American players and those players will take part in the Deutschland Cup tournament from Nov. 10 to Nov. 12 in Augsburg, Germany. The three-game, round robin tournament will be a quick and tough environment to evaluate how the team plays together and assess any issues that need to be addressed by bringing in others. It also, as of right now, serves as the men's team's only pre-Olympic games.
Even with a heavy focus on European-based players, the US team will likely feature many names that are very familiar to NHL fans. The Hockey Writers' own Tony Wolak pointed out some potential names in his roster projection last month. Here are some others Wolak did not mention who could find their names on the list submitted to Johannson.
Danny Kristo, F, Dinamo Riga (KHL) – Kristo has represented the United States at the Under-18 World Championship, World Junior Championships (twice), and the World Championships winning a U18 bronze, World Junior gold, and World Championship bronze. He understands how to play hockey on the larger ice surface.
His success in the AHL never led to even a cup of coffee in the NHL but he now looks to transition to the KHL and be one of the guys for Dinamo Riga. If his scoring ability translates to the KHL game, coupled with his speed and skating, he could be a true asset on the American team.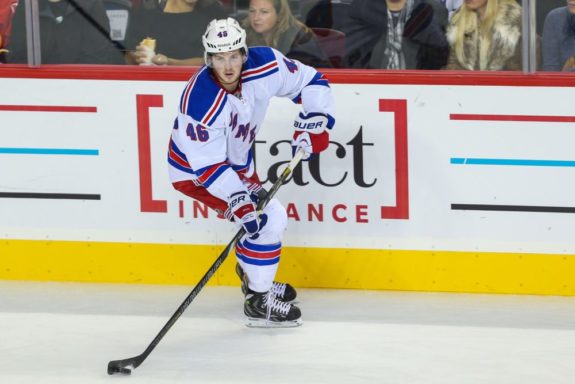 Brian O'Neill, F, Jokerit (KHL) – A smaller forward, O'Neill saw some time in the NHL, 22 games with New Jersey in 2015-16, but only had two assists. However, he was a scoring machine at the AHL level averaging 0.75 points per game and posting 80 points in 71 games in his last full AHL season in 2014-15. That season he also helped to lead his team, the Manchester Monarchs, to the AHL's Calder Cup and put up 20 points in 19 playoff games.
Last season was O'Neill's first season in Europe and his speed and skill transitioned nicely to the larger ice surface where he finished second in scoring for Jokerit. Despite his lack of size (5' 9", 175 lbs.), he is gritty and isn't afraid to battle it out along the boards.
Ryan Gunderson, D, Brynäs IF (SHL) – Gunderson has yet to make an appearance on the US national team but could make his debut this season. He has seven seasons of experience playing on the larger European ice and has all the skill needed to be a smart, puck moving defenseman. He is a great playmaker, not necessarily a shooter, so he tends to get more assists than goals. He could prove to be an asset for the Americans in a short tournament where the power play can determine everything.
Calling on College Kids
Granato will likely be most familiar with the large pool of potential talent in NCAA hockey. Wisconsin competes in the Big Ten where they regularly square off against Ohio State, Penn State, and Minnesota. This season, Notre Dame will join the league and the Badgers routinely play national powers in their out of conference schedule.
Brady Ferguson, F, Robert Morris (Atlantic Hockey) – Atlantic Hockey may not be the top conference in Division I but you can't really argue with Ferguson's 58 points in 38 games. He's got the size (6' 0", ~200 lbs.) and his talent is being noticed by those in NHL scouting.
Adam Gaudette, F, Northeastern (Hockey East) – Gaudette's offensive production jumped from 0.73 as a freshman to 1.41 as a sophomore. While we likely won't see another huge jump, he will continue to hone his skills and could find himself in a top six role for the United States.
Have been told Adam Gaudette is on a list of players USA hockey is looking at for the Olympics next year. #Canucks

— Rick Dhaliwal (@DhaliwalSports) August 9, 2017
Michael Davies, D, Denver (NCHC) – Davies was just a freshman last season but he was second in all NCAA Division I with a plus-32 (Penn State's Finnish defenseman Erik Autio was a plus-33). He also put up 17 points in 44 games. He's never donned a USA jersey but if he takes the next step in his development, the USA Hockey brass could find it hard to keep him off the Olympic team.
Gotta Have Goaltending
The US has a ton of depth when it comes to the crease but a lot of that depth will be tied up in NHL contracts. That means no Ben Bishop, no John Gibson, etc. Thankfully there are some great and intriguing options in the European and college ranks.
Ryan Zapolski, Jokerit (KHL) – Zapolski never played higher than the ECHL during the North American portion of his career but following two seasons in the ECHL, he made the jump up to the Finnish Liiga. In his three seasons with Lukko, Zapolski posted a 72-49-39 record, a 2.06 goals-against average, and a 0.924 save percentage. This past season he stayed in Finland but moved to Jokerit of the KHL. His numbers took a slight dip (16-19-5, 2.45, 0.909) on a team that barely made the Gagarin Cup playoffs but he should rebound nicely this season.
David Leggio, EHC München (DEL) – Leggio is an agile goalie who has had success on both sides of the Atlantic. He's known to USA Hockey, having been on the roster for the United States at two World Championships and played two out of three games for the US in the 2009 Deutschland Cup. The 33-year-old would likely jump at the chance to take part in the Olympics before his career starts to wind down.
Michael Bitzer, Bemidji State (WCHA) – If the United States dips into the collegiate ranks for a goalie, a great option could be Bitzer. He is entering his senior season for the Beavers of Bemidji State and has already been the number one in Bemidji for three years, winning double digit games each year. He has represented the US before at the World Jr. A Championship in 2013.
Geoff Nichols is a 29-year-old lover of all things hockey in non-traditional markets. He is a former front office member for a minor league team in Florida and has worked in or covered hockey in Texas and the southeast United States. Be sure to follow him on Twitter or Like his Facebook page.