Too often in hockey, we idolize the best players on the ice. It's not without merit, but why do we always forget about the little guy? Or in this case, the big guy.
Sometimes the guys on the fourth-line are just as impactful as the top scorer. Whether they create energy with a good shift, throw a big hit, or stand up for a teammate in a fight, these are players who have brought fans out of their seats despite limited ice-time.
For this list, we're looking at players who were primarily bottom-six pieces in the organization. Some were enforcers, although I don't like using that term as there tends to be a negative connotation with the word enforcers, that denounces their role. Don't get me wrong, some of these guys are your stereotypical tough guy, but others among these ten players were more than that. They are remembered for being fearless, heart and soul players.

Tough guys who played a larger role for the team weren't considered for the list, nor are they necessarily the "toughest" guys or players like Todd Bertuzzi, Sergio Momesso or Dave "Tiger" Williams would have cracked it. Since this is a list of fourth-line heroes, it doesn't include defencemen. Classic tough customers on the back end such as Harold Snepsts or Dana Murzyn didn't make the cut for that reason.
This is a list of the Vancouver Canucks' all-time fourth-line heroes.
#10: Tom Sestito
Tom Sestito's tenure in Vancouver was short, but he was the Canucks' go-to tough guy during his three years with the club. He was a favourite of maligned head coach John Tortorella, playing a career-high 77 games that season. Sestito was even in the top-six at times under Torts. He led the league with 213 penalty minutes that season.
Sestito was a tough customer on the ice, but he is remembered for his humour as well as his fists. When he scored his first goal as a Canuck, he mocked Nail Yakupov's over-the-top goal celebration. He was also able to poke fun at himself on Twitter, joking that he was a top-six talent that was snubbed by the U.S.A. at the World Hockey Championships.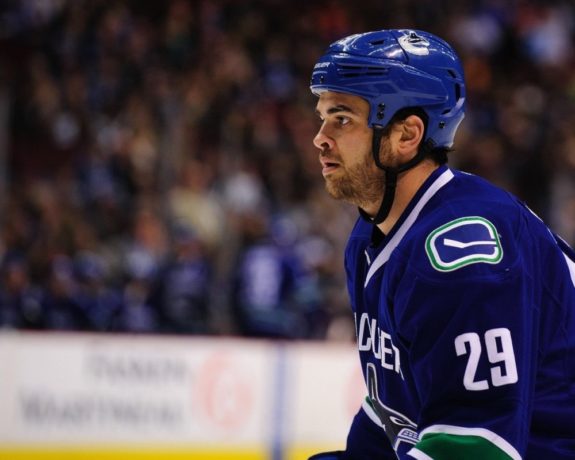 As one of the last enforcers, Sestito was always there to stand up for his teammates. His most memorable fight was the one that never occurred, in a game against the Los Angeles Kings. Jordan Nolan took a dirty run at Henrik Sedin earlier in the game that went unpenalized. Sestito then went to fight Nolan, who turtled and refused to stand up for his hit.
#9: Ron Delorme
Ron "The Chief" Delorme joined the Canucks in the preseason waiver draft of 1981. He went on to spend the last four years of his career with the organization. Delorme had a career-high 43 points with the Colorado Rockies earlier in his career, but he never amassed more than 17 points in a season with the Canucks.
His penalty minute totals skyrocketed during his first season in Vancouver. He amassed 177 penalty minutes in 1981-82. His previous career-high was only 76 PIM.
Delorme's first year in those classic flying V's was during the Canucks Cinderella run to the Stanley Cup Final in 1982. He relinquished his larger offensive role that he had in Colorado for an enforcer role with Vancouver. Delorme always showed that he was fearless, taking on the toughest guys in the league, such as the late Dave Semenko. He was never the biggest guy, standing at only 6'2, 185 lb. during his playing days.
Delorme is better known today as the former Chief Amateur Scout for the Vancouver Canucks.
#8: Jeff Cowan
Jeff Cowan wasn't a member of the Canucks for very long, but he had one of the most memorable streaks for an fourth-line player in Canucks history.
Sure it's plausible for enforcers to go on goal scoring streaks. For guys playing seven minutes on the fourth line, scoring two games in a row would be considered a streak.
Cowan scored in four straight games, with six goals during that span. While Cowan was never afraid to drop the gloves, he will always be remembered for this incident in Vancouver.
Yes, Cowan will always be known to Canucks fans as "The Braberian." Ironically enough, Cowan didn't score in 46 games during his next season in Vancouver, but his legacy was already cemented.
#7: Craig Coxe
Craig Coxe had all the physical tools for playing the role of an enforcer in the NHL. Standing at 6'4, 220 lb. during his playing days, Coxe had a rather large pair of fists to go along with his towering frame.
Coxe routinely took on some of the toughest guys in the NHL during his time in Vancouver. In one game on November 19, 1987 against the Detroit Red Wings, Coxe had a spirited tilt with Bob Probert. Later in the game, he dropped Joey Kocur, another Red Wings tough guy, in a second spirited scrap. Coxe was probably warmed up from that heavy first fight.
Coxe actually left the Canucks for two seasons before returning near the end of his career. He missed out on my reunited players list from earlier in the summer, with other notable Canucks reuniting after him. By the end of his Canucks career, Coxe racked up 535 PIM in just 177 games.
#6: Darcy Hordichuk
Darcy Hordichuk bounced around a number of organizations throughout his NHL career, including two seasons with the Canucks. In Vancouver, he was the definition of an energy player, always skating full-speed or looking to throw that big hit when he was on the ice.
This was a guy you didn't want to cross in a scrap. Hordichuk was never the biggest guy, but he brought high-octane energy to every fight. Not to mention, Hordichuk has the face of a madman.
He didn't score many goals for the Canucks, but he made them count when he did. Here's Hordichuk's only career playoff tally, on a feed from another iconic Canucks tough guy (Spoiler Alert).
That concludes the first half of the list. Many of these players didn't have long tenures in Vancouver, but they sure made an impression with their physicality. Stay tuned for the second half of this list, featuring the Canucks top five fourth-line heroes of all-time.