The Florida Panthers carried their win streak from last week into this one, but it came to an abrupt halt when they met the Columbus Blue Jackets in Columbus. Their rock, Roberto Luongo, was in goal all week but did not get enough defensive support to muster more than one victory.
Scores of the Week
at Philadelphia Flyers, 2-1 W
Florida controlled play for the majority of this game. After a quiet first half, Aaron Ekblad opened the scoring with a power play goal. Mike Hoffman recorded a secondary assist on the play which extended his point streak to 13 games. At the end of the second period, Evgenii Dadonov deked to himself and ripped a beautiful top-shelf snipe past Flyers goalie Brian Elliott for his eighth goal of the season.
Frank Vatrano looked very effective on the second line alongside Vincent Trocheck and Jonathan Huberdeau. He earned himself power play time and got the primary assist on Ekblad's second period goal.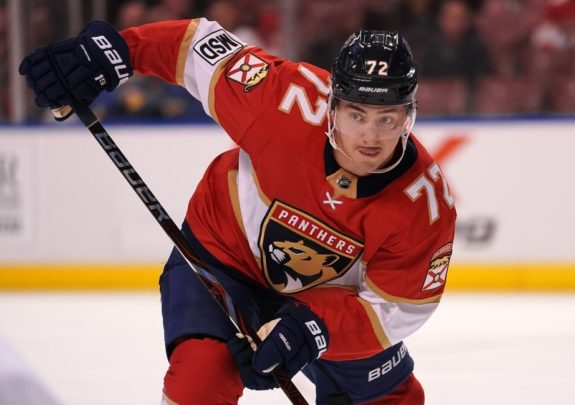 In addition, Luongo had himself another solid performance. Although the Panthers maintained plenty of possession, shots on goal favored Philadelphia 31-30, and they had their fair share of opportunities.
at Columbus Blue Jackets, 7-3 L
Florida entered this game with an advantage as the Blue Jackets were without their two best players— forward Artemi Panarin and goaltender Sergei Bobrovsky. The Panthers kept it close for the first two periods too, as they entered the third period tied at three. Panthers goals were from Nick Bjugstad and included power play tallies from Keith Yandle and Ekblad.
Unfortunately, their production ended there. Defensively, it was an ugly game for the Panthers from the beginning. Alex Petrovic returned to last year's speed as he watched different Columbus forwards fly by him in all directions. He wasn't alone. Turnovers were plentiful and Blue Jacket goals included a shorthanded break from Cam Atkinson, totaling six against the helpless Luongo. They added an empty netter to make it seven by game's end.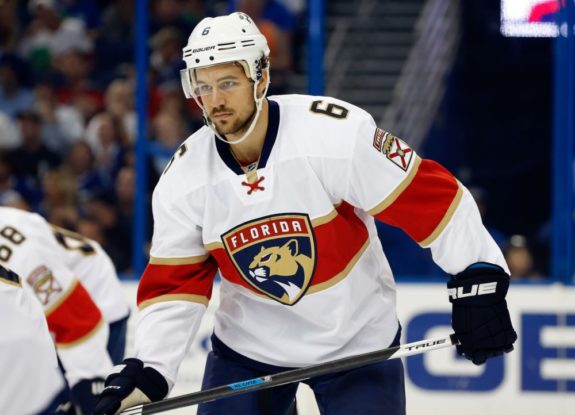 at New York Rangers, 4-2 L
The Rangers' Filip Chytil scored first in this game. It was quickly followed by a Hoffman bomb from the left faceoff dot to extend his point streak, and another Ekblad power play blast. This would be the high point of the game for Ekblad. He was beat miserably on goals number one, two, and four for New York and looked like he had bricks for feet at certain points. In what has been a disappointing start to the season, this may have been his worst game yet.
The goal not yet mentioned was New York's third of the evening by Vladimir Namestnikov. He one-timed a pass in front at Luongo, the puck bounced over Luongo's head, off the crossbar, off the netminder's back, and apparently into the net. "Apparently" because there was never any clear view that was televised of the puck crossing the line. It did appear that Luongo fell on the puck that was probably across the goal line, but the referee seemed to make this assumption without any hard evidence. It was counted nonetheless, and the Rangers didn't look back.
Takeaways From the Week
Ekblad Producing on the Power Play, Lacking Elsewhere
Ekblad was the Panthers' most productive player on the power play this week, notching a goal in each of their three contests. He joined the rush and crashed the net in the impressive fashion Panthers fans have grown accustomed to.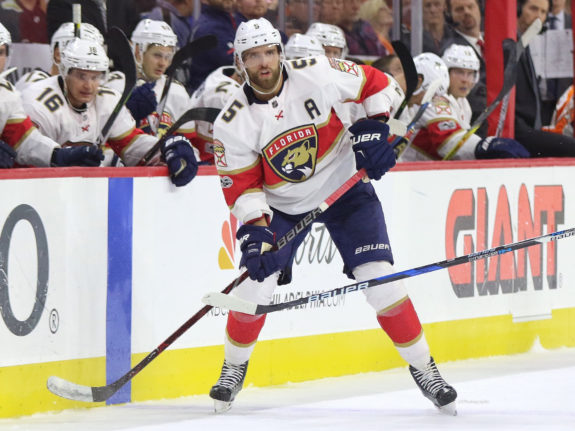 His play on the defensive side of the puck, however, has been below par. He was easily beat in a number of puck battles and foot races this week that resulted in goals against. He looked especially stiff in the Rangers game. Despite his power play goals this week, it has been a rough start to the season for Florida's "number one defenseman."
Power Play Numbers Sustainable?
In general, the Panthers have been working this year to generate offense on the power play through their defensemen and it's been going quite well as of late. In November, they have converted on 11 of their 32 power play opportunities for a 34 percent conversion rate. Defensemen have been responsible for 11 primary points, six from Yandle, three from Ekblad, and two from Mike Matheson.
The top power plays in the league run their schemes a bit differently from Florida. According to Tyler Dellow of The Athletic, the Boston Bruins, Toronto Maple Leafs, Washington Capitals, Winnipeg Jets, and Colorado Avalanche are five of the six teams with the lowest percentage of shots from defensemen at five-on-four (from 'Power-play units are evolving for the better but there's still room for improvement', The AthleticNHL – 10/30/18). It is no coincidence that those same teams possess five of the top six overall power play percentages in the league.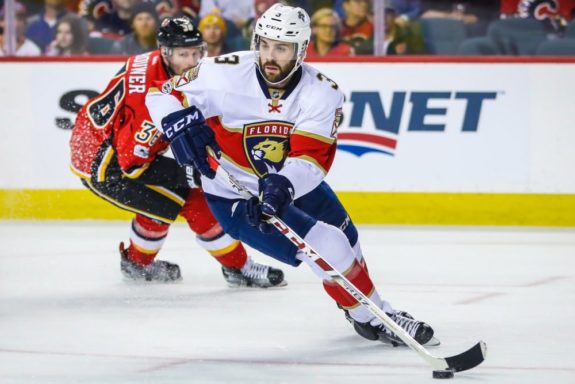 Those teams however, run the power play through their forwards and generate the majority of their chances from closer to the goal line. For proof, see heat maps for every team's power play shot generation at hockeyviz.com.
Dellow also references the increase in fluidity of this year's power play units. Players are cycling themselves and the puck quicker than ever. If you have only watched the Panthers this season, this trend is hard to identify. They play a 1-3-1 style that focuses primarily on getting the puck to either Yandle or Ekblad at the blue line, having them shoot, and hoping for a rebound from there. Their forwards stay uncomfortably stationary while waiting for either a pass or someone to shoot.
These two trends have me worried that the Panthers' man-advantage model is unsustainable. Keep the goals coming for as long as possible, but do not be surprised if these numbers regress sooner than later.
Mike Hoffman's Point Streak Alive and Well
Hoffman has shown no signs of leaving the scoresheet any time soon. He's making a home out of the box score as he's recorded a point in 15 straight games now, which passed Pavel Bure for the franchise record and is the longest such streak in the NHL this season.  He logged a goal and three assists this week and has eight goals and 10 assists during the streak.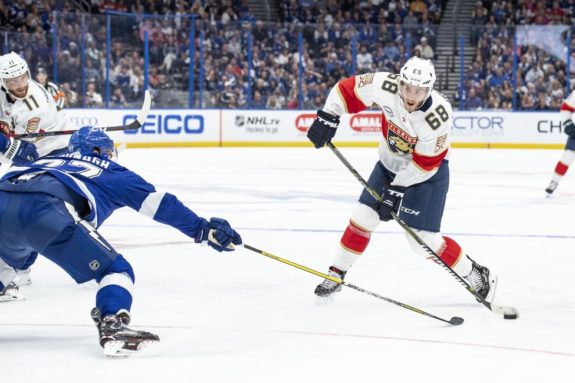 Mamin, Malgin Sent Down, Haley and Hunt Recalled
The Panthers sent forwards Denis Malgin and Maxim Mamin to their AHL affiliate Springfield Thunderbirds and have recalled forwards Michael Haley and Dryden Hunt. Hunt played in 11 games with the team last season and veteran Haley is prepared to play in his first games of the year after sitting out for the first quarter of 2018-19.
Final Bite
Winter is coming, and the Panthers still find themselves toward the bottom of the league in points. Their five-game win streak got them back in the thick of it, but American Thanksgiving is this week and is widely regarded as a checkpoint in the regular season to start checking the standings. As of Monday morning, Florida sits tied at the bottom of the East with Pittsburgh. Admittedly, the company could be worse, and they are by no means out of the race, but there is an eight-point gap between them and the second wild card spot position that will not get any easier to close as the new year approaches.
The Panthers play four games before next Monday. Three on the road against the Ottawa Senators, Tampa Bay Lightning, and Carolina Hurricanes before they return home against the Chicago Blackhawks on Saturday, Nov. 24.
I enjoy traveling, new food, but most of all, hockey. I grew up in South Florida where I followed the Panthers. While the Panthers remain my primary focus, my love for hockey has expanded through the entire game. My background is in English and Communications, and I look forward to providing in-depth Panthers coverage.