The Boston Bruins have a deep prospect pool. In fact, we've been getting to see that depth in action at the NHL level in the wake of numerous injuries to the Bruins' defensive core. We've heard about some of the recent call-ups, such as Jeremy Lauzon, Jakub Zboril, and Connor Clifton, from their performances in the AHL. However, there are others we've heard less about.
One of those prospects is NCAA goaltender Jeremy Swayman who will turn 20 years old on Nov. 24. The sophomore, who dons the No. 1 for the University of Maine Black Bears, was appropriately selected by the Bruins with the 111th overall pick in the 2017 NHL Entry Draft.
Swayman's Freshman Year
Swayman posted a 15-12-3 record during his 2017-18 freshman season. The 6-foot-2, 183-pound netminder stole the starting job from junior Robert McGovern who gave up 28 goals in nine appearances that season. In contrast, Swayman gave up just 82 goals in 31 games which earned him a 2.72 goals-against average (GAA) and a .921 save percentage (SV%).
I saw him take on the Quinnipiac University Bobcats for a weekend series in December of 2017, his freshman year. He posted 95 saves across the two games, both wins. This was despite the fact that his team had hung him out to dry until the late stages of both games.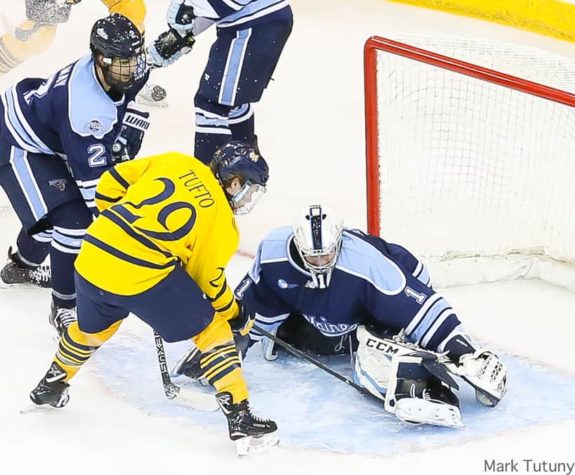 What impressed me most about those appearances was the netminder's ability to battle back. Of his seven goals against across the two games, four came in the first period. But that didn't discourage him. He continued to battle, his confidence unphased. This is an important characteristic in a goaltender, especially a young one.
Often you can tell when a goaltender gets discouraged after a couple of goals against. Swayman avoided this fate during his freshman year and has continued to do so, an encouraging sign for Bruins fans as they watch the prospect grow.
Swayman's Sophomore Year
This past weekend, I saw Swayman play another weekend series, this time from the press box at Agganis Arena. Maine was to play two games on the road against the Boston University Terriers, a two-game split decision.
At the opposite end of the rink was BU goaltender Jake Oettinger who some believe could be the Dallas Stars' next starting goaltender. From the drop of the puck on game one of the series until the final horn of the second matchup, it was a goaltending duel. Swayman registered a total of 39 saves in the first game, giving up three goals and picking up a loss.
All three goals came when Maine was down a man, however, and the Terriers' power play was firing on all cylinders. In the second game, the Anchorage, Alaskan gave up just one goal and made 40 stops, one of his best performances of the season thus far.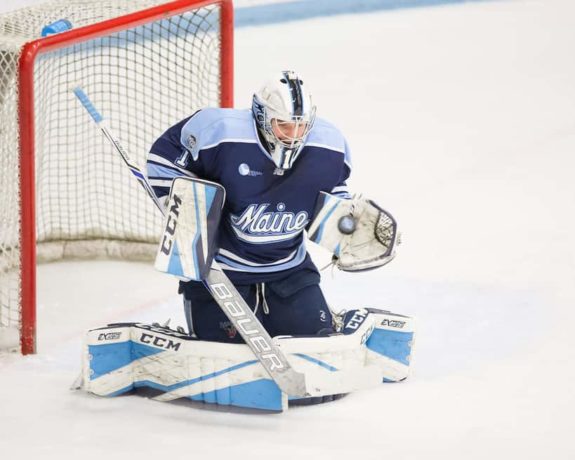 What caught my eye was how Swayman responded when there was chaos in his crease. Try to imagine Tuukka Rask's style: when the puck is bouncing off skates and sticks just five feet in front of him, Rask goes into the butterfly and makes a human wall. Throw that image out the window. Swayman does the opposite: he dives onto his belly and attacks the puck. It almost seems foreign after watching Rask year after year, but Swayman has a bigger goal in mind. His aim isn't just to keep the puck out of his cage but to cover it up and get a whistle. That's what the young netminder was able to do time and time again against BU.
After his most recent performance against the Terriers, Swayman was named the Hockey East Conference's defensive player of the week. In total, Swayman gave up four goals on 83 shots, making a number of impressive saves throughout the weekend.
#HockeyEast Awards 11/19#HockeyEast Player of the Week: Tyler Wall, @RiverHawkHockey@ProAmbitions Rookie of the Week: Jack Dugan, @FriarsHockey#HEA Defensive Player of the Week: Jeremy Swayman, @MaineIceHockey

— Hockey East (@hockey_east) November 19, 2018
This season, Swayman has a 4-5-1 record with a 2.79 GAA and .920 SV%. He has averaged 30.9 saves per game, stopping 123 of 128 shots in his past three appearances. His record could be better, but his five losses and one tie happened when Maine was held to just two goals or less. Some of those games were close, like a 1-0 loss to UMass Lowell on Nov. 3. Others were blowouts, like when Swayman was yanked at the end of the second period against Minnesota Duluth after giving up seven goals. He is responsible for a portion of his team's losing record, but it should be noted that three losses were one-goal games, games Swayman kept his team in until the very end.
Swayman's Road Ahead
Looking forward, Swayman has yet to reach the 50-yard-line of his college career. Goaltenders often take longer than skaters to develop, so it is likely that the sophomore won't sign a professional contract with the Bruins organization until he completes his junior or even senior year.
With Dan Vladar and Zane McIntyre tending the net for the Providence Bruins, signing Swayman to the roster this season – or even next season – could stunt his growth. He's better off logging starts on a regular basis with the Black Bears in a league that is still testing his abilities.
Goaltenders can be difficult to predict, but I believe Swayman will be an NHL starter. Projecting that he will be an "elite" goaltender or Rask and Halak's successor would be jumping the gun. However, I expect the Alaskan to make his way into the NHL, even if it's a long way down a winding street. Right now, Swayman needs to keep his head down and plow through the rest of his sophomore season. His future seems bright, but focusing on the present is the only way to make that promising future a reality.