The Boston University Terriers hosted the University of Maine Black Bears this weekend. After having their worst start in recent history, BU came into the weekend with two wins in a row. They were attempting to climb back with a sweep against Maine to propel themselves to a 4-4-1 record.
On the other end of the ice, the Black Bears entered the weekend with a 3-4-1 record. Maine was trying to avoid a two-game slide on Friday night, and potentially sweep what has been a hot-and-cold Terriers team.
BU Edges Maine 3-2
Friday night's matchup was a battle of the goaltenders early on as Jeremy Swayman took the crease for the Black Bears while Jake Oettinger protected the Terriers' net. "I thought [Swayman] was solid," said Maine head coach Red Gendron. "Oettinger was really good for BU, I thought both goaltenders played very well tonight."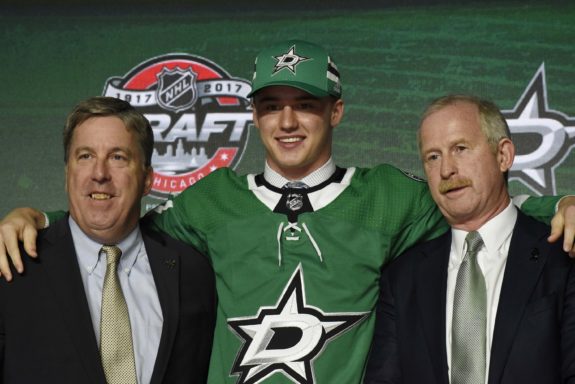 Maine attempted a total of 30 shots in the first frame, only half of which made it to the net. BU's defense got in front of nine of those attempts, clearly supporting their goaltender who made a number of impressive saves early on. Oettinger stood his ground and kept his team in a game that could have easily become lopsided within the first 20 minutes. An unassisted goal executed by sophomore Eduards Tralmaks of Maine ended the scoreless tie, giving the Black Bears a 1-0 lead late.
BU was credited with just eight shots on goal during the first period, though those shots were of high quality. Seven of those chances came below the hash marks, but Swayman was able to keep himself in front of the puck for all of those opportunities. Not only was he able to keep BU off the scoreboard, but find those pucks chaotically bouncing in front of his goal and squash them for a whistle.
Plenty of Power Plays
The Terriers handed Maine two power plays during the first frame while receiving one of their own, though neither team was able to execute. That changed in the second period. BU got 22 shots on goal during the middle frame, a drastic change from the early stages of the game. "I think, between periods, I asked how many guys passed up a shot," said BU head coach Albie O'Connell. "I think 10 guys raised their hand."
Despite the high shot total in the middle frame, BU was unable to execute on their first two power plays of the game. Late in the period, however, their special teams got going. Just over 30 seconds into one man-advantage, senior Bobo Carpenter found a rebound just above the goal line and fired it into the open left side of the cage to tie the game. "Puck movement and working off of each other," said Carpenter of his team's power play efforts. "That's something we really were fighting with. Now that we kind of got the feel for that, it feels pretty good scoring those goals."
With just two minutes left in the second frame, freshman Joel Farabee was able to pot a power-play goal of his own. A pass by junior Chad Krys from the point had eyes, traveling under the sticks of two Black Bear penalty killers. Farabee caught the puck to the right of the net and fired it between the legs of Swayman to gain his team the lead. Krys and junior Dante Fabbro assisted both goals.
And then Farabee gave us a lead moments later… #GoBU pic.twitter.com/moYhTPpt92

— BU Men's Hockey (@TerrierHockey) November 17, 2018
With less than six minutes left in the third period, junior Tim Doherty potted Maine's first and only power play goal – though it came with some controversy. BU was changing out their penalty killers following a clear when Swayman fired the puck with his goaltender's paddle up to the Terrier blue line.
There were four Black Bears waiting for the pass after just executing a line change of their own, but there were still a number of Maine players on the ice behind the play. "Too many men on the ice," stated O'Connell. "It looked like seven guys on the ice." Nevertheless, the goal counted and it was 2-2 in the third period.
But the Terriers weren't done and seemed determined to end the game before overtime. Sophomore Shane Bowers earned himself a half-breakaway and was tripped up by Maine junior Mitchell Fossier with 1:48 to go in regulation. With 1:11 to go, sophomore defenseman David Farrance took a slap shot from the point and found the back of the cage.
It became the game-winner assisted by Patrick Harper and Jake Wise. "We won a battle off the wall and then Harper made a nice pass up to me," described Farrance. "I just had to find a lane through the second layer and I just saw some open net and tried to hit the net, really."
Seeking Improvements
Heading into Saturday's matchup, both teams had some things to work on after a wild affair on Friday night. "It would be ideal if we played 60 minutes," said O'Connell. "We were backing off. We were going on the forecheck and then one guy would circle back and we'd have four guys back. We don't want to play a prevent defense or play passive."
The Terriers avoided that passive play during the second period of Friday's game – at times to a fault. There were a number of scoring chances handed to Maine due to BU's over-eager tendencies which created turnovers. One of those turnovers resulted in the goal by Tralmaks in the first frame. "We're still pretty youthful…there was some pond hockey," explained O'Connell. "Hopefully, in time, we'll clean up some of those plays."
On the other hand, Maine went 1-for-5 on the power play compared to BU converting on 50-percent of their six opportunities with the man advantage. "They executed better on the power play than we did," said Gendron. "They got three, we got one. That's the difference in the game, right?" Maine's focus was to find a way to finish with the man advantage as they prepared for their rematch with BU on Saturday, which is a goal they accomplished.
Maine Tops BU 3-1
Saturday night's duel was another goaltending battle early on. The Terriers seemed to control the game for the first half of the period, getting extended zone time while holding Maine to one-and-done opportunities before transitioning back to the attack. Swayman was up to the challenge once again, however, saving all 13 of BU's shots during the first period.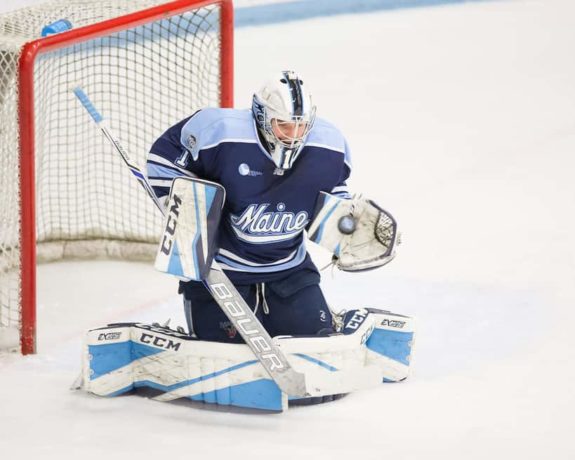 The Black Bears finally gained traction with a power play early in the first. BU's Harper took a tripping minor and Maine made good use of their man advantage. The Black Bears registered three shots while a man up before converting on their fourth and final power play shot. Fossier picked up a rebound in front of the net and fired it to the back of the cage to give Maine the 1-0 lead midway through the first.
From there, the game got chippy. With under eight minutes to go in the period, a scrum ensued in BU's crease. The Terrier's Farrance and Maine freshman Simon Butala isolated themselves from the pack and jostled below the goal line. They were originally sent to the box, supposedly for roughing minors, the but the officials took a few minutes to review the play.
The referees determined that each player had committed a facemasking major penalty – a serious offense in college hockey – that resulted in game misconducts, sending both players to the locker room for the remainder of the game. "We dressed seven defensemen tonight," said Gendron. "I think BU dressed six, so them losing one, they were down to five."
O'Connell certainly felt the effects of losing one of his top blueliners. "David [Farrance] is a dynamic defenseman," he said. "He's played very well, he gives us offense from the blue line. It hurt our second power-play unit for sure." It forced BU to shake up their defensive pairs, namely for Fabbro who was originally playing alongside Farrance. "Over the years Chad [Krys] and I have played together quite a bit," said Fabbro of his defensive partner for the remainder of the game. "I think as a whole, as a D-core, we need to be able to adapt to those kinds of situations."
BU's Special Teams Blues
Special teams were once again a huge factor that played a role in deciding the game's outcome. On Saturday, Maine received just one power play and made it count. On the other hand, the Terriers were handed five opportunities and landed nine shots but no goals. "A lot of BU's opportunities, pucks on net, came on the power play," said Gendron. "By and large I think we played very well and Jeremy [Swayman] of course played very well."
O'Connell was not impressed with his team's power play performance. "I thought the breakout was poor," he said. "When we did get in the zone we moved it around pretty well, we had some good looks, but we shot the puck a little bit more [on Friday]."
Early in the second period, Maine junior Chase Pearson scored just 15 seconds into a four-on-four situation. Fossier skated down the right wing and sent a backhanded pass across the crease to Pearson waiting on the doorstep to make it 2-0. BU's Carpenter responded six minutes later, but it wasn't enough despite the Terriers outshooting the Black Bears 15-3 in the final frame. Pearson drove home an empty-netter with under a minute to go, sending Maine home with a 3-1 win.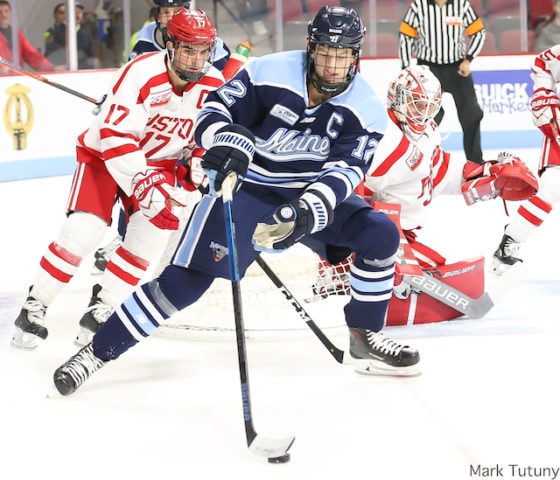 BU had its fair share of problems on Saturday, namely in the second period. What O'Connell dubbed as 'pond hockey' on Friday seemed to be an issue again, and was costly to the Terriers. "It's like a broken record, it's torture to watch, to be honest with you," said O'Connell, reflecting on the loss. "They just try to go one-on-one, turn the puck over…It's frustrating."
"It's like a broken record, it's torture to watch, to be honest with you." – Albie O'Connell
The Terriers will be on the international stage next weekend as they travel to Belfast for the Friendship Four. They have their work cut out for them, and will want to find their A-game once more before taking on the University of Connecticut and Yale overseas. Meanwhile, Maine will host a non-conference series against Quinnipiac University who has been red-hot to start the 2018-19 season.