The injury bug still does not seem to want to leave the Anaheim Ducks alone, as stalwart defenseman Hampus Lindholm is the latest victim with a lower-body injury.
With the exact prognosis on Lindholm unknown as of yet, and fellow minutes-eating defender Cam Fowler already sidelined indefinitely with a facial fracture, Anaheim has to reach deep into its well in order to fill the holes on its blue line. The silver lining? Opportunities for promising young defensemen like Jacob Larsson and Josh Mahura.
Jacob Larsson Looking to Stick
Larsson was a first-round pick (27th overall) of the Ducks in the 2015 NHL Entry Draft, so his upside provides reason for excitement. Indeed, Larsson turned enough heads to earn a four-game look with the Ducks in the 2016-17 season, but his progression soon slowed, thanks in large part to needing knee surgery and working through a challenging rehab in 2017.
"Now it feels pretty good with my knee," Larsson said shortly after the Ducks were eliminated by the San Jose Sharks last postseason; Larsson was called up for Game 4 but did not draw into the lineup. "I don't know if it's 100 percent, but it feels way better now than it did before. Last summer, I couldn't really train that much with my legs because of the knee. If I have a good summer with good workouts and training, I think it could be good for me." (from 'Ducks' Jacob Larsson says comeback from knee surgery has been challenging', The OC Register, 04/18/18.)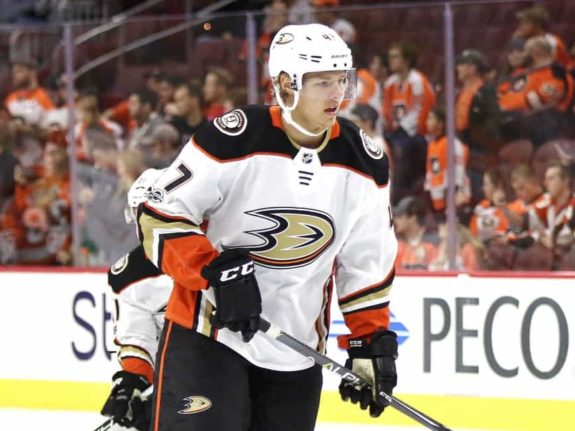 Larsson's offseason training was apparently good enough to get him his first taste of NHL action since that cup of coffee in 2016-17. So far, he hasn't flashed in a particularly impressive way, and his underlying numbers do not look too good, but then again, that's fair to say for most of the Ducks' roster. In any event, he has 11 games to his name so far this season following a promotion in late October, and now with both Lindholm and Fowler out, he should see an uptick from his average per-game ice time of 14:16. With that, perhaps the 21-year-old Larsson will have more latitude to show the attributes that compelled the Ducks to take him in the first round three years ago.
Josh Mahura Gets a Chance
Mahura was drafted a year after Larsson, in the third round. So while he might not have quite had the initial hype that Larsson had, he has done nothing but improve and rise up the ranks' of Anaheim's prospect list. The 20-year-old rearguard can bring offense from the back end; he notched an impressive 69 points last season in the WHL with the Regina Pats. After joining the professional ranks ahead of this season, he has acquitted himself well in the AHL, picking up eight points (including seven assists) in 12 games.
While he's hit the ground running in San Diego, it seemed that Mahura would spend the entire season in the AHL to continue to refine his game and get ready for the NHL. But Lindholm's injury has accelerated that process, as Mahura was called up Sunday and made his season debut in the Ducks' 4-3 overtime loss against the Colorado Avalanche. Incredibly, Mahura was just one of four rookie defensemen to dress for the Ducks (Larsson, Marcus Pettersson, and Andy Welinski were the others).
Interesting note on tonight's lineup:

This is the first time we've dressed four rookie blueliners (Mahura, Welinski, Larsson, Pettersson) since the 1994-95 season.

On 5/3/95, Darren Van Impe, Jason York, Milos Holan and Oleg Tverdovsky played in a 6-1 home victory over TOR. pic.twitter.com/7ZFNB92onM

— Anaheim Ducks (@AnaheimDucks) November 19, 2018
Head coach Randy Carlyle certainly did not hesitate to put the rookie out there, as Mahura logged 19:40 of ice time (including 56 seconds of power-play time), largely as Brandon Montour's partner. He did not seem especially nervous and managed to pick up a plus-2 despite a lopsided shot-attempt differential of seven for versus 23 against. In any event, his poise with the puck on his stick is evident and should serve the Ducks well down the road, but perhaps in the short-term as well while the club deals with another rash of injuries.
Tom has been with The Hockey Writers for almost four years. After previously covering the LA Kings and the New York Rangers, Tom now covers the Anaheim Ducks.
While in college at Clemson University, the 2016 college football national champions, Tom wrote game summaries and feature articles for the official team website of the Greenville Drive, a Class-A minor-league baseball team and affiliate of the Boston Red Sox. Tom is happy to be able to continue to fulfill his passions for sports and writing with THW.