What's The Grind Line? Apart from the once-famous line of Kris Draper, Kirk Maltby, and either Joe Kocur or Darren McCarty, The Grind Line is also The Hockey Writers' weekly column about the Detroit Red Wings. Jacob Messing, Tony Wolak, and Rachel Anderson are the muckers who make up THW's forechecking unit and sound off on Red Wings topics.
---
The Detroit Red Wings have been a pleasant surprise this season, particularly in winning eight of their last 10 games as the team is running its best power play since the 2014-15 campaign.
The newly-minted man-advantage is due to assistant coach Dan Bylsma, who has turned the dull special team into a noticeable strength.
With 20 games in the books and a 22.4 power-play percentage that ranks 11th in the league, there's a lot to talk about. So that's exactly what The Grind Line dedicates this week to.
Jacob Messing: New Cycles, New Confidence
Last season, Detroit's man-advantage lacked the "advantage" part. The Red Wings finished ranked 24th in power-play percentage (17.5 percent), and the power play was frankly hard to watch with errant passing and a lack of both shots on net and attempts, as they always seemed to look for perfect plays.
One of the most visible changes this season is the cycling below the goal line. It was refreshing during the preseason and Bylsma certainly made note of its effectiveness. Goal line play has been most widely used by Dylan Larkin and Anthony Mantha, as the pair forces goalies to stay moving while dealing with a few net-front distractors; more on that from Tony below.
Big Ras getting one on the power play. #LGRW pic.twitter.com/CT05umtwTI

— Detroit Red Wings (@DetroitRedWings) November 14, 2018
Thomas Vanek, Michael Rasmussen, Tyler Bertuzzi, and Dennis Cholowski represent four new faces on a regular power play unit since last year. While Vanek is an established veteran, especially on the power play, the latter three are hungry, young players breaking into the league.
They've bought into Bylsma's system en route to a heightened confidence that has turned the special team unit back into a threat. That confidence, in theory, should raise a player's game at even strength, too. With 10 Red Wings having at least one power-play goal, there's a reason the team is scoring and winning games, and it starts with the power play.
Tony Wolak: Better Players, Better Results
As Jacob mentioned, last year's power play was downright brutal. So what's the difference this year?
Bylsma has a few new players to deploy, and each of them makes Detroit's power play that much stronger. Rasmussen has been an upgrade over Justin Abdelkader in the net-front role. The same can be said for Vanek, who moves around the offensive zone a little more. In addition, Cholowski has restored faith in the Red Wings' blue line and can create opportunities with his superior vision and puck skills.
Overall, Detroit really hasn't drawn that many penalties – 2.9 power-play opportunities per game compared to 2.85 per game last season. They're shooting just as little as the year before as well (93.33 shot attempts per 60). What's different is that the Red Wings are scoring on a higher percentage of their shots – five percent more to be exact.
Bylsma's power-play setup allows for better shots on net. The top three players in the umbrella—some combination of Cholowski, Larkin, Mike Green, Martin Frk, Andreas Athanasiou, and Gustav Nyquist—have more time to aim their shots and have the benefit of Rasmussen, Vanek, or Mantha in front to screen the goalie. Rasmussen alone has three power-play markers from tips near the net.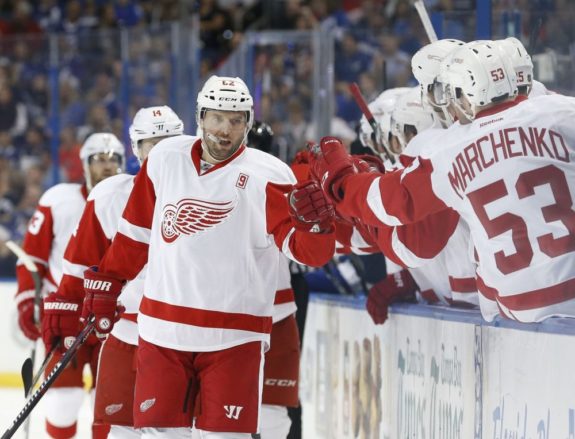 It's clear that the Red Wings took their previous power play impotence to heart. Adding Bylsma, Vanek, Rasmussen, and Cholowski certainly has made a difference, with the latter two providing confidence for the future.
Rachel Anderson: Join the Youth Movement
The Red Wings have done a good job of putting up a noteworthy fight in the last few games. Amid their efforts, the youth is starting to find its way and define its place with the team. Tony mentioned the benefit the Red Wings have seen from upgrading Abdelkader to Rasmussen in front of the net. Adding Cholowski more consistently to the power play special teams would be a youthful boost to the blue line, too.
Other weathered but youthful assets, like Mantha and Larkin, have stepped up to create offensive power that is beginning to take shape. Many hope to see others rise in the ranks under Bylsma's system, like Filip Zadina or Filip Hronek. Though the young rookie is making strides in the American Hockey League (AHL), why fix what isn't necessarily broken?
The special teams are working well together, learning to anticipate and communicate on ice actions. As a result, Rasmussen and Cholowski are both being given the opportunities on the special teams they need to develop. Cholowski is among the team leaders for points with a goal and five assists on the power play alone.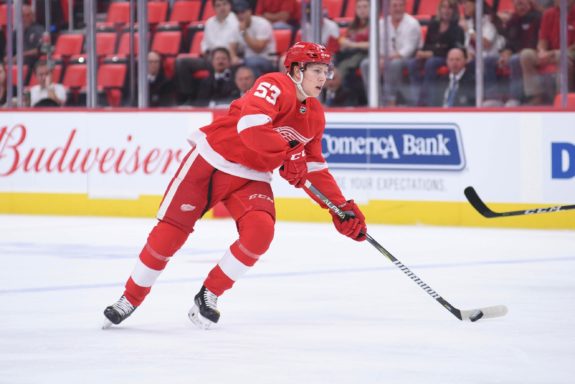 Larkin and Cholowski are making themselves mandatory pieces of the power play puzzle. Unfortunately for guys like Zadina and Hronek, that means their services won't be required quite yet.
Having made an incredible effort in these last ten games has created a massive boost in the team's confidence. Being lead by Larkin, who many think will likely take over the captaincy, the younger skaters are beginning to define their roles and define the team.
The Red Wings surprising play of late could hinge on keeping the power play churning out regular production as they continue to take opponents off guard with their full 60-minute tenacity.
Stats complied from websites including NHL.com and Corsica Hockey.
I offer opinions and insight on the Detroit Red Wings organization and its prospects.